April survey by the Thai Ministry of Commerce showed that many private Thai hospitals were overcharging by between 30% and 300% on a range of over 10,000 medical products and services. Legal experts say that consumer protection laws in Thailand extend to foreigners. However, in Erwin's case, his issue is with a public hospital and a Thai public health programme fee structure. The Dutchman insists that he has no problems with the medical treatment at his hospital or the bulk of the fees totalling ฿300,000 which he has paid since being diagnosed with cancer in 2015.
A 50-year-old Dutchman has filed a complaint against a public hospital in Hua Hin which he claims refuses to charge him the same rate to see a doctor as Thai nationals pay. It is also alleges that the hospital has also failed to provide the European, who is suffering from cancer, with an explanation for what he sees as a two-tiered pricing system. However, some sources suggest that there may be a valid ground for the hospital's position as the foreign patient is not a Thai national and therefore not entitled to avail of service rates provided at the medical facility designed provide a national public health service. This Sunday, 50-year-old Erwin Robert Buse appeared on Thailand's popular Channel 3 TV and was seen submitting his complaint to the police in Hua Hin. This comes as concern grows in Thailand over prices for medical treatment in private hospitals. However, Hua Hin Hospital is a public hospital run by Thailand's Ministry of Health.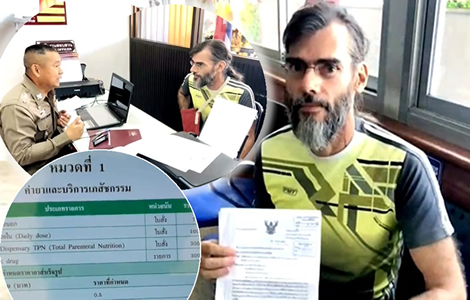 A Dutchman has filed a complaint against his local hospital in Hua Hin after he failed to receive a proper explanation for why he is being charged ฿300 in addition to a 15% surcharge to see a doctor at the hospital when Thai patients only pay ฿50. The hospital concerned is Hua Hin Hospital in Prachuap Khiri Khan which is a public or government-run facility.
Dutchman is a former railway engineer who lives with his Thai wife in Prachuap Khiri Khan
Erwin Robert Buse is 50 years of age and has been attending the hospital for four years now since he was diagnosed with bladder cancer in 2015. The Dutchman is a former railway engineer and lives with his Thai wife 200 km away in Prachuap Khiri Khan province where he farms goats. He has persistently asked Hua Hin Hospital to explain the extra charge but has failed to receive an answer. He appeared this Sunday on Thailand's popular Channel 3 national TV station where he explained his issue and was filmed making his formal complaint at a police station in Hua Hin.
European patient believes that the hospital in Hua Hin is charging foreigners more
The European man has by now come to the conclusion and claims that the public hospital in Hua Hin is systematically charging foreigners more. He bases his assertion on the ฿300 baht fee he is charged in addition to a 15% surcharge during his quarterly visits to the medical facility to consult with a doctor on his medical condition.
Says he knows of no Ministry of Public Health order that justifies a two-tier charging policy
Buse has also spoken with other foreigners who have confirmed that they are also charged on the same basis. Mr Buse said that he is not aware of any Public Health Ministry regulation which authorises this two-tier system of charging. He also points out that other public hospitals charge the standard rate of ฿50 for a consultation with a doctor.
Man is fighting cancer
The middle-aged man fighting cancer travels to the hospital in Hua Hin every three months to have doctors check on his prognosis and receive treatment as well as prescriptions. The Dutchman has specialised medical equipment at his home which he also uses to deal with his medical condition.
Buse has spent ฿300,000 in hospital fees since 2015 and visits the hospital every 3 months
In the four years since he has been treated by the hospital, Mr Buse has revealed that his payments to Hua Hin Hospital amount to ฿300,000. He insists that he has no problems with the treatment and services at the hospital or the major portion of his bill but is concerned at the ฿300 doctors consultation charge which appears to be a discriminatory charge on the basis that he is a foreigner. 
Wants to know if there is a legitimate basis for the higher charge he pays over the public rate
The Dutchman would like to know who authorised such a charge and on what legitimate basis. He says that staff at the hospital simply state that they must apply the charge to his bill because of his status in addition to a 15% surcharge. The total amount extra paid by the foreigner over the last four years amounts to ฿12,746.
Complaints filed with the Ministry of Public health and the local Damrongdhama Center
The hospital's foreign patient has prior to this filed complaints with the Thai Ministry of Public Health and the local Damrongdhama Center which is a special office in Thailand similar to a western ombudsman or official dispute resolution process. So far, he has not received a satisfactory response. Mr Buse feels that the extra charge levied on foreigners at the public hospital needs a valid explanation.
Foreigners and expats in Thailand concerned about emergency health costs in hospitals
The Dutch man's campaign and action against the public hospital in Hua Hin come at a time when many foreigners visiting Thailand are concerned about the costs of local medical treatment in the event of an accident or mishap. It also comes as the Thai government, through the Ministry of Commerce is engaged in an ongoing campaign to bring private hospitals to account over distortions and a huge variation in pricing across a range of medical services and medicines being prescribed to patients.
UK couple needed crowdfunding to escape Thai holiday nightmare after motorbike accident and £12k hospital 10 days ago
Two weeks ago, a newly married British couple Rory Sadlier and Aby Harrison were left with a bill for £12,000 or nearly ฿500,000 at a local hospital in Ko Samui which they had to pay in order to leave the island after an emergency rescue from Ko Tao following a motorbike accident there. The couple raised the funds in a successful crowdfunding appeal and did not at any time publicly question the scale of the medical charges. 
Thai hospitals often are faced with high profile cases where everything must be done
For balance, it also has to be noted that medical costs in Thailand, even on a commercial basis, are below many countries worldwide. Similarly, doctors in such high profile emergency situations are concerned to do everything possible for the patients. Failure to do so would open them and their medical institution to international criticism. The incident highlights the importance of foreigners being aware of the potential cost of medical treatment in Thailand and their rights in such situations.
For holiday visitors to Thailand, proper and robust  insurance cover is the key issue
 Of course, the more important issue in such a situation where foreigners need emergency treatment in Thailand is also the maintenance of proper insurance coverage. Foreigners should also be aware of government moves in Thailand to rein in overcharging medical facilities and cause them to better account for treatment costs. 
New laws in Thailand make private hospitals more accountable for charges to the public
At the end of May, Thailand brought into force new legal provisions which give patients at private hospitals the right to demand an indication of the costs of medical treatment before conducting medical procedures. The move covers all treatments and medicines defined under Thailand's Universal Coverage for Emergency Patients.
This was seen as a law to bring the costs of medicines in Thailand under control but the recent moves by the Internal Trade Department of the Ministry of Commerce are believed to be widening the scope and effectiveness of such measures. 
April survey showed 30% to 300% overcharging across over 10,000 medicines and services
A  survey in April by that body under the 1999 Prices of Goods and Services Act found that after 295 of 353 private hospitals reported, there was found to be overcharging by between 30 to 300% across a range of over 10,000 medical products and services specified by the terms of the enquiry.
A new survey with a July deadline only this month saw it extended to July 31st from July 12th after only 70 out of  253 hospitals required to supply further information failed to do so.
Hospital executives can be prosecuted and may face jail time for failure to comply with law
The new law allows for legal action to be taken by patients and government authorities against the hospitals and executives that the medical facilities were overcharging is found. In April, the director-general of the Internal Trade Department of the Ministry of Commerce, Vichai Plohanakit, said that key executives at private hospitals could face a term of one year imprisonment or a fine of ฿20,000 if they failed to take measures to ensure that their hospitals were charging fair prices in line with the new law now in force. There is also a provision for a ฿2,000 per day fine until such matters are resolved.
More serious charges for the provision of unnecessary medical care as a way to bilk patients
It should be noted that the framework for the new law is currently being established by the Ministry of Commerce. There is an even more relevant aspect of the new law that may apply to foreigners seeking treatment in Thai hospitals. This relates to the provision of medical services and treatments which are not relevant or necessary as a way of overcharging patients who are often loathe to question medical doctors held in universal high regard.
Jail for up to 7 years and a ฿140,000 for those found in breach of this provision of the law
This is obviously a matter for medical professionals. Therefore, in each province, a committee is being established to deal with complaints from patients on his score. The remit of the committee will be to determine what is reasonable treatment on a case by case basis.
The penalties for private hospitals or executives at such facilities who breach this provision are more severe with a fine of ฿140,000 and a possible prison term of up to 7 years.
Dutchman's case is curious as it relates to a public hospital operated by the Ministry of Health
Curiously, the 50-year-old Dutchman Erwin Robert Buse's complaint is related to a public hospital. It is not clear if the new law applies to government-run hospitals operated under the auspices of the Ministry of Health.
Dutchman may not be entitled to public health service rates as they are subsidised
It may also transpire that there may indeed be a valid reason for a two-tier charge in relation to foreign patients in Thai hospitals. This may be because foreign nationals are not covered by any public health programme thus allowing doctors and medical facilities to charge a more commercial rate for their services. Many westerners would agree that ฿300 to consult a doctor is still extremely good value by international and certainly western standards.
Foreigners can avail of Thai consumer protection laws which now also cover medical costs
There is also a question over whether the new Thai consumer laws governing hospital charges extend their protection to foreigners availing of the country's health system on a commercial basis. Legal experts suggest that foreigners are indeed covered by Thailand's heightened consumer protection provisions. However, obtaining enforcement of such provisions against Thai businesses and state bodies can take time.
Further reading:
Battlefield friends help UK man and wife escape medical bill of £12k in Thailand. Now safely home
New health coverage proposals for foreigners in Thailand a concern for those with medical conditions
UK man stranded in Thailand facing a £100,000 medical bill may be rescued by crowd funding success
Thai government's new compulsory insurance may only apply to retirement visas for foreigners