A colorful political party is canvassing enthusiastically throughout Thailand on a platform of liberalising the sale of sex toys and allowing adult entertainment venues to operate around the clock. It highlights something that most foreigners not living in Thailand are unaware of. Bombarded by sleazy western tabloid stories of sex for sale in Bangkok and other Thai cities frequented by westerners, many western people perceive Thailand as the direct opposite for what it is. A very conservative and traditional country where old fashioned values are cherished. The question is whether Thailand's more affluent and educated younger generation will learn to appreciate what they have and stand to lose if Thailand follows the path western countries. The sale of sex toys in Thailand is an issue that tests those, traditional values.
A small Thai party has canvassed enthusiastically in the Thai election on a platforming of legalising sex toys and opening adult entertainment venues around the clock in Thailand. It might seem like an peripheral agenda compared to the big issues such as democracy and the economy but, in fact, it could be more important than any of them since the issue is a cultural one and asks the question, what kind of society does Thailand want to be? Does it want to preserve its traditional cultural values that makes it so unique or does it want to following western values and go the way of western society?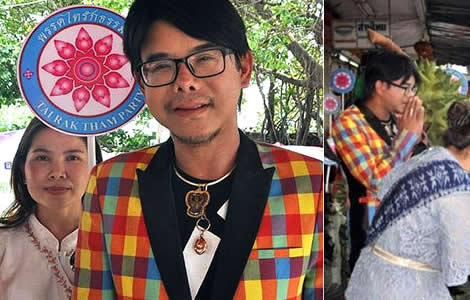 In the last days of a historic election campaign in Thailand, one obscure party was campaigning on a platform of more tolerance towards open sexuality in Thailand.
It is an irony that Thailand, the country associated in many western minds with sexy women and prostitution is, in fact, one of the most old fashioned and traditional societies in the world. This is not some aspirational fantasy but a reality of life in the kingdom.
Thai government clampdown down on sex and prostitution in Thailand as well as sex toys
One outward manifestation of this is that sex toys are strictly illegal in Thailand.
It is not just some section of the criminal code that authorities have forgotten to update but one that is rigorously enforced by the current, deeply conservative, Thai government which came to power following the 2014 coup.
So much so, that in June last year the UK government issued a travel warning to all visitors to Thailand not to purchase or bring sex toys when visiting the kingdom. The current Thai government has, since it came to power, been busy clamping down on Thailand's rampant sex and prostitution industry. Authorities are, perhaps quite rightly, focusing on tackling human trafficking abuses involving underage children and girls.
The campaign to curtail the industry has seen raids on massage parlours, brothels and even a raid on a swingers party in Pattaya where over 50 foreigners and their sex partners were caught red-handed by Thai police at a hotel-wide romp.
Curfew on Thai adult entertainment venues which are home to sexy, topless go go dancing girls
The clampdown on the sex industry has seen Thai police authorities rigorously enforce a 1 am curfew on all adult entertainment venues in Thailand as part of the new regime.
The effects of unpredictable raids, police probes and early closing hours is reported to be having a chilling influence on the industry with many of those running business concerns feeling threatened.
This also causes uncertainty for the hundreds of thousands of Thai women still working in the sex trade.
Small Thai political party wants to see more sexual freedom in Thailand with 24 hour opening hours
The Tai Rak Tham Party wants to change this, at least in Thailand.
They have campaigned in this election on a platform calling for 24 hour opening hours for adult entertainment venues in Thailand. They are also proposing that Thailand legalises sex toys.
The party points to the glut in Thailand, at the present time, of rubber which is grown abundantly in the country. They would like to see this used to make more sex toys as a way of improving the income for less well off farmers.
Party founded in 2013 by LGBT Thai people working in the night entertainment industry
The policies of the Thai Rak Tham Party were outlined this week by its Deputy Leader, Mr Chitsanupong Trairatrangsri.
The party was founded in 2013 by LGBT people involved in the night entertainment business in Thailand.
He points out that, presently, many of Thailand's famous entertainment venues are suffering from the effects of the restrictions imposed by the current Thai government, most notably early closing hours.
Currently, all such venues close their doors to punters often including foreigner st 1 am.
'The night entertainment operations have been so quiet because of the law. Therefore, we would highlight the proposal for the business to be able to operate for 24 hours.' 
Mr Trairatrangsri outlined his views to the The Nation newspaper in Bangkok, a popular English speaking daily publication.
He was campaigning for the election in Thailand's northeastern Isan region in Nakhon Ratchasima province.
Criminal Code Section 287 still being enforced by Thai authorities to suppress obscene materials
The meaning of the party's name Tai Rak Tham translates in English to 'Thais love dharma' but it is unclear how the party will fare when the votes are counted.
For now, the adult entertainment venues must still close at 1 am and selling or distributing sex toys or indeed any obscene material can land someone in prison for up to three years under the law in Thailand.
It is outlined in Criminal Code Section 287 which is being observed and enforced by Thai authorities.
French woman who insisted on vaping ended up in Thai prison before being deported 
Thailand has a similar ban on vaping which is also causing some controversy. Last month, a French woman was arrested by Thai police for vaping in public.
She didn't believe the reports and dismissed the threat of being arrested. When arrested and then asked to pay a significant fine at the police station, she compounded her mistake by refusing. She insisted on going to court.
She was subsequently brought before a Thai court and fined a paltry amount. But it was entirely less than a pyrrhic victory. The woman ended up facing the traumatic experience of spending days in a Thai prison as authorities worked to organise her deportation for breaking the law which automatically voids all visas.
While Thai people can campaign against the country's laws and vendors openly flout them, it is a big mistake for any foreigner to disrespect them. In relation to sex toys, this includes the possession of sex toys as well their use.
The fate of those who disregard the law is always bound to be harsh.
Controversy erupted last year when UK government warned Britons travelling to Thailand
The growing controversy over sex toys in Thailand erupted last year following a number of arrests and fines imposed on foreigners who had brought sex toys to Thailand.
This sparked the UK government to issue a travel advisory warning its citizens of the issue. At the same time, the Director of the Office of Culture Monitoring at Thailand's Culture Ministry was upfront in explaining the legal position. It is against the law in Thailand to traffic in such goods, to be in possession of or use them.
Salinee Chumsawan also vigorously defended the law saying that such products are deeply offensive to most ordinary Thai people. They infringe and are intolerable to Thailand's culture and traditions. Although the statement was criticised by many younger Thai people online, this is still perhaps the belief of most people in Thailand.
As if to emphasize the government's position, Thai police were later reported to have conducted raids on shops and stalls selling sex toys in Pattaya, the seaside resort where many foreigners in Thailand live.
The raids also saw Thai police looking for illicit sex drugs or viagra pills. Two traders were arrested and taken in for questioning by Pattaya police.
Sex toys on sale and doing a brisk trade in Thailand often near adult entertainment venues
Sex toy vendors are risking arrest and punishment under Thai law.
In the past, many paid bribes to carry on their business but in today's Thailand, there is a relentless drive against corruption.
One report from last year suggested that one trader was selling over 100 sex toys a day operating a stall near the Nana adult entertainment venue.
The Nana complex is home to an array of go-go bars where hundreds of sexy Thai women dance semi-naked and reportedly offer other services until 1 am every morning. The trader was generating ฿60,000 or $2,000 a day in sales.
This report suggested that 50% of the customers were foreigners.
Sound reasons behind the opposition to sex toys from Thai traditionalists and authorities
It must be put in context. The concern by authorities and many conservative thinkers in Thailand is that such products and the environment they create, strike at the heart of Thai family and traditional Thai cultural values.
In spite of the sex trade, which gives foreigners a very false impression of Thailand and has little to do with the vast majority of Thai people, the country is a deeply old fashioned one.
Indeed, most Thai women working in the sex trade are there primarily to support their families.
Nascent feminists in Thailand on the march against sex toy ban being enforced by officials
This obviously has drawn fire from nascent feminists in Thailand who have begun to rail at the country's traditional values.
Most Thai women from birth are thought to be feminine and respectful to elders including mother and father as well grandparents in a distinct hierarchy.
They are thought by their mothers to be polite and feminine from an early age.
This behavior is expected of them throughout their lives and reflects on their parents.
They also accept a subservient role in marriage in a traditional sense although today's modern Thailand offers Thai women more economic opportunities than ever before.
Every Thai mother or father works to pass on their values to their children. It means in Thailand that children respect and have a duty to their parents at all times.
Thailand's old fashioned and traditional society is unknown to western countries
This means that is not unusual for young Thai women to be virgins before they marry or to be shy when visiting doctors for physical examinations. Sex is not openly talked about in Thailand.
The current Prime Minister of Thailand, Prayut Chan ocha, some time ago called for scantily and provocatively dressed young women at the huge, annual Bangkok Motor Show to be banned and even suggested that the culture ministry enact legislation to prevent such indecent behaviour.
Sex toys becoming an issue for Thai feminists questioning traditional attitudes towards sex
Therefore, the battle for legalise sex toys takes on a new meaning to feminists and activists who see it as an issue that can be used to open up the way to question Thailand's societal values.
On the other hand, conservative voices see the danger.
Attitudes towards sex is at the core of any culture.
One activist is a 29 years old Thai woman who first noticed sex toys when she as a teenager watching a Japanese porn DVD.
Tuk Ta appeared last year on a Thai PBS TV show where she made public her views on the matter and called for a change to the law. She was robustly challenged by Salinee Chumsawan of the Thai Culture Ministry and other Thai people in the audience.
Does Thailand really want to follow the same path as western society and lose Thai values?
Tak Ta has complained that Thai women are taught that their sexuality depends on the attentions of Thai men. She is advocating the sexual liberation of Thai women but for many ardent supporters of Thai traditional values, this would mean the destruction of the Thai concept of marriage, relationships and family.
The Thai general election has seen 7 million young and well educated Thai millennials taking part in the vote for the first time. For many in the Thai junta, this could spell unwelcome change.
However, what foreigners and indeed Thai people must ask is, do they really want Thailand to go the road that has been followed by western society?
Further reading:
Tensions and sex appeal of Thai politics as a foreigner is arrested and a Thai 'pretty' candidate
Record year for Thai tourism but not so good for Thailand's bar girls and luxury hotels as market has changed
Thailand's sex industry crackdown sees westerners rounded up at hotel orgy in Pattaya – brothel raided
Thai Female Minister declares the end of sex tourism as Thailand too moves towards girl power
Thailand eyes up the sex trade with ongoing raids and a new drive against human trafficking