One man, an uncle of the principal in the money laundering operation had ฿5.5 million in cash stuffed into a washing machine when police arrived at his home on Wednesday to arrest him. Over ฿100 million in assets were seized alone in a series of raids on 6 premises which saw a similar number of arrests.
A prosperous Thai couple were left facing a grim future on Wednesday after Narcotics Suppression Police smashed their ฿1 billion per annum money laundering network. The man and wife are looking at the distinct possibility of the death penalty if convicted of operating a financial nerve centre for some of Thailand's most notorious criminals and illicit drug networks.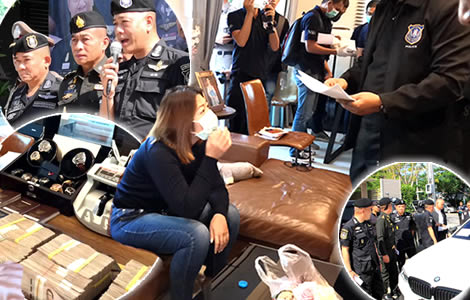 Narcotic Suppression Police raided six properties in Samut Prakan and Nonthaburi on Wednesday in an operation that targeted and disrupted a huge drug money laundering operation linked to some of Thailand's largest drug and criminal gangs.
Home at an exclusive housing estate in Samut Prakan was the financial centre of a drugs empire
The two principals at the centre of the money laundering operation were named by police as husband and wife team, Naruepol Phapphithee and Patthama Buathong whose home on an exclusive housing estate in Samut Prakan's Mueang area is believed by police to have been the nerve centre of frenetic financial activity.
Boss of the operation arrested in hospital
Police reportedly seized nearly ฿25 million in cash during the raids on the properties including ฿5.5 million found in a washing machine at the home of an uncle of Mr Nauepol who was also taken in by the police when they launched a series of raids on all properties. The uncle claimed that the money in the washing machine was from a once-off legal transaction and that he had deposited the money there before he took it to his bank.
Mr Nauepol himself was arrested by police at a private hospital in Bangkok and placed into the custody of officers. He had been receiving treatment at the medical facility for type A influenza when police arrived with a warrant for his arrest.
In all, six people were arrested by authorities with raids on six different locations. All were detained on arrest warrants suggesting a high level of intelligence before the raids set about.
Acted for one of the most notorious drug kingpins
In a briefing to the media, police have linked the money-laundering activity to the Mun Took Med gang reportedly led by an individual named as Pannawit Prathum who is also known by his nickname 'Kokae' and a Theppabut Solo. Both drug kingpins are believed to have fled Thailand for Myanmar where they live in hiding from authorities.
The legal consequences for the husband and wife at the centre of yesterday's arrests could be very severe. On January 26th last, a Thai criminal court handed down a death sentence to Burmese businesswoman Nan Mying Thein Aye after finding her guilty of similar money laundering offences. She was originally arrested by Thai police while visiting Bangkok from Myanmar for medical treatment. 
Her sophisticated money-laundering operation involved the use of local banks throughout Thailand near the drug dealing activity and a money exchange business as a front.
Found Mr Naruemol's wife with a hired retainer for the money laundering agency
When police arrived at the home of Mr Naruepol on Wednesday at No 129/72 Chaiyapruek housing estate in Samut Prakan, a luxury detached residence, they found his wife present with her friend named as Ms Wimol Chuenchomwathana. Police also spoke with Mr Naruepol's father who told them that the cash was the legitimate proceeds of his son's business.
Range of exchangeable luxury goods
Police located a range of exchangeable items when they searched the home including many expensive wristwatches, designer handbags, gold bars and approximately ฿18 million in cash. The home also contained a money counting machine used in banks and financial institutions. A number of expensive cars were also seized by authorities.
Suitcase with ฿6.5 million in ฿1,000 bills
One suitcase had over ฿6.5 million in cash comprised of ฿1,000 bills. It appears that Ms Wimol had been involved in withdrawing the cash earlier from a bank account. Police later found ฿3 million in the bedroom of the house shared by Mr Naruepol and his wife Ms Pathama. 
Police revealed that Ms Wimol was paid ฿15,000 per month to act as a courier opening bank accounts and transferring cash from one account to another as well as making large withdrawals.
Wife denied any links to drug crime, insisted it was from a gambling business operated outside Thailand
Initially questioned by narcotic suppression officers at her home, Ms Pathama explained that the money was from her husband's online gambling business which sometimes led him to visit Poipet in Cambodia.
She said he often crossed back and forth to the Cambodian gambling hotspot adjacent to Thailand in Sa Kaeo's Aranyaprathet district. Mr Naruepol's wife told police that he was in hospital but was informed in return that he was already in police custody.
She denied categorically that the money was connected with the drugs business and explained that her husband had employed Ms Winom and others to transfer money between accounts as he was too busy to manage these matters himself.
Nerve centre of a complex series of drug networks
In police briefings, it was suggested that the money at the house and other locations were indeed the proceeds of drug criminality. Mr Naruepol is reported to be the contact point for a range of drug dealing networks throughout Thailand. His role is to account for the funds and have them transferred to selected bank accounts near Thailand's border with Myanmar.
Tip-off from arrested drug dealer led to the takedown
Police have revealed that they were alerted to the money laundering operation and financial nerve centre of the drug networks after they arrested two drug dealers in Phitsanulok province in September. 
They also detailed how they have so far identified 500 different bank accounts associated with this money laundering group since the beginning of the year with a total turnover in excess of ฿1 billion.
Further reading:
UK drug dealers living it up in Thailand to be deported back to the UK after arrests in Pattaya
Thai drug dealers go high tech with online social media accounts the key mode of distribution
One of the biggest drug dealers in the South flees home as Thai police and army move against him
Thailand's fight against recreational drugs is escalating and deadly even as medical cannabis is legalised here