In July, Thai police chiefs issued stern warnings to logistics and transport companies in Thailand on their role and responsibilities in combating this new and growing threat. New regulations and an update to the law are reported to be in the pipeline.
A Thai academic told us this week what police agencies have been warning about for the last year. The drug business in Thailand has gone high tech and has become a booming, even bigger menace to Thai society then it was before. Today's drug pushers in Thailand are impersonal and online fronted by accounts on Facebook, LINE and Twitter.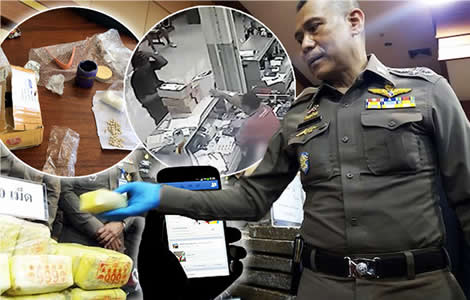 As Thailand faces an economic crisis with all the metrics tumbling, one business in the kingdom is booming by using new technology, the Thai flair for customer service and competitive pricing. It is not the Thailand 4.0 of the Thai government's dreams however but more like the worst nightmare for those in authority. Thailand's booming illicit drugs trade is being fed by independent drugs lords who operate almost as a sovereign state in parts of Myanmar. It is a growing and pressing problem given the human misery that illicit drugs wreak on Thai society.
Groundbreaking study by Chiang Mai lecturer identifies social media's links to the Thai drugs trade
This week, a groundbreaking and insightful study conducted by Kanittha Thaikla, a Chiang Mai based lecturer working at the Research Institute for Health Services at Chiang Mai University claims that in 2019 most drugs bought and sold in Thailand are changing hands online. Ms Kanittha's report highlighted the Facebook and LINE social networks as the keys to the online drugs bonanza. She has also highlighted the growing popularity of Twitter in internet drug retailing now being exploited by the huge drugs cartels which supply Thailand's growing appetite for narcotic drugs such as crystal methamphetamine, marijuana, methamphetamine pills and an even more sinister development, high strength painkiller opioids that are addictive and target the sick and the vulnerable.
200 Twitter accounts selling drugs in Thailand
The lecturer, in her report, identified no less than 200 Twitter accounts selling drugs through which people can order and pay for drugs online and have the substances delivered to their door via parcel delivery firms. Ms Kanittha even highlights the new lingo that the drug gangs and their online followers have developed to smoothly and effectively negotiate online purchases and sales under the noses of social company watchdogs and of course the Thai police.
Thai police aware and already combating this escalation in the country's drugs war
It would be wrong, of course, to suggest that the Royal Thai Police are behind the curve on the issue and threat, they are not. In July, the Deputy National Police Chief, Chalermkiat Srivorakhan issued a warning to Thailand's courier companies highlighting the responsibilities of these commercial concerns, licenced by the government, to control what is being transported on behalf of their customers.
Summit meeting in Bangkok with courier firms
The injunction by the police boss followed a meeting held at the end of last month at the offices of the Narcotic Suppression Bureau in Bangkok. The high-level meeting was attended by a range of representatives from state agencies and top executives with 14 of Thailand's top courier firms.
Plans to tighten and upgrade the law to make courier and transport companies more responsible
The senior police officer revealed that the Thai government was currently working on updating legal provisions to help curb this new mode of drugs transport. It is expected that the new regulations will place a stronger onus or responsibility on transport firms to screen packages. The deputy national police chief stressed that courier firms must know what they are transporting as well as the real identity of their customers. 'The companies are the middlemen in the delivery process. They can't get away with claiming they have no idea about what's in parcels passing through their hands,' he said.
Warning to courier and logistics firms in Thailand
The police chief highlighted existing legal provisions which could lead the management of courier firms facing legal consequences for failure to control illegal drugs being transported by their firms. He particularly warned that the Thai police would act if they found firms consistently being found to be facilitating the distribution of illegal narcotics through their commercial operations.
Contractural and privacy concerns open the door to drug pushers to exploit commercial firms
The attitude of some courier firms suggesting that they were contractually obliged not to examine or pry into the contents of packages being transported has created an opportunity for the criminal networks. This is what the deputy police chief told the media at the end of July.
Boom in online drugs retailing being driven and exploited by the Lords of the Golden Triangle
The boom in online drugs retailing is being driven and exploited by the drug crime lords on Thailand's border with Myanmar and Laos but particularly in the autonomous regions on Myanmar's side of the Thai border and the area known for decades at the 'Golden Triangle' which because of a range of local and geopolitical factors, has never been suppressed. 
More drugs being detected because of higher volumes being shipped within Thailand
Since 2017, it has been reported that the drugs lords in the region have perfected the core production processes and formula in manufacturing crystal ice and methamphetamine pills allowing them less restriction and the ability to produce the drugs at far lower prices. A year later, international drug suppression agencies were warning the criminal networks were looking at new modes of distribution. In the last two years, there has been a huge surge in drugs detected and confiscated by Thai police and drug suppression agencies. This is, however, a sign of increased trade and not a sign that authorities are winning the ongoing deadly war against the scourge of drugs.
Parcel firms must get with the programme to thwart drug barons, it will not be easy
The findings of Ms Kanittha's study were also confirmed to Thailand's Daily News newspaper in July by a Thai police officer who formerly worked with the drug suppression effort. Police Colonel Samran Nuanma expressed a similar view to the deputy police chief in the same month saying that courier and parcel delivery firms in Thailand had to get with the programme as their industry has now become the focus of the powerful drug barons who will not be so easy to deflect.
New era of high tech drug dealing
The police officer explained that in today's drug world the interaction is now between the customer and unseen impersonal sellers online. The day when police could swoop upon street drug pushers is long gone except for some small-time operators. Today, drugs in Thailand are bought and sold using smartphones and the key social networks such a Facebook, LINE and Twitter. Indeed the LINE app has perfected the peer to peer selling technique allowing speedy messaging, calls. audio messages, pictures and payments. Of course, it is not just being used for drugs but across the commercial spectrum in Thailand where the LINE social network is emerging as a particularly Thai phenomenon.
Blitz against online drugs empire Mun Tuk Med last year  led to ฿2 billion in drugs being found
In August last year, Thai police in a blitz of raids delivered a blow against an online drugs network still believed to be in operation but which gives some indication of the extent of the challenge facing the Thai police and drug suppression agencies.
The drugs network was called Mun Tuk Med (Every Pill is Fun) and by August 2018, it had grown enormously through both Facebook and LINE in Thailand. It was also very sophisticated and effective. Members submitted their official IDs and proof of address to gain entry into this internet online drugs market. It even had procedures for combating unpaid debts including putting bounties on those who defaulted and organising offline violence.
Inbuilt money laundering and loan sharking activity, evil chasing evil within one network
Police investigations of the network found that it had deployed inbuilt money laundering tactics such as the use of legitimate business fronts such as tyre shops and in a sophisticated way, was cooperating with loan sharks to lend out its ill-gotten gains. One social disease preying upon Thai society to infect and spread another. This was confirmed at the time by the Chief of the Narcotics Suppression Bureau Police Lieutenant General Sommai Kongwisaisuk. 'We have found that money earned from the drug trade is divided into three: One going to the gang's chief in the North, the second to a loanshark operation and the third to tyre and auto-accessories shops that are operated as a front to launder illicit gains.'
Tyre shop in Samut Sakhon turned over ฿100 million, owner's income was ฿20,000 per month
On one day of the police blitz, a tyre shop run by 29-year-old Rungroj Jirattikanphan was raided in Samut Sakhon. The owner of the business had earlier told authorities that he was only making ฿20,000 per month for himself out of his business yet it had a turnover of ฿100 million. According to police, the man was selling tyres at up to a 50% discount to generate legitimate cashflow to conceal the illicit drug activity and funds flowing through his bank accounts. The shop and its assets were seized pending police enquiries following court orders.
Online drugs network leader fled Thailand
The reported gang leader of the Mun Tuk Med online drugs network, Panyuwit Prathoom, fled Thailand for a neighbouring country. In the month-long operation last year against the network, police raided no less than 141 locations in 26 Thai provinces seizing drugs, guns and ammunition. The estimated value of the drugs seized was ฿2 billion and the assets frozen by authorities at ฿338 million.
Further reading:
Thailand's fight against recreational drugs is escalating and deadly even as medical cannabis is legalised here
Drug lords using an Australian gang to ship concealed drugs to Australia and Canada – more arrests promised
Thai man burns down his family home: Thailand's drugs problem is still a very real threat to society
Thailand at war with drugs as regional anti drug effort gains steam, foreigners must not be the enemy