On Tuesday, July 23rd a combined army and police task force raided up to 17 locations in Narathiwat province to arrest a local politician, 58-year-old Mr Gariya Chemama, a member of a provincial administrative council for drug dealing. Authorities also seized up to ฿50 million in assets. The operation stemmed from the seizure by narcotics police in Bangkok on Sunday 7th July of 460 kg of crystal methamphetamine.
On Tuesday, the Thai police and army united to arrest a local politician and member of the administrative council in Narathiwat province for drug dealing on a massive scale. The operation was based on a warrant issued on July 12th by a criminal court in Bangkok after Thai police confirmed information they had received from arrested drug runners. When police arrived at his main residence this week, the suspected drug kingpin had already taken flight, no doubt anxious to avoid the very real possibility of the death penalty if convicted as a large cross-border drug dealer.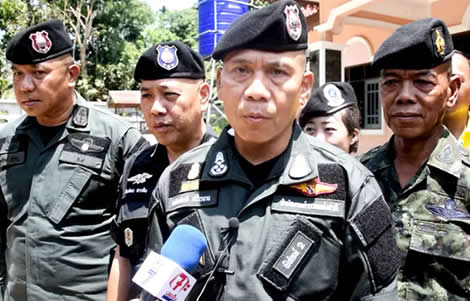 Thai authorities moved this week against a local politician in Narathiwat province who is thought to be the biggest drug kingpin in that southern region. A task force of the army and police units swooped on as many as 17 locations to enforce a warrant issued by the Thai criminal court in Bangkok on July 12th for the arrest of 58-year-old Mr Gariya Chemama who serves as a member of the provincial administration council in Narathiwat province.
Operation mounted by army and police last Tuesday
The operation to arrest the drug kingpin and seize his assets was mounted on Tuesday last July 23rd after careful planning and coordination. Thai police and army personnel arrived in force at the main residence of the politician who appears to be on the run having got wind of his imminent arrest. The politician's home is located in the Waeng area of Narathiwat. The raiding force was led by Deputy Police Chief General Chalermkiat Sriworakhan.
Politician described by the deputy police chief as one of the biggest drug traffickers in southern Thailand
The police boss briefed reporters at the scene. 'The suspect is among the biggest drug traffickers in southern Thailand and he is believed to be linked to a drug trafficking syndicate in Malaysia,' he said. The police officer spoke with the 58-year-old wanted man's mother named as Ms Je Asanjeemama and asked her to do everything possible to convince her son to surrender to authorities. The senior police officer promised her that he would receive justice according to due process if he handed himself in.
Nine bank accounts frozen, cars and assets seized including 8 land deeds valued at ฿50 million
Police are reported to have frozen nine bank accounts linked to the politician. They have also taken steps to seize all the man's assets. This is reported to have included three homes, 3 cars and 8 land title deeds. Authorities estimate the total value of the assets seized or frozen at ฿50 million. 
Arrest of drug runners in Bangkok suburb by narcotic suppression police sparked politician's fall 
The downfall of the 58-year old drug kingpin started on Sunday, July 7th when Thai narcotics suppression police intercepted a huge load of crystal methamphetamine being moved through a southwestern suburb of Bangkok on the  Kanchanaphisek Road in the Bang Khun Thian district. Two men aged 32 and 33, were arrested. They were named as Worawut Kraiwong and Angsuree Srikhamnuan.
Further arrests at a petrol station in Songkhla
This led to the subsequent arrests of 51-year-old Pohsa Ding and his accomplice Korseng Nikoh at a petrol station at Lop Ramet in Songkhla. The men were waiting for the huge drug shipment of 460 kgs of the addictive drug that is wreaking havoc right now all over Thailand. It is believed that the drug consignment had initially entered Thailand in Chiang Rai at the Myanmar border crossing at Tachileik.
Warrant issued on Friday, July 12th by a criminal court
The men arrested are believed to have volunteered information which put police on to the southern politician. His bank accounts were examined and an arrest warrant (Criminal Court No. 313/2562) was issued for Mr Gariya on Friday, July 12th. Authorities understand that the drug kingpin has extensive contacts outside Thailand's borders in both Malaysia and Myanmar within the drug trade and hired the men arrested as drug runners.
Thai police were able to use the information gleaned from the arrested suspects to identify payments for drugs shipments and illegal activities after they forensically examined Mr Gariya's bank accounts. This allowed them to get the court warrant for his arrest and to freeze his bank accounts.
Death sentences for transnational drug operators
In the last year, a series of such drug kingpins and those linked with the wholesale transnational shipping of drugs have been given the death sentence by Thailand's courts. This includes a 43 Myanmar businesswoman who ran a money-laundering operation fronted by currency exchange shops. Nan Mying Thein Aye was handed down the death penalty at the end of January this year by a Thai court following her arrest in Bangkok in November 2017.
Further reading and information on this story:
Thailand's fight against recreational drugs is escalating and deadly even as medical cannabis is legalised here