Last week, a large deputation representing 7,000 people visited the Justice Ministry in Bangkok over a ฿400 million loss suffered by customers of several Facebook pages offering an income opportunity in crafts for those prepared to outlay money. Meanwhile, a Thai woman made a complaint to Crime Suppression Division police also in Bangkok on Friday after being scammed out of ฿26,000. She believes it is the same entity that scammed her partner in August, a case reported to provincial police.
The threat from online scams and internet-related fraudulent activity has risen in Thailand in recent months to a new level as the people behind the activity become more resourceful. They are now believed to be deploying hacking activities on socials networks to gain access to data and compromise the safety and security of online users for the purpose of fraud.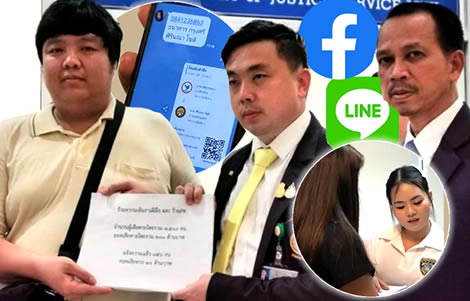 The situation in Thailand concerning internet scamming is growing more serious as organised criminals, many of them linked to global networks and originating in Nigeria are growing increasingly bolder and more sophisticated in their exploits.
The problem is not confined to Thailand, it is a worldwide phenomenon, but the culture and traditional practices in Thailand make many Thai people vulnerable to the different scams being perpetrated online. 
There is also evidence that Thailand is being used as a base for these gangs notably from Africa and Nigeria engaged in the activity as well as drug trafficking. This activity is linked to Malaysia which seems to be at the centre of internet romance scams and online cybercrime. 
Single Thai women targeted by romance scam gangs
The Thai police in recent years have been cracking down on romance scams which are still ongoing where the fraudsters present themselves as well to do businessmen from western countries or utilise a variety of characters and situation to win the hearts of Thai women who are unattached, well off or single. Many of these Thai women have the financial means to be a mark for these conmen and may also borrow money from a friend to pay the scammers.
Present themselves as figures of authority
Thai women, particularly those of older generations, are also culturally conditioned to have respect for authority figures and to try and assist others where possible. The online fraudsters often pose as senior officials from large global companies or even senior military officers in armies throughout the world, particularly the United States defence forces.
Same problem in western countries with a 70% spike this year in US online dating scam complaints
The same problem exists in western countries such as the United States, Australia and the United Kingdom again where single or unattached middle-aged women are targeted.
The FBI in August this year issued a cyber crime alert suggesting that internet romance scam fraud had spiked by 70% this year.
The law enforcement agency advice also applies to women and men in Thailand: 'Do not ignore any facts which seem inconsistent, never send money to someone you meet online, especially by wire transfer. Never provide credit card numbers or bank account information without verifying the recipient's identity. Never share your Social Security number or other personally identifiable information.'
Police agencies in Thailand shocked by the extent of the industry and its links with drug trafficking
Thai police agencies have admitted to being shocked at the extent and organisation of online dating scammers in Thailand which was prioritised as a crackdown area in the last two years.
They have also identified extensive links between what is now an organised crime industry being run from Nigeria and drug trafficking using Thailand as a hub and centre again being driven by kingpins on the African continent.
Police have uncovered evidence that the significant funds generated from online dating scams are being used to fund drug deals and narcotics distribution activity.
Scammers now developing technological skills 
However, there is a new move by the scammers to up the ante and go deeper online even developing their own websites for phishing and hacking purposes. They are also developing exploits in coordination with hacking networks to infiltrate and compromise popular social networks including LINE and Facebook.
The current scam is a Facebook exploit seen around the world where the hackers have cloned accounts of friends in social networks of individuals and send out requests for financial assistance or money in a range of guises.
Teaming up with Russian and Ukrainian hackers
Industry insiders working within the social networks have also revealed that the gangs are also coordinating with hacking gangs from countries such as Russia and Ukraine to give them the edge in gaining access to data and creating new exploits to fool their unsuspecting victims.
It is a major challenge for technology companies worldwide as well as in Thailand.
Thai woman conned into send ฿13,000 twice
On Friday last, one Thai woman lodged a complaint with the Crime Suppression Police in Lumpini after being lured into sending ฿26,000 to an online scammer.
The woman named Preeyaporn had been approached for help by a friend in Sa Kaeo province and was requested to transfer ฿13,000 into a bank account.
Ms Preeyaporn used the LINE application to communicate with the entity that she assumed was her friend and to transfer the money.
The message said that the friend needed to transfer the money but their online account was not working properly.
It was basically a short term loan. It is the sort of thing that Thai people do in a country where many people loan money to each other on a short term basis.
Deception tactics using calls that are never answered
Minutes later, Ms Preeyaporn saw two missed calls on her phone from her friend and called back.
Before there was an answer, she received another message from her friend saying that the money had not come through and the matter was urgent. After seeing the two missed calls and the frantic message, the Thai women acted quickly fearing that she would let down her friend in need. She transferred the funds again. 
Security experts point out that the scammers never wanted Ms Preeyaporn to answer the calls, it was simply a deception tactic to make her feel her friend was contacting her giving her confidence to send the money.
The scammers use the same techniques on video calls on online dating sites where they call and even if the person answers, there is some problem with the connection.
Minutes later the woman knew she had been duped
Minutes after she had sent the money, Ms Preeyaporn saw an online message from her Sa Kaeo friend explaining that her Facebook account had been hacked.
Contacted her bank, made another discovery
Preeyaporn scrambled into action and reported the matter to authorities in the bank to make an effort to take back the funds. Of course, it was impossible but from information gleaned from the response, Ms Preeyaporn deduced that the scammer was the same person who had deceived her partner in August, an incident which had been reported to the Provincial Police in Amnat Charoen. 
It is the same type of story and incident that is now happening throughout Thailand on an ongoing basis. The scale of the problem is expanding and impacting thousands of hardworking Thai people while the financial losses are mounting.
Scams are now rife throughout the kingdom
The scams are now so rife that even celebrities are reporting their stories. A TV host working with ThaiRath TV recently announced that she had lost ฿120,000 to a Facebook exploit very similar to the one that Ms Preeyaporn reported to the police on Friday. 
No shortage of individual Thai fraudsters using social networks to deceive unwitting victims
In addition to the organised crime gangs with international connections, there is also an endless parade of Thai fraudsters being arrested by police.
These online fraudsters are working on their own initiative simply advertising goods that do not exist on Facebook and other social networks, getting paid and simply disappearing.
University graduate arrested by police in September
One young Thai university graduate from a prestigious college was arrested recently for using a more sophisticated scam where he accessed hacked data of credit cards held by Thai people and ordered goods on their behalf while redirecting the packages to false addresses from where he intercepted them to avoid detection. He later sold the goods online. 
29-year-old Satit Janpho generated a fortune of ฿10 million from his exploits allowing him to buy a house and luxury cars before police finally caught up with him.
It almost beggars belief that despite the writings and the media attention to such stories that the same ruses continued to work keeping Thai police and the justice system busy.
A deputation representing up to 7,000 people visit the Ministry of Justice last week
Last week, a deputation of Thai men and women representing up to 7,000 people visited the Ministry of Justice in Bangkok to meet Vice Minister Samart Jenchaijitwanit.
A representative of the victims, Phattharawut Chulapakdee, told the press that the original basis for the complaints were 4 Facebook business pages presenting a front as a handicraft enterprise or business concern that promised regular income for people who invested in materials and produced products for the companies.
Fell for the same crafts scam that offred a money-making opportunity and went viral online
It is the sort of offer that is very tempting to hard-pressed Thai people looking for an extra way to make income. The problem, of course, was that once the money was paid, nothing happened. The page would close within 1 to 2 months and then others opened each with a different sales message and branding
However, once the victims started connecting with each other they also discovered that all the pages had the same bank account number.
฿400,000 in estimates losses suffered
The group estimates that up to 7,000 Thai people have lost money in the online scam and the losses could be as much as ฿400,000.
The victims are astounded at the actions of those behind the pages that kept reinventing the same proposition suggesting that those perpetrating the fraud have no fear of being caught and brought to justice.
Vice Minister of Justice responded to the complaint
The Vice Minister responded that the relevant agencies have already received complaints about the pages on Facebook. He revealed that from initial investigations, it appeared to be chain share driven by its attractive offer allowing people to make an impressive financial return but also appealing plausible and from a well-established concern.
Matter reported to the Royal Thai Police by the Justice Ministry- seeking a special investigation
The minister suggested that his department was in contact with the Royal Thai Police and was gathering the names of all the victims involved so that the appropriate authorities may consider opening a special investigation into the matter.
Further reading:
Thai man's ฿10 million credit card fraud ended Monday with his arrest by CSD police in Bangkok
Nigerian and Thai wife arrested by police after online romance fraud costs woman ฿1.5 million
Thailand leads the world in the crackdown on online romance crooks targeting Thai women online
More Nigerians busted by Thai police for targeting vulnerable Thai women seeking love online
The scam is up – Nigerian lover boys arrested for taking advantage of Thai women seeking Love online