Thai woman transferred the money in the hope of gaining access to ฿15 million in an approved loan from the World Bank arranged by a man she thought was a US military doctor. The arrest follows a lull in activity for the gangs in 2019 although there have been some arrests. This followed an intensive crackdown in 2018 led by former Police Lieutenant General Surachate Hapkarn or 'Big Joke' who at one point, visited Malaysia in a joint operation between Thai and Malaysian police against the Nigerian online fraud gangs who have particular links to Kuala Lumpur and move between the two countries.
Thai police arrested a 40-year-old Nigeran man and his 36-year-old Thai wife in Sattahip near Pattaya this Saturday on foot of warrant from a local court following the loss ฿1.5 million by a Thai woman to an online romance scam or fraud.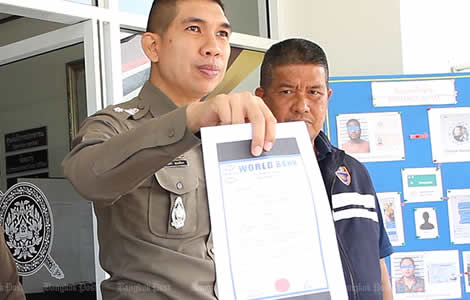 Thai police on Saturday arrested another Nigerian in Thailand involved in online dating or romance fraud. This time the perpetrator had been working with his Thai wife.
Both were arrested by Thai police after a warrant was issued by a court in Pattaya. The couple lived at a house in the Sattahip area of Chonburi, adjacent to the resort city. They have been named as 40-year-old Joseph Amujiogu and 36-year-old Wassana Kanchiak.
Thai women as targeted by the Nigerian man on Facebook posing as a US military doctor
The victim in the case has made a request to Thai police to stay anonymous although officers gave details of her story so that other Thai women can be made more aware of the threat. The woman was targeted by the Nigerian man on Facebook. There, he assumed the identity of an American military doctor named as 'UD David' and friended her profile online. The fraudster then lured her off the social network into the more intimate Google Hangouts application where he revealed himself to be Dr David Mandy.
Huge crackdown on online romance scammers last year in Thailand dented their activities
There has been a shift by romance scammers in recent years. They no longer so much lure victims away from established online dating sites where their activities are now publicised and warned about openly to users. There is a record of conversations on these dating sites so that their suspicious activity can be tracked or detected. They now target Facebook and shunt their victims to various chat application where they cannot be traced.
The huge crackdown on the activity last year in Thailand, led by former Immigration Police Chief Surachate Hapkarn or 'Big Joke', certainly hit them hard. It reduced the activity of these gangs who are now primarily of Nigerian or African origin and linked to larger crime organisations directed from Nigeria who have perfected online fraud into an art.
World Bank loan for ฿15,000,000 was the promise that tempted the Thai woman
Now the scammers are using Facebook and directing their marks to what are perceived to be secure chat applications to set them up. This is exactly what happened here.
In this case, the US professional had soon introduced the Thai woman to the subject of money. He revealed to her that a loan of $500,000 had been approved for her by the 'World Bank' or the equivalent of ฿15,000,000. She would be obliged to transfer $50,000 in 'operating expenses' to secure access to the funds.
Genuine and lonely people fall prey to the scams
For most foreigners, such a proposal would ring alarm bells yet in many western countries, lonely men and women continue to fall victim to the same activity every day even when warned off by family members and friends. These are often lonely, sincere or very genuine people. 
In Thailand, there are a great many people who are also quite trusting and not very familiar with the world outside the kingdom. These people often have great respect for authority, are hard-working and successful at their work which gives them access to funds. Many of the victims of these crimes are people of character who believe in the word of other people. This is what makes such crimes so heinous and despicable.
Thai woman used a smartphone app to transfer ฿1.5 million to the fraudster's account
The Thai woman transferred the money to the fraudster aka the American military doctor named as David Mandy. She did this using a banking app on her smartphone. This amounted to ฿1.5 million approximately. The woman quickly discovered that she had been scammed and reported the matter to the Thai police. This weekend Police Colonel Chiddecha Songhong of the Royal Thai Police at Nong Prue briefed the media on the case.
Nigerian scammers have targeted Thailand as online romance scamming went global
Online romance scams have developed over the last twenty years. Unfortunately, in that period, they have more and more targeted Thailand until the crackdown by Thai police last year. Ten years ago, the scams were perpetrated primarily by young men in western African countries including Nigeria and Ghana.
Online romance fraud morphed into a global, international crime network over 10 years ago
In the last decade, the industry morphed into a far larger criminal enterprise driven by Nigerian crime lords working with other criminal networks all over the world from Eastern Europe to Asia. During that period, many Nigerians entered Thailand where they targeted international dating sites. Many of the gangs hailed originally from Malaysia and Kuala Lumpur. Last year, 'Big Joke' the ex immigration police chief was involved in a joint operation between Thai and Malaysian police with simultaneous arrests in both countries. Some Nigerian gangs use Malaysia as a base from which to enter and target Thailand. Many of the Nigerians involved in these rackets are linked with and answerable to crime lords in Nigeria. There is also evidence to link the criminal activity with the current migration wave from Africa.
FBI has warned that the trade is more lucrative for international crime gangs than the drug dealing
The FBI, in the last decade, has identified this criminal activity as potentially one that is more lucrative for criminal gangs than the illegal drugs business. Data released by the FBI's Internet Crime Complaint Centre suggests that the scale of offences suffered by victims of this crime from December 2016 to May 2018 increased by 136%.
Overlap between romance scammer and drugs, prostitution trade in Thailand
Police in Thailand, in the last few years, have also identified an overlap in the activities of the Nigerian gangs and Nigerian involvement in human trafficking, prostitution and drugs as romance scammers invest the funds in other criminal activities. The former immigration police chief Surachate Hapkarn was at one time warned by a rights agency in Thailand after he ordered an investigation into all Nigerians in Thailand when he discovered that a significant number had been arrested by Thai police for involvement in this criminal activity.
Thailand leads the world in the crackdown on online romance crooks targeting Thai women online
More Nigerians busted by Thai police for targeting vulnerable Thai women seeking love online
The scam is up – Nigerian lover boys arrested for taking advantage of Thai women seeking Love online
Gangs involved in fraud rackets arrested by Thai authorities
Thai singles using online dating sites must be aware of scamming threat