58-year-old Wannee Jiracharoenying had become friendly with a Thai woman named only as Ms Oom shortly before she went missing from her family after travelling to her extensive property in Chiang Mai's Chom Thong district around the 13th of October last. Her brother Worapan notified police there on Sunday that his sister was missing. The body of the missing woman was found shortly afterwards when officers entered the woman's home.
Thai police are investigating what appears to be heinous crime after the decomposed body of a wealthy and generous 58-year-old woman was found bundled into a fridge at her home with her hands and legs bound and a plastic bag covering her head. Subsequently, well over ฿1 million was withdrawn from her bank accounts using an ATM card.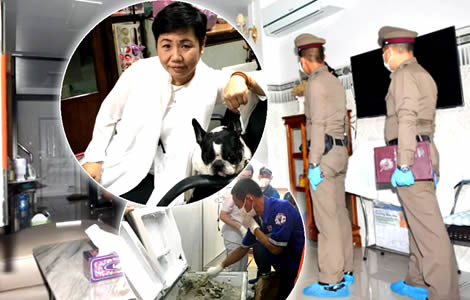 Thai police in Chiang Mai have opened a murder investigation that is still reported to be in its early stages following the grisly discovery of the body of a woman at her home in Chiang Mai.
The body of 58-year old Wannee Jiracharoenying was stuffed into a fridge and covered in lime. The wealthy woman had both her hands and feet bound and a plastic bag covering her head.
Successful estate developer and philanthropist
Ms Wannee was a successful estate developer who was known as a generous philanthropist.
Her family lost contact with her before her body was discovered on Sunday two weeks prior on October 13th. Her brother, Worapan, told Thai police that his sister had become quite friendly with a woman named only as 'Oom' who police are now actively searching for. 
Body was found badly decomposed
Police Colonel Kritsana Pattanacharoen, a deputy spokesman for the Royal Thai Police confirmed on Monday that the body of Ms Wannee which was very badly decomposed, has been sent to Maharat Chiang Mai Hospital for an autopsy.
Police were formally notified of Ms Wannee's disappearance only on Sunday. This happened after her brother Worapan heard from a friend of his sister's who told him that she had received a LINE message from her on the 16th of October suggesting she was going to visit Vietnam. On hearing this on Sunday, her brother immediately became suspicious and filed the missing person report.
Team from Chom Thong police station went to the home on Sunday after she was reported missing
The was followed by a team of police from Chom Thong police station in Chiang Mai being sent to Ms Wannee's home. This is a substantial two-storey commercial building near Wat Phra That Si Chom Thong, a well known Buddhist temple. The victim had told her brother two weeks ago that she was going to stay at her home to attend dhamma practice at the temple.
Seen with the 'Oom' as she donated a mini can to a temple and ฿19 million to a local hospital
Earlier, Ms Wannee had been seen with her new friend 'Oom' at Wat Phra That Si Chom Thong where she had donated a new mini can and also at Suan Dok Hospital, a provincial facility in Chiang Mai to which she had donated ฿19 million.
Family of 'Oom' say the woman has left the kingdom
Police have begun a search for the mysterious Ms Oom but have been told by relatives that she has now travelled out of Thailand.
The investigation team is currently confirming this with the Immigration Bureau.
Police will not at this stage say if the other woman is a suspect but are saying that they wish to speak to her as a witness in the matter who may have valuable information for their enquiry.
Foul smell from a refrigerator
On Sunday, after Mr Worapan officially notified the police that his sister was missing, a team who visited the property discovered a foul smell coming from an overturned fridge in the kitchen area of the building. That is when they discovered the badly decomposed body.
CCTV system removed from the property
Sinisterly, they also found that the property's CCTV system had been removed. Police officers were able to identify a suspect going to a local convenience store to purchase a plastic bag believed to have been used to conceal Ms Wannee's body.
Suspect driving Ms Wannee's white BMW car
Police also tracked a suspect driving Ms Wannee's white BMW sedan to Chiang Rai then on to Lampang and back again to Chiang Mai where it was parked behind the university. Ms Wannee's mobile phone was also taken.
Over ฿1 million taken in cash ATM withdrawals
Police have also discovered the extensive use of the victim's ATM card at various points throughout Thailand. It is believed that the amount withdrawn in ฿20,000 withdrawals is already well over ฿1,000,000. The last ATM withdrawal was recorded in Rayong province.
Suspect known to the victim say police – confident of an arrest in the case shortly
Police believe that the murderer or suspect was well known to Ms Wannee as they were able to use the sophisticated entry system to the house which required a password.
Officers are reported to be confident of making an arrest in the case shortly.
Further reading:
Norwegian man found hanged at a luxury villa in Hua Hin as police probe collects fingerprints
Chinese boss murdered by migrant restaurant staff in Bangkok after complaining of noise
25-year-old Thai woman in plot to murder her mother outlined by police in Bangkok last Friday
Death sentence for murderous trio who executed a loving Thai wife and her UK husband in Phrae