Young woman's husband was jailed in April for possession of drugs. She confessed to police that she had hired two hitmen to kill her mother because she wanted access to her mother's insurance policy and valuable land the older woman owned. She needed the money to bail out her husband.
An attempt to murder 55-year-old Ms Uamduan Srisang ultimately failed on the night of June 22nd last when the woman survived a serious injury after being shot in the chest. Later, Thai police in Bangkok came to suspect that her 25-year-old daughter Kanchana Srisang was behind the shooting. The revelation came days after Thailand's Supreme Court sentenced a middle-aged woman to death for the murder of her Japanese husband in 2015.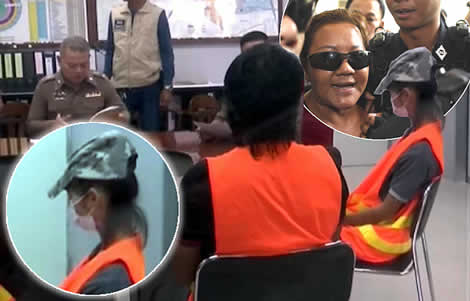 In a week when Thailand's Supreme Court handed down a death sentence to a Thai wife for murdering her Japanese husband comes another horror story showing how a lust for money can turn some Thai women into killers. However this story may yet have a twist, the Thai woman's target was her own mother and Thai police suspect she may have been motivated by love, twisted love for her husband linked with the evil illegal drugs trade.
Thai woman hired hitmen to kill her mother
On Friday afternoon last, Police Major General Daoloy Mueandej briefed the media on the striking case. The deputy chief of the Metropolitan Police Bureau told a tale of a Thai woman who had hired two hitmen to kill her 55-year-old mother. 25-year-old Kanchana Srisang reportedly had confessed to hiring 40-year-old Prachoen Krabinrot and 35-year-old Dao Chaengpradit to carry out the terrible deed.
Motive was access to the old woman's insurance policy and plots of land valued at ฿10 million
Police in Bangkok were being led to believe that the 25-year-old was the brains behind the plot to kill her own mother. The alleged motive was to access an insurance policy valued at ฿100,000 and two plots of land valued at ฿10 million in Phetchaburi province. Police understand that the young woman was desperate to post bail for her husband who was arrested by authorities for possession of drugs in April this year and is banged up at Minburi prison which also houses many gay prisoners in Bangkok.
Police had information suggesting the 25-year-old woman was behind the attempted murder
It appears that investigating Thai police at Kok Khram police station in Bangkok did come into the possession of relevant information which suggested positively that the young woman may have been the mover behind the operation to kill her mother, Ms Uamduan Srisang which was carried out at the end of June.
Contract with the two men was for ฿200,000
The 25-year-old was arrested and interrogated. She confessed to police that she had hired two hitmen to do away with her mother. She said she needed the cash to bail out her husband. She identified Mr Dao as the man she had approached. He is reported to be a friend of her husband and he brought in Mr Prachoen. Both men were to be paid ฿200,000 to carry out the killing.
Attack on the 55-year-old woman took place on June 22nd as she rode home from work
The attempted murder went ahead on the night of June 22nd as Ms Uamduan was travelling home on her bicycle. The two men hired to kill her waited in a car and Mr Prachoen opened fire on the unsuspecting woman. A bullet hit her in the right-hand side of her chest seriously injuring her. The seriously injured woman was rescued from the crime scene and taken to hospital.
Mother and daughter did not get on
It is understood that the mother and daughter do not get on very well and argue often. The 55-year-old Ms Uamduan also later told investigating officers of a possible attempt to murder her using poison. She believes that such an attempt on her life had been made at her home prior to the shooting.
Suspected attempt to poison the older women revealed by police in Bangkok on Friday
She told the police that she found a drink in her refrigerator with a queer smell. She quickly disposed of the substance by throwing it out but she did come to notice that ants nearby who came to drink it, perished immediately. This information as revealed on Friday by Police Colonel Alongkot Sirisongkhram of Khok Khram police in Bangkok.
Deeper police probe into the two hitmen
It is understood that the police in Bangkok would like to find out more about the role of Ms Kanchana Srisang in the attempted murder of her mother despite the young woman's confession. The investigation is being extended to look at this aspect of the case. Police have let be known that the two hitmen who tried to kill the  Ms Uamduan are also heavily involved with the illegal drugs business. The two men will be the focus now of deeper police enquiries.
All three arrested in connection with the case perform crime reenactments on Friday 
All three individuals were taken on Friday to conduct a crime reenactment which is standard procedure in Thailand. The husband of the young woman is 30-year old Kittipong Plappla. He was arrested by Thai police for being in possession of 58 speed pills and a quantity of crystal ice on April 18th last. 
Last Monday Supreme Court sentenced Thai women to die for the murder of her husband in 2015
Friday's briefing by police in Bangkok came in a week that began on Monday with the Thai Supreme Court overturning a verdict of two lower courts and convicting a Thai woman in her 50s of the murder of her 84-year-old Japanese husband in 2015.
Wife of Japanese murder victim cleared twice by lower courts of his murder on lack of evidence
A provincial court had initially cleared the woman of the charges against her in 2016 because it considered there was a lack of evidence. This verdict was later upheld by the Thai Appeals Court. However, on Monday, the Supreme Court handed down a guilty verdict and sentenced Poranee Napadol to death. It is the final ruling on the case before the courts.
Brother in law implicated the woman in the murder when he confessed to police
Ms Poaranee was arrested by Thai police in October 2015. Her brother in law Sampan Chamchaeng who was married to Ms Poranee's younger sister admitted to police that he had murdered the Thai woman's Japanese husband and said that he committed the act at the Thai woman's bidding.
Ms Poranee was the driving force and 'key person' in the affair said the Supreme Court judgment
The prosecution in the case had always maintained that Ms Poranee was the guiding hand behind the crime and appealed the earlier verdict to the Supreme Court. It is reported that there was also circumstantial evidence that supported the confession of Mr Sampan, the killer who left Japanese businessman Kazuo Yoshioka with his throat cut at the home in Thailand where he had been living with his Thai wife on October 13th 2015.
In its ruling on Monday, the Supreme Court said: 'The court believes Poranee was the key person who commanded her brother-in-law to kill her own husband.'
For further reading:
Death sentence for murderous trio who executed a loving Thai wife and her UK husband in Phrae
Brutal murder of Thai maid 7 years ago sees punishment of mistress sentenced to life in prison