A mobile phone was found at the bottom of the swimming pool while the man in short denim pants had abrasions to his knees thought to have occurred when they came into contact with the ground as he died. Police still have an open mind on the case.
Police are investigating the death of a 47-year-old Norwegian man found hanged at a luxury villa in the Hua Hin area of Prachuap Khiri Khan province on Monday. They are trying to determine whether the incident at the rented property was suicide or murder.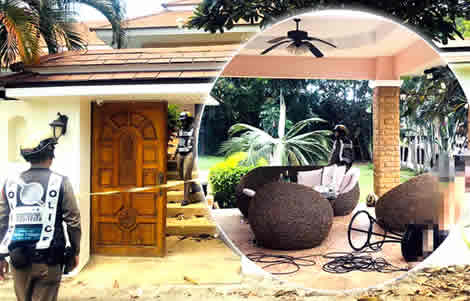 The 47-year old was found hanging in the porch area of the villa property identified by police as 39/70 Paradise Village. The man was hung with a black electrical cable. The  Scandinavian was renting the property for a period of 6 months.
Found by swimming pool maintenance man
The body was initially discovered by swimming pool maintenance man, Wirote Kampanwong, making his regular service call. Police were then called urgently to the scene and immediately commenced an investigation into the death.
Evidence of alcohol consumption and a stool on its side in a porch area of the property
The porch of the house was furnished with garden chairs and a table. Police found a number of plates as well as spoons and forks. There were three bottles of spirits two of which two appear to have been consumed in addition to two empty cans of beer.
Police also found three glasses as well as a packet of cigarettes and an ashtray. A stool was also found on its side. Police in an extensive search of the house and grounds, found a mobile phone at the bottom of the property's swimming pool.
Man suffered abrasions to his knees
Police found no visible injuries on the Norwegian man's body except for abrasions on his knee which they surmise may have been caused by coming into contact with the ground as he died.
The man was wearing denim shorts and had a tattoo on his right arm.
Police collected fingerprints throughout the property
Police collected fingerprints from throughout the property and the body was taken to Hua Hin Hospital for a routine autopsy. Police are not in a position yet to conclude whether the man's death was suicide or murder.
Further reading:
51-year-old Russian found dead at home in Koh Samui. Drug paraphernalia, brown liquid found
Chiang Mai police find Canadian man with throat cut. Investigating if it is a case of suicide or murder
Pattaya's Canadian hellraiser tells police he has 'suicidal tendencies' as he taunts officers in cuffs
Foreigners in Thailand who seem to lose their sanity when things go wrong in an alien paradise