The foreign tourism industry will be the key driver of economic growth with more money in people's pockets in 2023 says Bank of Thailand Governor Sethaput Suthiwartnarueput as the kingdom takes on the challenge of dealing with its ageing society and out-of-control personal debt, key impediments before the virus crisis. The central bank chief compared Thailand to an older man trying to woo inward investment while competing against younger players such as Indonesia and Vietnam.
Thailand may enjoy what appears to be a stronger and brighter economic recovery in 2023 than it felt in 2022 according to Bank of Thailand Governor Sethaput Suthiwartnarueput who told an audience on Monday that GDP growth in 2023 will be driven primarily by foreign tourism which has a broader and deeper impact on people's pockets. The Minister of Finance Arkhom Termpittayapaisith, at the same time, highlighted the determination of the present government facing an election this year to stick to a prudent course by reining in public spending while also raising taxes to address the country's chronic issues of an ageing society and private debt levels that are too high. All this would be achieved against a backdrop of a darker world economy with rising interest rates and lower economic growth.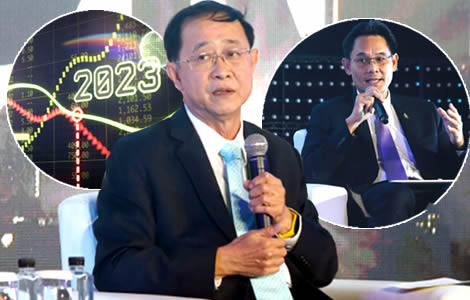 Thailand's key economic chiefs, Minister of Finance Arkhom and Bank of Thailand Governor Sethaput on Monday predicted that the kingdom will see the continuation of a solid economic recovery in 2023 despite the darkening world outlook with rising interest rates and a slowdown of economic growth.
At the same time, the kingdom will have to make a reckoning with outstanding problems such as its chronic ageing crisis and unsustainable levels of private or household debt while also adhering to strict budget discipline and aiming to bring the government's current deficit back into line.
Prudent financial management proposed by this government in reining in public debt starting in 2023
This is the vision of Minister Arkhom and the current government which is facing a General Election this year amid an onslaught from the opposition Pheu Thai Party which aims to raise public debt well beyond the current 70% public debt to GDP limit while the current government with Mr Arkhom as the Finance Minister is making plans to reduce the debt ceiling from the extended 70% of GDP approved last year in response to the pandemic, to below 60% which is where the present government, through prudent management, finds itself.
Mr Arkhom predicts the Thai economy will grow 3.8% next year following a growth rate of 3.2% in 2022.
This means that GDP, worth ฿17.62 billion by the end of 2022, is predicted to grow to ฿18.8 trillion by the end of 2023.
The Finance Minister compared this to the Thai economy at the end of 2019 which was worth ฿16.73 trillion and says that it illustrates that Thai economic growth has now recovered from the pandemic setback of 2020 which saw the economy contract by 6.1%.
Economic growth in 2022 at 3.2% exceeded the 2.2% seen in 2019 as the kingdom's GDP fully recovered from the 2020 shutdown led contraction of 6.1% 
He also pointed out that the growth seen in 2022 of 3.2% exceeded the rather anaemic growth of 2.2% seen in 2019, a reminder that Thailand's economic challenges began even before the pandemic.
This was caused by geopolitical tensions and the trade war between the United States and China in addition to the underlying economic malaise caused by a rapidly ageing society and soaring levels of private debt.
Mr Arkhom underlined the need for Thailand to address the problem of its ageing society in 2023 and advised young couples buying new homes to ensure that their houses contain a third bedroom on the ground floor to take care of elderly parents, suggesting that Thailand's unique tradition of caring for its elderly must be adapted together with increased financial assistance from the government and the public purse to address the ongoing challenge.
He also highlighted that the government must, at the same time, rein in public debt by cutting out wasteful public expenditure and appropriately raising taxes to balance its income and spending.
He referred to new taxes on stock market trades, cryptocurrency as well as online trading and commerce.
Confident 2023 will see the recovery sustained with the improvement felt throughout the 'real' economy
Nevertheless, he remained confident that 2023 will be a year of sustainable recovery even with exports facing headwinds but with the country's foreign tourism industry both increasing GDP and bringing in badly needed foreign exchange which is widely and more vertically distributed within the economy including Thailand's 'real' or black market economy.
However, he reminded the public that the kingdom must still adapt itself to a more digital economy while all industries and in particular foreign tourism concerns must also become more environmentally sustainable which was another challenge the country was facing.
He predicted also that inward investment will help transform the country's economy with the help of the government's infrastructural programme with projects such as the Eastern Economic Corridor (EEC) in Rayong, Chachoengsao and Chonburi which will continue to be developed.
He said all this was necessary for Thailand to become more competitive warning that the country faced stiff competition for private investment into key sectors such as tourism and manufacturing from other countries in the region.
Must remain vigilant against the virus. Still, a need to modernise and adapt the country's economy to new trends such as sustainability said Arkhom
'From the economic growth numbers it can be seen that the economic value of Thailand keeps growing and is characterised by a gradual recovery which the government will endeavour to prop up for a continuous, sustainable and stable recovery,' he said.
He also warned the country must continue to be vigilant about the threat that remains from Covid in the year ahead.
'When the tourism sector and the service sector recover, they will act as a chain to various ongoing businesses. Let's start back to opening businesses, causing money to circulate in the economy in many sectors. But the business operation of the private sector must adjust, reduce costs, and use digital technology. We must also comply with the new way of life (new normal), even though the COVID epidemic will subside. But the safeguards must remain as intense as before. At the same time, all businesses must be adjusted in line with the behaviour of consumers who are health conscious and support a more ageing society while in the public sector, we will accelerate investment to push money into the economy through infrastructural investment, especially in the Eastern Special Development Zone (EEC). This serious investment must be accelerated next year after the government has successfully approved further investment projects.'
Possible 2023 depreciation of the baht which will only add to export competitiveness although it just gained 9.3% against the dollar over two months
He also noted that the Thai baht which gained approximately 9.3% against the US dollar since mid-October 2022 may depreciate in 2023 amid a fall off in exports but argued that even so, this will still mean an increase in export volume to the economy with export value projected to hold its own next year with inflation while still being elevated, will begin to dip from the middle of the year.
Interest rates in Thailand at 1.25% are expected to grow moderately throughout the year although they will still be well below international rates.
'Exports in 2023 may slow down somewhat or if they expand, it will not be as much as in 2022 due to the global economic recession. We must also look at the baht's value because if the baht depreciates, the export value will decrease but the volume may also increase. On the other hand, we can be certain that the parties involved in the export sector will definitely be pushing to keep Thailand's export drive up and running,' the Finance Minister explained.
A key factor impacting Thailand's economy in 2022 was the spike in oil prices with West Texas Intermediate (WTI) crude reaching over $120 a barrel at the beginning of June but falling back towards $80 at the end of 2022.
Oil should trade at between $80 and $100 next year but the real risk is the potential for higher interest rates and borrowing costs shrinking confidence
Next year, it is predicted that while demand for oil will be subdued linked to problems in China and weaker growth in Europe, the United Kingdom and the United States, there will still be the same level of supply although there are growing fears that the Organization of the Petroleum Exporting Countries (OPEC) may initiate efforts next year to cut back production to buoy the price above the $80 a barrel mark.
Last year's spike was caused by the war in Ukraine and combined with new green environmental measures and levies in Europe and other western countries to drive up the price of electricity which fed into higher food prices and a four-decade high in inflation.
It is assumed that next year will see a tamer inflation picture balanced by weaker economic demand and higher borrowing costs.
The scale of these higher borrowing costs has yet to be determined and this represents a significant further downside risk for the world and Thai economy.
Both for Thailand's export markets and points of origin for tourists, this may be the one to watch with the potential to erode confidence and growth.
Optimism in the country's foreign tourism prospects with the return of Chinese tourists and a projection of 25 million tourist arrivals for the year
The key factor next year and reason for optimism is the recovering foreign tourism industry which may be boosted in 2023 by the return of Chinese visitors with Tourism Authority of Thailand (TAT) boss Yuthasak Supasorn predicting in recent days that there will be up to 25 million visitors in 2023 or a doubling of the volume and income seen in 2022.
Bank of Thailand Governor Sethaput Suthiwartnarueput was upbeat about this and explained to a seminar in Bangkok on Monday that while GDP growth in 2021 and 2022 may not have translated as well into people's pockets as it was not driven by foreign tourism, this began to change in the later stages of 2022 and may be a significant boost to the domestic economy in 2023.
Economic experts have learned during the pandemic crisis that foreign tourism in Thailand accounts for 20% to 25% of the broader economy including the indirect impact the industry has on the wider economy for instance the retail and construction sectors.
Bank of Thailand governor says that more Thai people will feel more money in their pockets in 2023, the recovery will feel more real and impact deeper
'Seeing the Thai economy continue to recover and in some years, while the numbers grew very well they still do not appear to reflect reality to many people. It did not feel that things had recovered. People did not feel more money in their pockets because the recovery up to the end of last year was led by exports. For example, recovery in businesses such as petrochemicals, which have a high value but not so much employment. Next year, the recovery will come from two main drivers: improved domestic consumption and the recovery of tourism in which the sector employs a large number of people linked with the service sector. It generates a lot of business, causing money to flow continuously deep down and broadly based. Because of this, people will feel things are a lot better.'
Dr Sethaput admitted that the world economic outlook was bleak.
However, he did not feel that this would stop foreign tourists from visiting the kingdom and even if export growth slows down, it may still inch up by 1% this year.
Recently, Bangkok-based analysts have suggested that a possible 1% contraction in exports in 2023 is on the cards which is why the Kasikorn Research Centre has predicted just 3.2% growth for the year ahead.
The Bank of Thailand projects a growth rate of 3.7% driven by rising foreign tourism and domestic spending despite higher borrowing costs.
Thailand is like an older man who has to put his best foot forward to woo investment mates in 2023
Along with the Minister of Finance, Dr Sethaput expressed unease about the lack of inward investment into the kingdom necessary to transform and modernise its industry and make it more competitive.
This, in turn, will make it increasingly dependent on foreign tourism, exports and low-income second-generation manufacturing activity where it is up against and losing out to lower-cost economies such as Indonesia and Vietnam.
However, he ended on a note of optimism and encouragement necessary as the country kicks off its new year and puts its best foot forward.
'Our foreign direct investment figures reflect that. We are less attractive to foreign capital. The capital will go to Vietnam. And the very handsome one at the moment is Indonesia. I think it is not a matter of providing more benefits than we give. But probably because our charm has decreased, we have to adapt. For example, 'men' when they were young, handsome and charming. But when I get older, I have to present myself in a different way which may be even more attractive. Or look like a famous Hollywood star, the older you get, the more charming you are.'
Further reading:
War erupts over Pheu Thai's ฿600 minimum wage plan with the economy as the key election issue
Even as the baht surges, Thailand faces economic recession in mid-2023 with lower earnings
Soaring baht as the Thai economic spirit rises with one of the world's lowest levels of inflation
Finance Ministry unveils green bonds as it seeks ฿900 billion for investment over four years
Thailand feels the pinch of lower tourism earnings as second ex-minister queries economic data
Former minister questions export growth data as Bank of Thailand plans to rein in consumer loans
Warning to central bank to preserve Thai foreign exchange reserves for a brewing 2023 economic storm
Baht slide continues as Bank of Thailand sticks to its dovish and soft approach to interest rates
Choppy waters for the economy as central bank tries to cling to its benign interest rate policy
Prawit stuns the cabinet demanding a ฿35 to the dollar rate and action from the Finance Minister to stop the slide
Low spending tourists and slowing export growth but 'intact' economic recovery stays on track say officials
Central bank reassurances as ex-minister raises loan quality with China's economy in trouble
Thailand with a falling baht caught in stagflation spiral with high inflation and low GDP growth this year
Fears for the baht as it hits a 15-year low and Thai economic performance in the medium term with chronic ills
World inflation crisis may lead Bank of Thailand to act before August and raise interest rates more sharply
Good economic news, test now is how to emerge from stagflation with large price shock looming as inflation rises
Prolonged Ukraine war to see Thai inflation at 6.3%, a stalled economy and a possible downgrade
Oil still boss as Thailand's economy faces a return to 1970s stagflation over the ongoing Ukraine war
Fears for Thailand's economy over Ukraine war with rising inflation rates and loss of confidence
Thailand should move more towards a circular economy as the country faces intractable hurdles
Inflationary fears for Thailand more muted than in the United States but planners should prepare
A cautious recovery in 2022 says Bank of Thailand boss but PM strikes a mildy more optimistic note
Shaky economic recovery as planners target only a 1% gain in 2021 with rising headwinds in Quarter 4
Economy climbing out 'of a hole', foreign firm's confidence levels rose sharply during October
Foreigners in Thailand have nearly ฿600 billion in the bank as inequality and poverty rise alarmingly
A dead mother beside her children and a taxi driver who slept, show us a nation riven by an extended crisis
Economic fears rising as Thailand faces a bigger crisis than 1997 with rising job losses and debt
Thailand to reopen to 'big fish' tourists as a cryptocurrency friendly haven says promotion agency boss
IMF urges government to loosen nation's purse strings as finances tighten with the tax take down
Industry leaders and central bank all warn that foreign tourism must return to avoid a collapse
Economic picture continues to darken as cabinet approves new ฿700 billion loan to plug the gap of higher deficits
Economy to rebound as the year progresses driven by exports and a return of mass foreign tourism