A decision on the $400 million S26 Yuan class submarine was in the background to this high-profile visit by the Thai naval commander to China with many observers eyeing it as a decisive point in the direction of Thailand's military procurement plans concerning China which now has added interest as geopolitical tensions between China and the United States, Thailand's strategic military ally, have become extremely hot.
The Head of the Royal Thai Navy, Admiral Choengchai Chomchoengpaet, met China's Minister of Defence General Li Shang Fu last Thursday as a Thai delegation arrived in China in recent days for crucial talks until Monday including discussions on the fate of the controversial ฿13.5 billion S26T Yuan class submarine with a call or decision soon to be made by Thailand following a suspension of its construction over the inability of China to provide a highly coveted Rolls Royce powered MTU396 engine. Nonetheless, with the planned arrival on April 27th next of HTMS Chang, a Thai amphibious frigate constructed in Shanghai, there are also indications of deepening and more 'imtimate' ties between the Thai navy and its Chinese counterpart.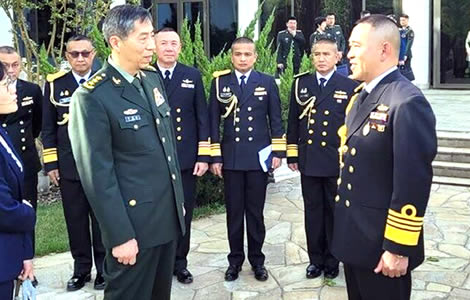 The Commander-in-chief of the Royal Thai Navy at the end of last week, paid a courtesy call on the Chinese Minister of Defence at the Diao Yutai State Guesthouse in the western suburbs of Beijing as matters were finalised for the delivery from China of the new multipurpose amphibious landing ship, HTMS Chang, which is to depart China on April 17th and is expected in Thailand on April 27th next.
General Li Shang Fu, named to the role in March this year, was thanked by Admiral Choengchai who was accompanied by a delegation from the Royal Thai Navy visiting China.
Thai navy leader praises 'ongoing cooperation' between the two naval forces as he hailed closer relations between Thailand and ASEAN countries
The Thai naval chief, Admiral Choengchai Chomchoengpaet, asserted the deep friendship between the Royal Thai and Chinese navies and pointed to ongoing cooperation between the two forces which he said was mutually beneficial and was set to become even more cooperative and intimate in the future.
Admiral Choengchai noted also the deepening cooperation between China and the ASEAN community of nations.
The new frigate was reported to have been named HTMS Chang by the Thai King after Chang Island in southern Trat province.
The naval commander referred to a conference scheduled to be hosted by the Royal Thai Navy in December 2023 themed the Indian Ocean Naval Commanders Conference and said the Chinese Navy had been invited to attend.
Admiral said he is looking forward to joint exercises resuming between the two navies in a fifth Exercise Blue Strike which has not been held since 2019
Exercise Blue Strike is set to begin again according to the Thai Navy chief.
This refers to joint exercises between Thai and Chinese forces, that have been held four times since 2010 including 2012, 2016 and 2019 with the last including joint naval training with over 1,000 members of both armed forces taking part.
Admiral Choengchai said he looked forward to the next Exercise Blue Strike after such exercises between the Royal Thai Navy and Chinese Navy were halted by the 2020 pandemic outbreak.
The first such exercise took place in 2010 between Thai and Chinese naval forces and involved a range of activities including amphibious landings while simulating a range of other scenarios including a response to terrorist attacks and emergency rescues.
In 2010, Exercise Blue Strike was the first time that Chinese naval forces had engaged with a foreign force outside China.
Closer ties between Chinese and Thai militaries have been observed although the fate of the S26 Yuan class submarine is seen as an important indicator
The naval exercises and a shift by Thailand to military procurement from China have been noted by international intelligence agencies as a signal that Thailand is moving away from US influence and is still monitored closely despite disingenuous political rhetoric and diplomacy as Thailand carefully calibrates its position between the two competing powers in the region who are increasingly at loggerheads.
On Friday, Admiral Choengchai spoke of a strong friendship between the leaderships of China and Thailand and was optimistic about a strengthening relationship between the Royal Thai Navy and its Chinese counterpart.
The HTMS Chang was built by Hudong Zhonghua, a Shanghai-based shipyard.
High-level visit may be a matter of Thailand being polite or what the Thais refer to as 'Kreng Jai' 
It has a range of 10,000 nautical miles and a maximum speed of 25 knots. The vessel is 213 metres long and 28 metres wide with a displacement of 20,000 tons and a draft of 17.4 metres.
The frigate is part of a 20-year plan by the Royal Thai Navy which includes further frigates and S26T submarines which have been ordered from China but which have run into difficulty.
The decision on whether to proceed with the order with China or not is being seen by military observers as decisive with some speculation that Thailand is simply practising 'Kreng Jai' in the runup to a negative call by the navy and government to not offend China.
Absence of Rolls Royce-powered MTU396 engines seen as a deal breaker despite Chinese test assurances
The construction of the first S26T Yuan-class submarine has currently been put on hold and may be cancelled altogether after the Chinese contractor, China Shipbuilding & Offshore International Co (CSOC), was the subject of German sanctions with the refusal to allow the much sought-after German MTU396 engines to be exported any more from Germany to China for military purposes.
The MTU396 engine, a Rolls Royce-powered product, is believed to be an intrinsically superior choice for such submarines.
It is also the engine that was contractually agreed upon by Thailand when it signed a contract with the Chinese firm, an issue that could be a key factor in any decision apart from politics.
Politics, however, could be a key factor with any decision to proceed, at this point, before the May 14th General Election in Thailand as such a course would be sure to lose the government parties a significant number of votes with the submarine order itself being extremely unpopular with voters in the kingdom across all political lines.
Backdrop of heightened geopolitical tensions
Western powers have become increasingly hawkish about Chinese military expansionism and the country's more aggressive posture in the Indo-Pacific.
The decision process on the submarine by Thailand led to a trip by Royal Thai Navy officials to Wuhan between February 21st and March 18th to observe tests on a replacement engine proposed by the Chinese, a Chinese-made CHD620 submarine engine.
No decision has yet been made on the submarine order but it is understood that talks are currently underway between the Royal Thai Navy delegation and China which are due to conclude on Monday, April 17th.
Further reading:
War with China is a rising spectre that must be confronted as US General predicts conflict by 2025
Heat turned up over the Sukhothai naval tragedy with 19 thought to have perished and 10 missing
Bad news from Beijing with Xi's rise, the prospect of war and a divided world have greatly grown
Chinese President Xi Jinping may be the star attraction at Thailand's APEC summit next month with Putin
Pelosi defies Communist China's concerted campaign of intimidation and visits Taiwan sparking a crisis
Abe's legacy will be his efforts to awaken Japan and build a defensive alliance against China
Former Pheu Thai finance minister expresses unease about US regional moves to counter China's rise
US to unveil new economic relations framework for Asia at ASEAN Summit as China warns of new cold war
Thailand and Japan announce defence pact on visit by Japanese PM to Bangkok ahead of US summit
US ASEAN summit as 'dangerous directions' now emerging in Asia as China's regional power rises
US sanctions on Russia part of a 'profound' geopolitical shift to Asia as many US firms leave China
Thai tourism emphasises its neutrality in the Ukraine war, calls for a review of payment systems
Russia warns Thais planning fight for Ukraine they will not be treated as enemy combatants under UN treaties
Thailand votes on the right side of history in UN deploring Russian military action in Ukraine
World lives in fear – UK Minister says Putin may not be in his 'right mind' as Thursday's invasion goes awry
China could be an economic time bomb sitting on Thailand's doorstep as Evergrande collapse nears
UK Foreign Secretary visits Bangkok after AUKUS security pact further raises tensions with China
Trade pact with Hong Kong as Thailand negotiates both Chinese and new western trade relationships
US Ambassador resigns as Biden Presidency starts with growing tensions with China over Taiwan
Lowering of US flag in Chengdu is a wake-up call for foreigners living in Thailand and with close ties here
US is a better friend for Thailand than China says US ambassador as tensions grow between the 2 powers