Thailand's industrial base has suffered with reduced export demand in the last six months caused by a range of factors including higher borrowing costs in key markets, trade barriers and increasingly difficult world trade blighted by rising geopolitical tensions. The country is also facing rising debt payments as part of the government's budget which looks set to skyrocket from 9.6% this year to a projected 15% by 2027.
The financial markets have begun selling off Thai debt and bonds with a $750 million sell-off in the last three months as concerns grow about the potential for political instability as the May 14th General Election draws near. The scale of the sell-off is significant and includes Thai bonds. It comes amid increasing concern also about the country's fiscal policies moving forward if, as seems likely, the opposition, led by the Pheu Thai and Move Forward parties, come to power with populist economic platforms that include a range of pro-growth, expansionary policies that, while popularly acclaimed, are beginning to raise eyebrows among the country's business leaders and some economists who point to the reduced base for taxation being collected from the economy and spiralling increases in debt repayments already scheduled from 2023 to 2027. Business leaders are also warning the government that increased geopolitical polarisation in the world is an existing and growing threat to economic development.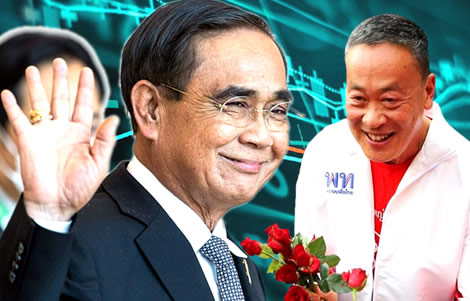 With just over three weeks to the General Election, Prime Minister Prayut Chan ocha appealed to Thai voters, on Tuesday, after the government's weekly cabinet meeting, to consider very carefully their voting intentions on May 14th when the nation goes to the polls.
He urged the public to bear in mind the financial discipline and rectitude shown by the current government even as it brought the economy back from the brink after the devastation of the virus crisis in 2020.
Prime Minister spoke last Tuesday after a cabinet meeting in which the Minister of Finance expressed confidence in the country's financial position
He told reporters that at the meeting on Tuesday, with very little on the agenda, the Minister of Finance Arkhom Termpittayapaisith emphasised the good state of Thailand's public finances right now and the faith among international agencies and investors in how the country has approached matters since the emergency and in its aftermath.
The prime minister said he well understood that the public had families to take care of and may be looking to their own individual economic circumstances when reviewing the party policies being put before them in this election but he warned that it would be unwise of the people not to have an eye to the bigger picture also.
'Doing something rashly without real information, it's not accurate. It can't be managed like this. There is credit due to the government and the cabinet for keeping the financial and fiscal situation strong from an international point of view,' he explained.
On Monday, he was quoted in the campaign trail as cautioning that the populist policies being put forward by the parties right now to win votes could lead to 'bad karma' for the country in the longer term.
FTI President warns Thailand needs a firmer strategy on the growing rift between China and the United States as well as on an East and West divergence
His comments came as the President of the Federation of Thai Industries (FTI) Kriengkrai Thiennukul also called on the public to be wary of giveaway populist economics being offered by political parties.
However Mr Kriengkrai, at the same time, identified a bigger issue that the next Thai government must address robustly and substantially.
The question is Thailand's international place or policy in the growing polarisation of the world economy not just, as we have seen until recently, between the United States and China but now a growing divide and heightened discord between Eastern and Western countries.
Mr Kriengkrai pointed out that as an export-dependent small economy in Southeast Asia, Thailand was very susceptible to such trends which have led to severe damage to its economy since 2019 and retarded its growth prospects.
Fears that from May, oil again may rise towards $100 a barrel, putting pressure on inflation amid growing trade friction between East and West
He indicated that the problem may even grow as the kingdom was pulled between its two key export markets, the United States and China and also its reliance on oil which from May he feared may begin again to approach the $100 a barrel level with the price of West Texas Intermediate (WTI) crude now at between $79 and $81 a barrel in what is still a volatile market.
With inflation still elevated worldwide, key factors which may impact the rebound of high oil prices are the economic pickup in China, the output cuts of 1.15 million barrels a day by the Organisation of the Petroleum Exporting Countries (OPEC) and depressed demand from Western economies where rising interest rates have meant banking institutions are more averse to risk.
Mr Kriengkrai said he wanted to see a strong government economic team and an effective policy to let the international business community know where Thailand stands in this increasingly divided world.
Kingdom is caught between China and the United States, its two major export markets although it is more and more embedded with its near neighbour
Economic experts suggest that the country's political position may be impacting its ability to attract investment as business likes certainty and Thailand's ambiguous position on all sides may no longer be the right answer despite the tactical language of diplomacy which insists it does not have to decide, it is clear the country faces a very difficult challenge due to the embedded nature of its relationships with the United States and its allies on one hand and China on the other.
This problem certainly is impacting the country's ability to export as markets on all sides throw up problems including the European Union's new climate change policies which are protectionist by nature.
These barriers did not exist five to ten years ago and come with Thailand running the risk of losing manufacturing and export projects to other countries in Southeast Asia who have more deftly positioned themselves while Thailand has drifted further into China's orbit because of the proximity of its large northern neighbour.
Populist economic policies will not solve Thailand's chronic long-term structural issues such as high household debt says industry leader Kriengkrai 
Concerning the General Election, Mr Kriengkrai said he understood that some populist or expansionary policies may give an economic boost or stimulus in the short term whereas what Thailand needs are long-term answers to its chronic economic problems such as generating sustainable incomes and addressing the country's sky-high household debt levels.
His position was taken up by Dr Athiphat Muthitacharoen of the faculty of Economics and director of the Center for Economic Research at Chulalongkorn University who, on Wednesday, warned that the country could be at a turning point in this General Election which he said differed from others in the last decade in that the public finances were weaker than people thought after the pandemic when the government raised the public debt ceiling to respond to the emergency.
Top economist at Chulalongkorn University raises disturbing figures on Thailand's annual budget, tax take and the real potential for a fiscal crisis
Dr Athiphat drew attention to a matter which sources within the Ministry of Finance are known to be concerned about and that is the falling proportion of the state's tax-take from the country's GDP as more and more economic activity takes place outside the kingdom online and as more workers opt to retire and take pensions while the country's huge black economy trundles on, underpinned by a lack of economic development and investment.
The tax-take figures have fallen from 16% of GDP in 2013 to 14% in 2023.
The economist noted Thailand's government expenditure at 18% to 19% of GDP although the International Monetary Fund (IMF) quotes an updated figure of 27.25% which is low by international standards but conceals key vulnerabilities such as that personnel expenditure accounts for 40% of the budget.
Kingdom has a low level of government expenditure as a percentage of GDP but it lacks the development strength to create a Western-style welfare state
Thailand's rate of government expenditure compares to 42.36% approximately for the United States government according to the IMF data, 24% for Ireland and 44.87% for the United Kingdom.

In France which has a strong social welfare state, the government spends 59.05% of GDP which reached 61.5% during the year of the pandemic.
Thailand with a lower level of economic development and key structural problems such as an ageing population, high household debt and political instability is not ready to create a modern welfare state without improving productivity and its tax base.
This means more people working in the country's legitimate private sector economy which still represents less than half its real GDP while over 45% of the population continues to eke out a subsistence existence on rural farms, a number which swelled during the pandemic
At the same time, debt repayments for the budget look set to skyrocket from 9.6% this year to a projected 15% by 2027.
'This fiscal outlook means that the new government will have little flexibility in creating other welfare policies and will have to rely on financing to support them which is inevitably tax revenue which accounts for about 90% of the Thai government's revenue,' Dr Athiphat pointed out.
Further reading:
PM warns giveaway policies of some parties may be 'bad karma' for the country in the longer run
Economic recovery shaky despite strong foreign tourism as global economic outlook deteriorates
Recession fears rise as growth projections are cut and export output continues to decline in 2023
Good news on foreign investment at the start of 2023 fails to mask stunted competitiveness issue for economy
Economy faces export clogs with rules in China and 'green imperialism' from European Union
Vital European Union free trade deal with Thailand with stiff demands from Brussels to take time
Thailand's financials are sound but the economy is exposed if another world banking crisis emerges
Thai economic woes grow with a 10-year high trade deficit as January exports slumped by 4.5%
Credit crunch as firms seek more bank loans with tightened lending criteria and recession fears
Even as the baht surges, Thailand faces economic recession in mid-2023 with lower earnings
Soaring baht as the Thai economic spirit rises with one of the world's lowest levels of inflation
Thailand in direct trade talks with 12 Indian states which could also boost the tourism industry here in 2021
World's biggest free trade deal just signed will be a huge boost for the Thai economy and exports
Thailand's trade agenda may be complicated and thwarted by raised tensions in the Indo Pacific region
RCEP deal agreed as India opts out – busy Bangkok ASEAN summit concludes on a low key
US is a better friend for Thailand than China says US ambassador as tensions grow between the 2 powers
Industry boss urges Thailand to join alternative Pacific trade pact and plan for a long recovery from virus debacle
MPs warned of an economic colony as opposition zeroed in on Thailand's impaired relationship with China