Comments from the PM come as the Pheu Thai Party makes a further submission to the Election Commission which is continuing to probe the funding basis for its contentious ฿10,000 Digital Wallet policy.
Thailand's Prime Minister Prayut Chan ocha has warned that giveaways and populist policies being advocated by some parties may result in 'bad karma' for the country in the long run based on previous experience. The government leader, campaigning in Bangkok, vowed to continue his campaign despite the latest NIDA opinion poll showing that the opposition Pheu Thai and Move Forward parties are coasting to victory in the May 14th General Election in just under four weeks from now.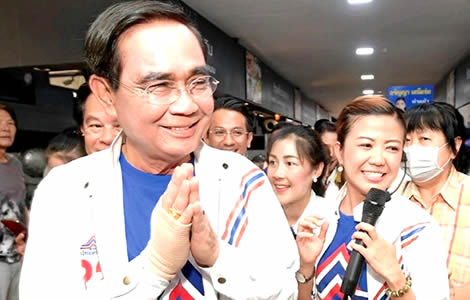 The Thai Prime Minister has warned that populist policies being put forward in this election may result in what he called 'bad karma' for the country.
He was speaking on Monday as he shrugged off a definitive and authoritative opinion poll which showed his United Thai Nation (Ruam Thai Sang Chart) Party in third place as he himself stood in a poll for the preferred Prime Minister in this General Election race, behind Pheu Thai's Paetongtarn Shinawatra and Move Forward's Pita Limjaroenrat.
Poll is bad news for the Bhumjaithai Party and more disastrous again for the Palang Pracharat Party
The poll confirms all recent trends and shows the Pheu Thai Party and Move Forward Party leading the field with particularly disappointing news for the Bhumjaithai Party and its controversial marijuana legalisation policy which polled only 3.75% at a constituency level with a 3% reach in the party list vote while the ruling Palang Pracharat Party appears to have sunk under the waves and was ever further back in 8th and 9th place respectively surpassed by the Seri Ruam Thai Party and the Thai Sang Thai Party with a marginal vote share of between 2.1% and 1.8%, barely making it on to the list at all.
The Pheu Thai Party dominated the polls at constituency and party list level with 47.2% and 47% respectively while the Move Forward Party is also doing very well at 21.2% with the two leading opposition parties still on track to attracting a bloc vote of up to 70%.
Prayut's United Thai Nation (Ruam Thai Sang Chart) Party was in third with 11.4% support.
The latest National Institute of Development Administration (NIDA) poll, was conducted between April 3rd and 7th with a sample of 2,000 people over 18 years of age and managed with a large master sample which the polling body uses, making it one of the most respected opinion poll surveys in Thailand.
The poll results underlines a growing divergence between the results of some recent polls and studies predicting the outcome of this election.
Prime Minister frankly accepted the Thai economy is currently facing problems with too many producers and not enough demand despite a rise in tourism
In a frank interview with reporters on the campaign trail in Bangkok on Sunday and Monday, General Prayut accepted that Thailand's economy was facing problems despite the return of strong foreign tourism growth.
He acknowledged that the Thai economy had an imbalance with more producers on the supply side than demand and said this called for sustainable government economic policies, not the expansionary policies being promoted by the opposition Pheu Thai Party.
At the same time, he defended his United Thai Nation (Ruam Thai Sang Chart) Party's social welfare plans which offer ฿1,000 a month targeted at the less well-off each month rather than the proposed ฿10,000 digital wallet giveaway being promoted by the Palang Pracharat Party along with the opposition party's 'Think Big' economic platform with planned measures including an increase in the minimum wage to ฿600 per day and a ฿25,000 income floor for university graduates.
'The 10,000 baht will be for only a period of six months while the 1,000 baht will be given every month,' he pointed out to reporters.
Pheu Thai makes further document submissions to the Election Commission which is probing the funding of its controversial ฿10,000 digital wallet
On Monday, the Deputy Pheu Thai leader Mr Chusak Sirinil confirmed that his party was supplying final information on Tuesday showing where funding would come from to support the party's expansionary economic policies in respect of the ฿10,000 digital wallet giveaway and others following a request from the Election Commission in recent weeks as it has opened a probe into the party's election manifesto.
The party executive said the extent of the information being supplied was complex, large and voluminous.
Further reading:
Dirty tricks feared by Pheu Thai, the Election Commission urged to probe Maha Sarakham vote-buying reports
Pheu Thai's ฿10k digital economic stimulus for all under fire as Election Commission opens probe into it
Srettha eyes top job and defends ฿10k spending wallet for over 16s just unveiled as a Pheu Thai policy
Polls show advantage still with the opposition and that Pheu Thai is on course for government reins
Bad week on the campaign trail for General Prayut as a lack of public enthusiasm makes itself known
Social welfare scheme sees millions signed up for monthly handouts and easy access to small loans
Ung Ing says Prawit is better liked than PM Prayut with reports of the return of key ex-ministers
Whip hand with Pheu Thai to secure power in this year's General Election despite Senate's waning power
Prayut to make his move for a third term but is the battle for power already lost to Pheu Thai?
PM upholds status quo as he seeks a path back to power with the help of the Bhumjaithai Party
3 out 4 believe that Pheu Thai will take power in 2023 with a third Shinawatra taking the reins
Court decision on electoral law is a big boost for Pheu Thai Party as Prayut remains tight-lipped
Possible Pheu Thai PM Paetongtarn Shinawatra promises a new society where everyone is secure