A Thai café in northern Nakhon Sawan province has stumbled upon a winning formula for drumming up business by offering its customers confectionery that gives punters a thrill, a creepy crawly kind of thrill!
It's the latest fad in Thailand from a province in the middle of the country with booming orders. Cakes that look like dog ticks and toads for the special occasion when you feel like walking or jumping on the wild side.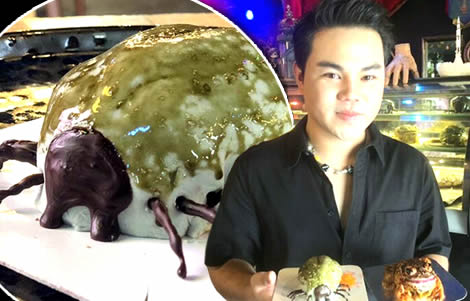 A Thai café owner in the lower Northern province of Nakhon Sawan has set tongues wagging after launching a series of horror cakes, one of which is modelled on the body and appearance of a dog tick.
A dog tick is a bacteria-carrying parasite that feeds on dogs, cats and humans and can represent a serious health threat to pets and humans alike.
Magic café in the heart of Nakhon Sawan province bakes up something very different to offer customers
However, the cakes at the 'Magic Shop', a café in the Mueang district of Nakhon Sawan, are a deliberately creepy treat with the main filling made from butter cake and the revolting pale white skin constructed from mouth-watering marshmallow.
The owner of the shop, Mr Chalit Kulsari, says since launching his Dog Tick cake and another offering known as Toad cake recently, his business has been inundated with orders of more than 100 cakes a day at what was before a moderately successful fantasy-themed café selling coffee, refreshments and desserts.
He said his customers have a sense of humour. They love to shock and capture the attention of friends with these creepy and horripilating confections.
He explains that it only takes 10 to 15 minutes to rustle up a 'Dog Tick' cake whereas his more colourful 'Toad' cakes take him about an hour.
'Blood' that tastes like strawberry sauce, a creepy crawly skin made of marshmallow and a plant known as 'devil's tongue' are all part of a ghoulish mix
Both contain 'blood' but in the form of deliciously sweet strawberry sauce while one of the ingredients for the 'Toad' cake is a Southeast Asian corm plant known as Konjac which is often used to make flour and as a vegan substitute for gelatin. 
The plant is also known as devil's tongue, voodoo lily, snake palm or elephant yam but is, at the same time, wonderfully tasty and sweet.
The café owner charges ฿290 ($8) for a Dog Tick cake and ฿390 ($11) for the Toad cake and offers to decorate each piece as required by his strange-minded customers. 
Mr Chalit said he knows it's a little more than normal but assures us that his cakes are worth the added expense.
Offbeat café takes orders by phone
Fame about his café and offbeat species of cakes has been spreading online. 
The owner says he is enjoying the reaction to the idea but still gets a secret thrill each time he makes up one of the cakes.
They can be ordered by calling the café which likes to do things a little differently at 66 -9-7014-9414.
All enquiries are welcome including those from outside Thailand.
Further reading:
Filming of Fast and Furious movie begins in Krabi in what will be a big boost to the local economy
Songkran in full swing as Thailand prepares to welcome back long-haul visitors in large numbers
Thailand's real Santa Claus and the story of Christmas in Thailand where goodwill and dreams are prized
Movie Predator steps out of the big screen and enters real life in Thailand
Corrupt policeman refused arrest insisting that he was innocent of abduction and extortion claims