Thai police in Mukdahan province stop 'Predator' after giving speech to local High School on individual expression and making money out having fun

There is something unique about Thai people that attracts them to action heroes and legends of the big screen. When it comes to obsession and engagement with Hollywood blockbusters, Thai fans demonstrate such enthusiasm that their western counterparts would find it difficult to compete with. The key to understanding the trait is the love that Thai people have for the expression of individuality.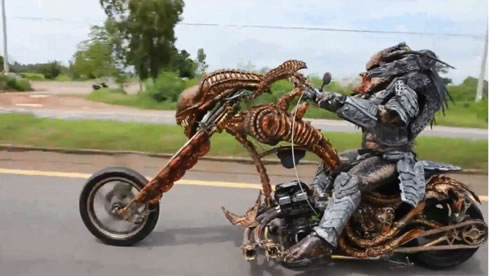 Motorists and on-lookers on a Thai road couldn't believe what they were seeing. A hideous and menacing Predator calmly riding a souped up motorcycle decked out in skin and bones of an alien creature as it moved down the highway in Mukdahan Province in northeast Thailand. Had the murderous, terrifying creature finally materialized out of Hollywood filmmakers' imagination and gone out hunting in the real world? Suddenly the ferocious-looking Predator was pulled over by the police and the people nearby could sigh with relief as the creature turned out to be human.
Internet sensations from Thailand show the unique personality of Thai people
He was an ordinary Thai man named Samai Khammongkul with an extraordinary liking for the Predator franchise who was trying out his elaborate costume modelled on the famous monster. Nevertheless, the fake Predator had managed to make a great number of drivers and bystanders gasp with awe and amazement. They were hastily capturing the moment in photos and film clips which weren't long finding their way on to the internet. The result was a viral internet sensation that is becoming increasingly common in Thailand where unique freedom of spirit leads to pictures and films of outrageous phenomena on the internet. From motorbines with eight passengers to poles placed in the middle of roadways and a now, a popular theme on one expat news forum, overburdened trucks, the antics of Thai people are beginning to fascinate internet users worldwide.
Thai man fascinated and inspired by Predator extraterrestrial species
For those who are not fans of sci-fi horror movies, Predator is a fictional ruthless extraterrestrial species that possesses extremely advanced technology and superior combat prowess. It is the titular protagonist for the sci-fi franchise that started with a 1987 movie starring Arnold Schwarzenegger. The species is characterized by its trophy hunting of other species for sport. Its most common prey is Alien, the notorious face-hugging, chest-bursting species that is featured in the immensely successfully franchise of the same name. There have been some crossover films between the two franchises, which gave Samai Khammongkul inspiration for his attention-attracting costume.
Young Thai 'Predator' was stopped by police after giving inspirational speech at a local school
Contrary to earlier reports that he was going to a cosplay conference when the Predator footage was taken, Samai Khammongkul, a young manager working at Charoen Pokphand, said that he was stopped by the police on his way back home after giving an inspirational talk at a local high school. The desire to motivate kids is the main reason that he puts on the bizarre and eye-catching costume, he added. A champion of individuality, he encourages students to be who they are and not to be afraid even when they aren't successful at school. There is no doubt that his stance on being unique is clearly demonstrated by his audacity to wear a monster costume while driving a monstrous motorbike.
Movie creature and character is the basis for Thai man's enterprise
In fact, the cinematic character is not only a passion but also a source of income for Samai Khammongkul. He produces Predator outfits and sells them to other die-hard fans through Facebook for about 55,000 baht a set. He claims that it is a bargain as a comparable costume made abroad can be twice as expensive. Each costume takes him roughly one month and a half to make. But his money-making activity extends far beyond of business of crafting outfits as he occasionally puts on the Predator costume to work as an entertainer for paid events such as the annual Bike Week in Pattaya and Phuket. There, he is always a wonder for tourists eager for photo opportunities. Nevertheless, he still derives much of his delight from appearing as an alien monster and having ordinary people look at him in admiration.
Even Thai police sometimes like to encourage people to dress as movie characters although this time it's not as inspiring
In a more formal but no less comical situation, a criminal suspect found herself being made to wear a Star Wars stormtrooper mask by the Thai police. The unusual story begun as the woman was arrested for running an illegal dental clinic in Nakhon Si Thammarat province.  The suspect was forced to appear in front of the press and recount her criminal activity with her face clearly visible. It is reported that this common shaming practice is one that the current Prime Minister Prayut Chan-o-cha strongly opposes. But a thoughtful and kind hearted police officer named Sukkasem Nakhonwilai wanted to spare her the humiliation so he asked his subordinates for something to cover her face. They had no hat that would have served the purpose. But one of the police officers, a passionate Star Wars fan, had a stormtrooper helmet which was judged to be a good substitute. And that's how a soldier from the Evil Galactic Empire appeared at a Thai Police press conference as a suspect!. Receiving an overwhelming positive response from Star Wars fans in Thailand for how the police dealt with the situation, Police Col. Sukkasem Nakhonwilai joked that perhaps the police would do it again at some fans' request.