Doctors say the prognosis for the 10-year-old is poor after the near-drowning incident during which rescuers took 10 minutes to revive him leaving him with brain damage and swelling.
The family of a young Ukrainian boy have been left in tormented anguish after he was involved in a near-drowning incident on the holiday island on Tuesday last which has left him with severe injuries and on critical life support in hospital. The mother of the boy has opened a local bank account as the family tries to cope with mounting hospital care costs while dealing with the personal trauma of the unimaginable tragedy.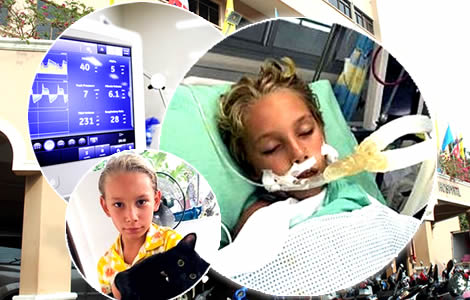 A young 10-year-old Ukrainian boy has been left in critical condition at a Phuket Hospital after a swimming pool incident on Tuesday, May 2nd on the tourist island resort.
His family have been left facing the trauma of a bleak assessment by doctors at the Vachira Phuket Hospital of his condition as well as worrying about the cost of medical treatment for the young boy which is thought not to be adequately covered by their existing insurance cover.
Boy suffered acute cardiac arrest and respiratory failure before rescuers took 10 minutes to revive him from the pool, doctors say things are not good
It is understood that Daniel Andreieva suffered acute cardiac arrest and respiratory failure in a swimming pool incident after which it took emergency service rescuers at the scene approximately 10 minutes to revive him.
The mother of the young boy, Ms Liudmyla Andreieva, set up a Bangkok Bank account number 264-4-690-857 for well-wishers who want to donate to her son's treatment and help the family out in this moment of crisis.
Doctors at the leading Phuket hospital described Daniel's condition and prognosis on Wednesday as 'poor' with reported brain swelling, brain stem damage, acute damage to his kidneys and what doctors describe as an acute metabolic disturbance caused by chemical imbalances created by the bodily trauma during the boy's near-death incident.
On life support in intensive care
The 10-year-old has been placed on a life support system including a respirator and is being treated in the hospital's Pediatric Intensive Care Unit of what is Phuket's main hospital operated by the Ministry of Public Health in the centre of the island.
Doctors were far from optimistic this week.
'He has a critical medical condition, admitted to Pediatric Intensive Care Unit on a respirator and medical equipment fully supported. He has a poor prognosis,' a doctor at the hospital confirmed on Wednesday to the popular local newspaper, The Phuket News.
Further reading:
Wife and mother from Northern Ireland flies to Thailand after tragic death of her husband
Boat smash in Phuket leaves two Russian children, a boy and girl, dead with 22 tourists hospitalised
Death of schoolboy playing football from lightning strike in Surat Thani leaves father distraught in grief
Horrific death of truck driver at Sri Racha port crushed by 32-ton container being investigated
Tragic death of a beauty queen and two others in a road accident near Khon Kaen University is a loss
Police investigate Ukrainian teacher's death after a hit and run traffic incident in Sa Kaeo province
Thai man killed by smartphone and head sockets left connected to the mains while lying in bed after football
Danish man killed in parachute jump as Russian drowns off Patong Bay on a tragic Saturday morning in the sun
Young woman killed in a moment as pickup driver opens his door on a quiet Chonburi road last Friday
82-year-old French man killed in Phuket when his motorbike was crushed by an out of control ATV