Thai nationals and both King and Queen alike were visibly delighted when they met on Saturday in London at the Thai-owned 5-star hotel in the centre of the UK capital which was home to the Royal couple for their stay.
The Thai King and Queen have returned to Thailand after a trip where they raised the kingdom's profile on the world stage while meeting British King Charles III on Friday night last before his coronation. Before their return on Sunday, the couple had an exceptionally warm and lively interaction with Thai nationals living in London and the United Kingdom at the Thai-owned 5-star hotel in the centre of the city where they stayed on their three days drip, the Landmark.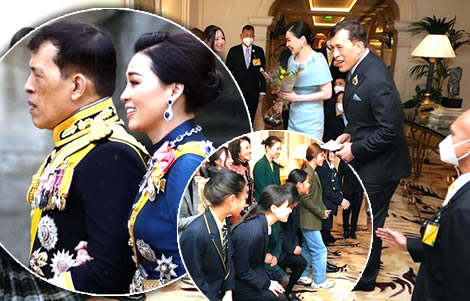 Thailand's King Vajiralongkorn and Queen Suthida returned to Thailand on Sunday after a successful and memorable trip to the United Kingdom where the couple attended the historical coronation of King Charles III on Saturday.
On Friday night, the Thai King and Queen met the British monarch at a reception at Buckingham Palace where both monarchs wore suits and ties while on Saturday, the King and Queen wore formal attire as they entered Westminster Abbey among 2,000 guests including royalty and distinguished people from all over the world.
Media interest generated by the presence of the Thai King and Queen as billions watched the coronation on TV on Saturday drew attention to Thailand
The presence of the Thai King and Queen at the lavish ceremony drew a lot of online attention generating interest in Thailand.
The King and Queen, on Saturday, also met Thai nationals living in the United Kingdom and London in what was a warm interaction between Thais away from home who were delighted to meet their King and Queen on foreign soil.
This took place at the 5-star Thai-owned Landmark Hotel on Marylebone Road in central London where the couple stayed.
Flow into Stansted Airport in London via Thai Airways on Thursday last and were greeted by the Thai Ambassador to the UK and a Foreign Office official
The Royal couple later flew back to Thailand on Sunday departing from London's Stansted Airport for Bangkok where they arrived on Thursday morning last at 8.03 am on board Thai Airways flight TG 8886.
From there they were taken to the Landmark Hotel.
The Royal couple was met at the airport by Mr Thani Thongphakdi, the Thai Ambassador to the Court of St James and Mr Michael John Holloway of the UK's Foreign, Commonwealth and Development Office.
The King and Queen were invited to attend the coronation by King Charles and Queen Consort Camilla who was also coronated on Saturday.
Further reading:
Thai King and Queen to be at Westminster Abbey in London for the coronation of King Charles III
King Charles III to be acclaimed as the World comes to terms with the loss of Queen Elizabeth II
Thai PM sends a message to people of the UK on the death of the Duke of Edinburgh, Prince Philip
Fury as British Embassy in Ploenchit bulldozed – sold to the Central Group for nearly ฿16 billion in record deal
Sean Connery, the sexiest man alive, who played James Bond, has passed away at 90 years of age in Bahamas
Thailand urged to get on the ball as the full Brexit gets the green light with Christmas Eve trade pact
Johnson triumph watched avidly in Thailand on Friday as vote is good news for the kingdom
Thai King speaks candidly and insightfully on the danger posed by depression to his young audience
Public in Bangkok in stirring show of support for the monarchy on King Bhumibol's birthday, December 5th
King and Queen visit South to a rapturous salute from well-wishers in Trang and Phatthalung provinces
King tells western TV crews that he loves all Thai people equally and the kingdom is the land of compromise