Concern is growing that Thai borrowers may not be able to carry the heavy load of household debt in the aftermath of an end to debt relief moratoriums brought in during the pandemic particularly relating to auto loans and personal borrowing without security, in the short term. The danger signal is coming from rising defaults in auto loans which alone could see bank non-performing loan rates exceed reserve positions, thus creating a crisis unless strong and immediate measures are taken.
As the kingdom grapples with the aftermath of the May 14th General Election while depending on a recovering foreign tourism sector to support a downturn in manufacturing and exports, a new threat to the economy may be emerging in Thailand's banking sector. In recent weeks, Thailand's National Credit Bureau has warned of a mushrooming default rate on automobile loans in the coming four months. Such borrowing accounts for some 17% of Thailand's sky-high household debt burden which at the end of 2022 stood at 89.6% of GDP. The Ministry of Finance, this week, urged financial institutions to implement significant debt restructuring moves but concern is mounting about the rate of non-performing loans that may be seen going forward in the country's banking industry.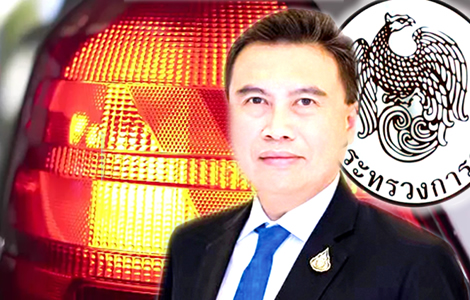 There was renewed concern expressed this week about the level of household debt and its potential threat not only to the economy but also to Thailand's financial system despite its prudent bad loan provisions and reserves.
The Fiscal Policy Office (FPO) of the Ministry of Finance came out to strongly urge commercial banks to introduce debt restructuring efforts to further ease the pressure on borrowers as they struggle to cope with enhanced repayments after moratoriums introduced during the Covid crisis came to an end at the start of the year. 
Bank of Thailand has long warned that household or private debt levels in the economy are too high but up to now, non-performing loan rates were modest
Thailand's level of private debt or household debt according to the Bank of Thailand, is one of the key threats to the Thai economy and financial stability in the future.
The problem has been repeatedly referred to by Governor Sethaput Suthiwartnarueput as one of his key considerations since taking over the role in October 2020 at the height of the pandemic crisis.
Indeed before the May 14th General Election, Governor Sethaput urged Thai voters and policymakers to think more about the financial stability of the economy moving forward rather than focusing primarily on economic growth although his comments were aimed at populist policies being pitched at voters, something they ultimately rejected in favour of a radical shift to a European style welfare state proposed by the Move Forward Party.
A key concern to economic planners right now is the rate of default being seen in automobile loans on bank books with a default rate being reported in the first quarter of 2023 of 14.2%.
National Credit Bureau warning that non-performing car loan rates could treble in the coming four months as borrowers struggle with heavier repayments
Car or vehicle loans in Thailand make up 17.21% of the outstanding loan portfolio which is valued at ฿2.6 trillion.
Thailand's National Credit Bureau is warning that the default rate for vehicles or car loans is set to jump over the coming quarter with as many as 1 million cars in danger of being repossessed in the next four months.
The reason for this is the end of repayment concessions due to the pandemic and consequently higher repayment burdens.
At the end of 2022, Thailand's leading commercial banks reported a loan default rate concerning household debt at just 2.62% amid satisfactory bank profits and strong reserves with balance sheet buffers as mandated by the central bank.
However, even at the end of 2022, information provided as a special note from the banks showed that outstanding loans with repayments over 30 days and under 90 days related to vehicle loans amounted to 13.7%.
Explosion in auto loan defaults is a problem happening in real-time and could impact the ability of Thai banks to meet capital and loan reserve ratios
There are fears this week that the exploding delinquency rate on vehicle loans could lead to this figure trebling to 40% over the next three months, a development which could trigger a reappraisal of the overall figure for non-performing household debt on commercial bank balance sheets.
Anecdotal evidence from the market suggests many Thai borrowers with car loans are struggling to make repayments while trying desperately to avoid losing cars with 40% of the market accounted for by popular pickup models which are also used extensively by small businesses and private traders. 
Thailand's household debt rate, while it is not the largest in the world, is being highlighted by analysts since only 35.1% of loans on the books of commercial banks are collateralised property.
This is an unusually low figure compared to Western countries, for instance, where between 60% to 90% of outstanding loans are secured by property. 
Of even greater concern are personal loans taken out by borrowers without any security for the banks at all. 
Large proportion of Thai bank loans have no collateral either in property or in vehicles. Only 35.1% of Thai bank borrowings are secured by property
These loans relate to spending on things such as holidays or house furnishings, particularly by younger borrowers in employment.
Unfortunately, such loans are also taken out by a proportion of borrowers who cannot make ends meet often in the small business or farming sectors among people who have access to formal banking facilities in Thailand.
This week, in response to the situation, the Fiscal Policy Office at the Finance Ministry called on Thai commercial banks and financial institutions to take steps to help borrowers restructure their loans in new ways beyond just extending the repayment period.
The Fiscal Policy Office and the Finance Ministry are also proposing including a bank's willingness to implement such restructuring measures in the official performance indicators for the banking sector.
Response this week from the Fiscal Policy Office calling for more substantial debt restructuring plans rather than just extending repayment terms
Even before the COVID crisis, in 2019, at the behest of the central bank, financial institutions in Thailand introduced a restricted debt mediation service for borrowers who had not fallen into arrears. 
This policy was extended to key sectors on an emergency basis during the crisis in 2020 and 2021 with covered loans not designated as non-performing by banks implementing such schemes.
It is understood that 413,000 bank customers enlisted in such programmes. 
In response to the rising problem of household debt pressure, the Bank of Thailand in conjunction with its Finance Ministry and the Fiscal Policy Office is also planning to introduce measures to improve financial literacy and awareness among prospective borrowers and is moving towards tighter regulation of the borrowing market.
Bank of Thailand and Finance Ministry plan to cap interest on auto loans by decree and regulate advertising of loans and financial lending services
The call to institutions to undertake substantive debt restructuring measures was made this week by the Director-general of the Fiscal Policy Office Pornchai Thiraveja.
The central bank and the Fiscal Policy Office are already taking measures designed to restrict the scope of advertising which often aims to entice borrowers into debt which is too often unaffordable.
In addition to this, the central bank is pushing to cap the interest rate on loans for automobiles through a proposed royal decree which will set a maximum rate of 10% annually for new cars, 15% for second-hand cars, and up to 23% for motorcycles.
Through these measures and others like it, the Bank of Thailand has set a target to reduce household debt in Thailand to 80% of GDP to improve economic performance and reduce the systemic risk to the banking system.
Short-term threat to the economy and danger
However, in the short term, some financial analysts have pointed out that if the growing rate of delinquency on car loans is not checked, this may lead to higher figures for non-performing loans in bank balance sheets, a situation which in turn under current central bank regulations could prompt a need for banks to re-capitalise or a crisis.
One analyst, this week, pointed out that Thai commercial banks hold ฿7.8 trillion worth of personal loans on their books, which are neither collateralised by automobiles nor property.
A default rate of 20% on such loans alone would twice exceed the current bank reserve provision for bad loans.
To put it another way, if 20% of such personal non-collateralised loans were to fall into arrears, then the banking sector's non-performing loan rate driven by this sector alone would rise to 10% from the current rate of 2.62%. 
This would exclude the now imminent threat of arrears on non-performing car loans within commercial banks alone driving an overall non-performing loan rate of 7% over the next three months.
Further reading:
Bank of Thailand governor gives veiled warning to voters on the danger posed by populist policies
Financial markets debt sell-off sending a signal to Thailand before the May 14th General Election
PM warns giveaway policies of some parties may be 'bad karma' for the country in the longer run
Economic recovery shaky despite strong foreign tourism as global economic outlook deteriorates
Recession fears rise as growth projections are cut and export output continues to decline in 2023
Good news on foreign investment at the start of 2023 fails to mask stunted competitiveness issue for economy
Economy faces export clogs with rules in China and 'green imperialism' from European Union
Vital European Union free trade deal with Thailand with stiff demands from Brussels to take time
Thailand's financials are sound but the economy is exposed if another world banking crisis emerges
Thai economic woes grow with a 10-year high trade deficit as January exports slumped by 4.5%
Credit crunch as firms seek more bank loans with tightened lending criteria and recession fears
Even as the baht surges, Thailand faces economic recession in mid-2023 with lower earnings
Thailand's trade agenda may be complicated and thwarted by raised tensions in the Indo Pacific region