Business frets about political instability and the potential policies of a Move Forward Pheu Thai government but there already appears to be growing problems beneath the surface of Thailand's economy with private sector debt and a large proportion of the kingdom's households surviving on short-term loan facilities while looking for a way out or a way forward, if you will.
As tensions and uncertainty grow about the formation of a new government, there are also concerns about the economic policies that may be pursued by a Move Forward Pheu Thai-led ministry with the outgoing government leaving behind a rising bill for public debt repayments and hidden borrowings in state-owned banks. Business leaders are also warning that political instability is a threat to the foreign tourism industry which this year is the country's economic lifeline amid depressed exports and a global downturn in trade. It comes as there is a growing concern about the growth of short-term debt among the less well-off who may have turned to Move Forward as the only way out of spiralling costs and marginal income.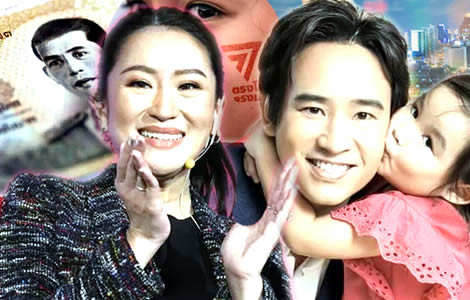 On Thursday, Mr Pita Limjaroenrat revealed an extended coalition of eight parties now commanding seats in the new lower house or 313 House of Representatives which will meet in July and vote on a new Prime Minister, it is understood, sometime in August.
It comes as the political temperature gauge is beginning to rise as he seeks to form a government in August while facing hurdles such as possible censure or legal action by the Election Commission and opposition from the former junta-appointed Thai Senate.
Economy is enjoying a very fragile recovery with foreign tourism keeping the engine ticking over in a troubled time for exporters and manufacturers
There are thought to be a possible 70 members of the upper house who may support a Move Forward-led government provided it ditches its controversial plans to amend Article 112 of the Criminal Code on lèse-majesté while other estimates put the potential figure more conservatively at below 20 upper house members with reports that General Prawit Wongsuwan, of the Palang Pracharat Party, has a strong influence over the body while working closely with the Bhumjaithai Party and the outgoing Prime Minister Prayut Chan ocha's United Thai Nation (Ruam Thai Sang Chart) Party.
Amid these dangerous political tensions, questions are also being asked about the economic policy that may be pursued by a new Move Forward-led government in office.
Economy avoided a technical recession
Earlier this week, the National Economic and Social Development Council (NESDC) confirmed that GDP growth in the first quarter was 2.7% following a 14% contraction in the last quarter of 2022.
Thailand, as expected, according to data revealed in early May by the Bank of Thailand, managed to avoid a technical recession but there is still a depressed market for exports and a fragile economic recovery which is being buoyed by foreign tourism with 6.5 million visitors in the opening three months of the year and projections showing that the country may be able to attract 30 million visitors in 2023 or 75.3% of what it achieved in 2019.
However, while inflation is reported to be declining, with April's figure being 2.67%, there is concern about the real rise in the cost of living since last year with economists estimating that the average Thai worker must earn 8.6% more to make ends meet.
Real inflation costs higher than economic data suggests for average workers, surviving on lower marginal income and short-term loans, since 2022
The improving situation in the foreign tourism sector has seen a rise in employment which has propped up the country's consumer confidence index and domestic spending but there is evidence to suggest that this is also being financed by borrowing or short-term loans.
Much has been made of Thailand's out-of-control household debt burden at 86.9% of GDP but many people fail to realise that the country's short-term revolving debt for less well-off households is a massive 52.14% of GDP.
A recent survey by the Thai Chamber of Commerce shows that short-term household debt in Thailand despite curbs on lending being introduced by the Bank of Thailand, increased by over 25% in the last 12 months up to April 2023.
While the Bank of Thailand has been able to report sharp reductions in loans from major banks from the third quarter to the fourth quarter of 2022 from ฿117 billion to ฿15.6 billion, the amount of credit raised by Thai households ballooned from ฿33.8 billion to ฿155.1 billion in the same period.
Many families are living on borrowed money and time. They are looking for a way forward and that means real change must be ushered in with a new PM
It is clear that many families in Thailand are living on borrowed money and borrowed time while desperately looking for an answer or a way forward.
It is therefore quite easy to see the impetus for change that brought about last Sunday's rejection of the previous government and a yearning for not only short-term giveaways but a real change in the economy's structure.
This is the pain that is being felt among a large number of voters who supported the Pheu Thai Party's giveaway policies promising a ฿10,000 digital wallet giveaway to all citizens over 16 years of age, a ฿600 a day minimum wage by 2027 and a minimum of ฿25,000 for degree holders in employment.
The Move Forward Party, which won the election, promised, on the other hand, an emphasis on structural reform of the economy and the beginnings of the development of a welfare state with higher taxation levels being imposed on the wealthy and corporations.
The initial cost of the Move Forward Party's welfare package was estimated at ฿650 billion a year. The party proposed to finance this by ฿350 billion in budget savings within the government and increased taxation of ฿300 billion.
Move Forward wants to change Thailand structurally and move it towards a higher taxation, welfare state while Pheu Thai's policies are more pragmatic
It is clear the Move Forward Party wants to see an economic model with the state more involved such as we see in the developed Western world and European countries.
It should be borne in mind that over 50% of the Thai economy is still unregulated by the state or not subject to normal taxation regimes including payroll taxes or sales taxes.
The Pheu Thai Party policy proposals were less concerned with structural reform and envisaged an effort to control electricity costs for businesses while focusing on distributing handouts or pumping money into the economy in a Keynesian economics formula while raising wages within the official economy thus boosting payroll and sales taxes.
The party's policy of 'thinking big' was based on achieving a growth rate in excess of 5% a year. 
Outgoing government of Prayut Chan ocha has hidden state bank borrowings and is leaving behind a spiralling bill with rising public sector debt payments
However, the incoming government is facing spiralling costs for public borrowing used during the pandemic emergency with debt repayment on existing loans set to rise from 9.6% of GDP in 2023 to 15% by 2027.
There are also reports that the present government of Prime Minister Prayut Chan ocha may be carrying additional public sector debt that has already been dispersed through public sector banks such as the Government Savings Bank and the Bank for Agriculture and Agricultural Cooperatives (BAAC).
During the pandemic, the outgoing government extended the public debt limit under the Financial Disciplines Act (2018) from 60% to 70%.
Currently, the public debt stands at 61.2% but it is thought that a further 7% of GDP is on the books of state banks with potential extra borrowing possibly required by the government between now and the end of the current financial year on September 30th next.
Bottom line, the cupboard may be quite bare for any new incoming government to inflate or reform an economy which is growing slowly and facing a very uncertain external environment with a worldwide economic downturn impacting its key markets in the West, Asia and China.
New government must forge optimum combination of Pheu Thai growth strategies and begin to address structural reform of the economy and inequality
Many business analysts and leaders are quietly optimistic that if the new government is formed, it will pursue a combination of Pheu Thai and Move Forward Party policies with structural reform to gradually address inequality and household debt while pursuing practical measures to boost liquidity, reduce electricity costs without losing the confidence of international investors by maintaining fiscal responsibility.
In the meantime, the key goal for the new coalition partners now is to form a government and avoid if possible, the real danger of a descent into political instability if it becomes clear that there is an effort to thwart and frustrate a Move Forward Party led government while forcing the Pheu Thai Party away from its democratic partner.
Just days after the election, there are already warnings and strong rumblings of possible discontent if the situation gets out of hand.
For some ordinary households, this matter is one of political principle with a Thai electorate that has become politically informed and aware of what is happening not just in Thailand but around the world. For many more, this is a matter of financial survival in the future.
Political instability hurts the economy and tourism
The financial and business world is watching events unfold very carefully as the stakes are high.
On Wednesday, Krystal Tan of the Australia & New Zealand Banking Group warned that even raised tensions and the threat of political instability could undermine foreign tourist inflows and bookings representing badly needed current account earnings or foreign cash which are currently underpinning the economy.
'If political tensions spill over onto the streets, growth will be adversely impacted. Tourists are notably sensitive to political instability, with arrival growth slumping during such periods in the past two decades.'
Further reading:
Pita, Move Forward and five other parties meet in Bangkok and come out smiling, ready to govern
Pita plots a new coalition government with Pheu Thai but open conflict has already raised its head in the Senate
Move Forward Party's good election result leaves uncertainty as to who will form the government
Move Forward leader denies claims he held shares in media company barring him as a Bangkok MP
Move Forward Party surging in the polls as the General Election campaign enters its final week
PM warns giveaway policies of some parties may be 'bad karma' for the country in the longer run
Leader of PM's UTN tells rally a government led by his party will 'get tough' with nation haters
Deputy Prime Minister Prawit Wongsuwan warns that those in power who support coups still exist
Former ministers rejoin the Palang Pracharat Party but there is no new economics czar Somkid
Ung Ing says Prawit is better liked than PM Prayut with reports of the return of key ex-ministers
Whip hand with Pheu Thai to secure power in this year's General Election despite Senate's waning power