Thailand has introduced a new Royal Decree which allows for suspicious bank and phone accounts to be shut down. On Tuesday, the police chief warned the public to be circumspect about their personal details to avoid becoming embroiled in criminal exploits by gangs who often use the identity of innocent people to trick others.
Thailand is being hit with 800 cyber crimes every day with losses of billions of baht according to National Police Chief General Damrongsak Kittiprapas who, on Tuesday, launched a popular awareness campaign aimed at educating the public to help immunise them from what is a pernicious criminal threat.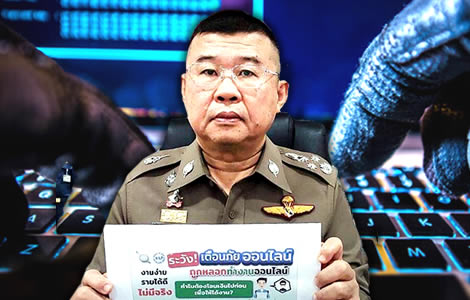 Thai National Police Chief General Damrongsak Kittiprapas has given his support to an ambitious campaign to tackle cybercrime in the kingdom which has reached epidemic proportions with 800 cases a day being reported.
The new campaign introduced on Tuesday by the police chief is called 'Together against cyber threats'. 
Campaign aims to immunise the public by making online users more aware of the real threat from cyber criminals and sceptical about online activity
The objective of the campaign is to make the Thai public aware of the threat of cybercrime while they are online.
The campaign aims to help people not to readily believe all propositions put to them online, not to be in a hurry to conduct transfers or make purchases and to be aware of potential scams.
It is being coordinated by a special advisor to the Royal Thai Police and former Immigration Bureau chief, Police General Sompong Chingduang.
Introducing the campaign on Tuesday, General Damrongsak revealed that between March 1st, 2022 and June 30th, 2023 there have been no less than 287,122 criminal cases relating to cybercrime activity. 
He said the total losses incurred by those involved was nearly ฿40 billion. 
Thailand is being targeted from offshore by online crime gangs financed by grey capital from countries such as Cambodia. Huge international crime threat
At the same time, the police chief revealed that many of those operating such scams are doing so from beyond Thailand's borders with continuous news reports of Chinese and other foreign-controlled scammer gangs targeting Thai online users from Cambodia.
A recent alert from the American Federal Bureau of Investigation (FBI) described online crime and scamming as a bigger international business for organised crime than drug trafficking.
As part of the campaign, any member of the public can take part in an online quiz or test to gauge awareness of cybercrime threats.
Local officer in Sa Kaeo Province leads the fight with a poster campaign and QR codes inviting people to test their cybercrime awareness level online
On Tuesday, the police chief highlighted the activities of a deputy commander in Sa Kaeo Province near Cambodia, Police Colonel Chainarong Boonduang, who is currently liaising with officers with Border Patrol Police 127, placing posters at public places such as service stations, encouraging the public to take the test.
This involves scanning a QR code and going to a specially prepared cyber vaccine website.
40 questions with revolving tests are put before users who can qualify to win an iPhone 14. 
To qualify to win prizes, those taking part in the cyber threat quiz must achieve a score of over 35  correct answers or 87.5% which will enter those involved to win the prize. 
Online quiz allows for iPhone 14 prize
Those involved in the test and who wish to win a prize must also submit a valid email address which is confirmed.
General Damrongsak confirmed that members of the public are free to take the test an unlimited number of times and it is hoped that people will become more aware of their own online security situation as this is the ultimate prevention when it comes to cybercrime.
In addition to the quiz and public awareness campaign, the Royal Thai Police is working with banks and financial institutions as well as telecommunication networks to prevent members of the public from becoming involved and facing potential legal liability with either duplicate phone or bank accounts opened in their name.
The police chief warned on Tuesday of the potential exposure to criminal liability and suspicion that can arise if otherwise innocent parties are exploited by these gangs who access their personal details and steal their identities.
New Royal Decree allows police and authorities to act to shut down nefarious bank and phone accounts
Under a new Royal Decree, Thai authorities are empowered to act swiftly to close down bank accounts and even telecommunication services where it is believed such facilities are being used to commit crimes and pose a danger to the wider public. 
The police chief encouraged the public to spread the word about the campaign and to encourage others to get involved to strengthen public immunity to the threat.
He said that cybercrime is one of the fastest-growing criminal enterprises and is being financed by foreign grey capital groups who are highly organised and without such initiatives, the Thai public would remain at peril from the threat.
Further reading:
Online skimming scam impacting thousands of Thai bank account holders shut down by officials
Online scammers are an organised crime group in Thailand working with international hackers
Thai man's ฿10 million credit card fraud ended Monday with his arrest by CSD police in Bangkok
Nigerian and Thai wife arrested by police after online romance fraud costs woman ฿1.5 million
Thailand leads the world in the crackdown on online romance crooks targeting Thai women online
More Nigerians busted by Thai police for targeting vulnerable Thai women seeking love online
The scam is up – Nigerian lover boys arrested for taking advantage of Thai women seeking Love online