Complete fall from grace of a scion of a political family in Bangkok who has been jailed and is still facing further cases and potentially more jail time with new judgments due on September 25th as evidence is still being gathered concerning other complaints of sexual misbehaviour against him.
A former high flyer in Thailand's Democrat Party who was in charge of its election campaign in Bangkok was jailed this month for indecent acts against a young female university student in April last year. Further judgements in an array of cases which are still ongoing around the country are also due on September 25th next against 45-year-old Mr Prinn Panitchpakdi who has been ordered into custody to begin serving a prison sentence with bail denied for an appeal.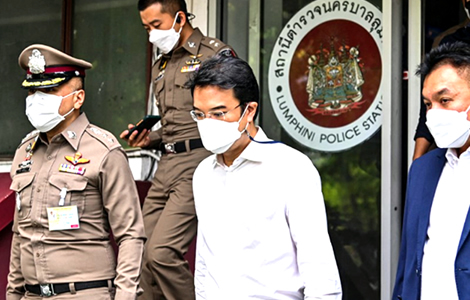 It has emerged that a former deputy leader of the Democrat party in Thailand, the country's oldest party, Mr Prinn Panitchpakdi was jailed on charges of indecency against a female student on August 10th last.
A Bangkok court, handing down a guilty verdict and prison term, also denied Mr Prinn bail ordering that his prison sentence and punishment for the offences begin immediately.
The former political figure, last year, in the aftermath of the accusations made against him by a multitude of young women, resigned from the Democrat Party.
Son of a famous Thai politician and former UN official found guilty and ordered to jail to begin punishment for indecent acts against university student
He was sentenced by the court to a prison term of two years and eight months and ordered imprisoned immediately after the first case against him was decided this month by a court in Bangkok.
Mr Prinn is from a highly respected family with his father serving previously as Commerce Minister and as a senior UN official.
The news emerged on Tuesday in a statement from Ms Kosolwat Intuchanyong, a deputy spokesman of the Office of the Attorney General, who informed the media that she had been informed of the development by Ms Patchara Isaraporn, the prosecutor in the case before the Bangkok South Municipal Court. 
It is understood that this criminal case was the first in a large number of investigations opened by police in Bangkok and various provinces into Mr Prinn.
Investigation opened by Lumpini Police Station last April after young woman filed a complaint immediately after her encounter with Prinn
This followed a complaint made to Lumpini Police Station in Bangkok by a young woman, a university student, linked with the August 10th judgement just handed down, against the then 45-year-old man in April last year following an incident at a rooftop restaurant on Soi 11 in the Sukhumvit Road area of the city.
Mr Prinn had invited the female student studying politics to have dinner with him and it is understood that he subsequently imposed himself upon the woman, resulting in her lodging the complaint alleging indecent acts. 
The former Democrat Party officer is understood to be facing several other judgments on September 25th relating to indecent assault and other sexual offences which were investigated by police in Bangkok.
Complaints from women around Thailand
Mr Prinn was also the subject of complaints from women in other provinces in Thailand including one in Chiang Mai where a young woman complained of meeting Mr Prinn at a seminar or conference he was attending.
She said he forced himself upon her, trying to kiss her on the face.
The victim only came forward last year when she read about the case in Bangkok and reported it to Chiang Mai police explaining that she had thought up to that point her complaint would not have been taken seriously.
Mr Prinn, before last year's shocking revelations and his resignation from the Democrat Party, was the party's Director of Elections for its forthcoming campaign in Bangkok.
Democrat Party politico still facing other charges even after September 25th with evidence still being heard in court linked with other police probes
The Democrat Party performed very poorly in this year's general election, only achieving 25 seats in the House of Representatives, and is currently in the throes of a leadership struggle as it tries to find a new leader following the resignation of its outgoing figurehead and Commerce Minister, Mr Jurin Laksanawisit.
It is understood that legal processes linked with other cases against Mr Prinn are still moving through the courts, with some court cases still waiting to hear from witnesses who have come forward to make complaints against him.
When granted bail last year with an order that he report regularly to the Immigration Bureau and not leave the country, Mr Prinn insisted on his innocence and said he trusted in the legal process.
Further reading:
Democrat Party victories in the South seen as a vote for stability despite vote-buying claims by Ratchaburi MP
By-election polls amid a weak economy and rising food prices may mean a 2023 General Election
Wife of deposed Bangkok MP Sira campaigns for his job based on his 3 years of service to people
Move against Pheu Thai, the kingdom's biggest political party, over it's alleged links to Thaksin
Fears grow that Ferrari Jo will evade justice as local monk offers him support as a 'peacekeeper'
Police probe high-end Thong Lor club prostitution links and may call in the owners for questioning
Bangkok MP will call to account cabinet ministers who he claims were at a Thong Lor nightlife spot
Government MP and committee Chairman to have his status reviewed by the Constitutional Court
Police witness in Red Bull case had talks about witness protection with department at the Ministry of Justice
Prosecutor appears before House committee as Chairman worries for safety of expert witness in the case
Minister has 15 days as the Constitutional Court accepts a petition filed by the house speaker
CSD police investigating ฿20 million bribery claim which a court linked with Thanathorn's younger brother
Boss Vorayuth criminal case descends into chaos with mounting review panels and extra lines of enquiry
Boss to be charged again with reckless driving causing the death of a policeman after review of the case
Boss Vorayuth case key witness dies riding his motorbike early on Thursday morning in Chiang Mai
Expert stands by evidence that Red Bull Boss Vorayuth's Ferrari was travelling at 177 km/ph
Strong new evidence suggests that there was no basis to prosecute Red Bull driver 'Boss' Vorayuth
Anger at news that Red Bull heir is free to return to Thailand after charge is dropped by Bangkok prosecutor
Prosecutors urge police to track down location of Red Bull heir to allow for extradition proceedings against him
Tensions and sex appeal of Thai politics as a foreigner is arrested and a Thai 'pretty' candidate
Police in Bangkok and Pattaya hunt down sexual monster who terrorised, raped scores of women with impunity
Songkhla police solve horrendous case which saw a 15-year-old girl raped and murdered on the road
22 year old arrested in Nonthaburi for the rape and extortion of up to 20 women he befriended online
Mother of raped and murdered nine-year-old girl calls for the death penalty after killer's arrest
Sadistic murderer 'Ice Metal Casket' sentenced for rape of a woman at gunpoint in latest conviction
Evil struck a Thai island on Sunday when a local brutally raped and murdered a German woman
Shocking rape and murder of German woman does not mean Thailand is unsafe for western women holidaying