The comments by the prime minister about the closeness of the bond between China and Thailand are reminiscent of his Time magazine interview in 2017 when he unequivocally described China as the kingdom's key partner and ally. His comments concerning Saudi Arabia also stood out as he addressed his supporters in Ratchaburi.
Prime Minister Prayut Chan ocha, on Thursday, announced that China has approved the resumption of foreign tourism tour groups to the kingdom in a rousing speech in Ratchaburi where he singled out both China and Saudi Arabia as key friends of the kingdom as it tackles difficult economic challenges. General Prayut who is now effectively campaigning to remain in power as the nominee for prime minister of the Ruam Thai Sang Chart Party (RTSC) in the May 7th General Election told an enthusiastic audience of supporters that China, in particular, was among Thailand's oldest friends as he effusively thanked President Xi Jinping and celebrated the Chinese New Year as an opportunity for the growth of cultural tourism between the two countries.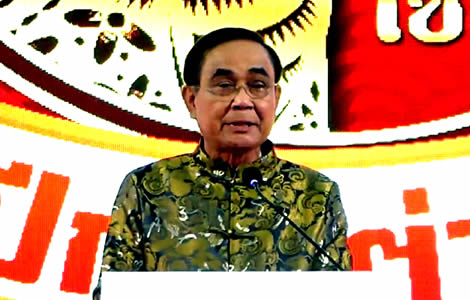 The voice of Prime Minister Prayut Chan ocha may at times have been hoarse but it certainly did not lack enthusiasm in western Thailand's Ratchaburi province on Thursday as he celebrated the beginning of the Chinese New Year surrounded by key advisors and supporters.
The Prime Minister used the occasion to announce that China has given the green light to tourism tours to Thailand from the mainland which General Prayut interpreted as extremely good news for the Thai economy.
Chinese Charge d'Affaires produces a rabbit from his hat to the delight of the prime minister with news that tourist tours from China were being resumed
He drew attention to the presence of the Charge d'affaires of the Chinese Embassy at the event to celebrate the Chinese New Year, the year of the Rabbit.
General Prayut noted that as well as bringing rabbits, the diplomatic official also brought a message of Chinese New Year's Greetings from China's President Xi Jinping and his wife. 
The celebratory event took place near the Pracha Phatthana Dam in the centre of Ratchaburi province with the premier dressed in a colourful Chinese New Year's outfit known as a Tangzhuang shirt with a golden dragon pattern.
Prayut echoed his 2o17 sentiments when interviewed by Time magazine as the junta chief when he described China as Thailand's strongest, oldest ally
General Prayut was extraordinarily upbeat as he recalled over 47 years of diplomatic relations between China and Thailand since November 1975 but went further and again referred to Thailand's friendship with China going back many hundreds of years as an ancient one.
Indeed, in a Time magazine exclusive, with General Prayut in June 2017, the Thai government leader, then military junta chief, who is seeking to win back power in the May General Election, described China as Thailand's oldest friend despite it remaining a fully committed military ally of the United States with which it established diplomatic relations in 1833 under the Treaty of Amity and Commerce.
Thursday's rally in Ratchaburi was deeply political
Thursday's visit to Ratchaburi was a particularly political move which saw the Palang Pracharat Party MP for District 2 in the province, Mrs Boonying Nitikarnchana, not able to attend as she had a prior engagement while her husband, the Chairman of the Ratchaburi Provincial Administrative Organization, was also required at an event in Kanchanaburi province.
This was in fact, more like an election campaign stop with the prime minister accompanied by the Minister of the Interior General Anupong Paochinda, the Minister of Culture Itthiphol Khunpluem, Minister of Labour Suchart Chomklin, key aide Anucha Burapachaisri and Mr Thanakorn Wangboonkongchana the Prime Minister's Office Minister who has just resigned as a Palang Pracharat Party MP.
Also present were key Ruam Thai Sang Chart Party (RTSC) officials within the prime minister's kitchen cabinet, Mr Peeraphan Salirathaviphak, the Secretary-general to the Prime Minister, Mr Seksakon Atthawong and spokesperson at the Prime Minister's Office, Tipanan Sirichana.
Members of the public carried placards pledging loyalty to Prime Minister Prayut Chan ocha willing him to continue in power as he thanked President Xi
The event was attended by a range of politicians from associated parties including the Bhumjaithai Party and Democrat Party as well as former Palang Pracharat Party MP Pareena Kraikupt whose family is still powerful in the province.
Members of the public carried signs welcoming the prime minister and pledging support for him and his continued career in politics and at the helm of government. There were messages such as 'Love Uncle Tu without reason' and 'May Uncle Tu stay for a long time'.
Uncle Tu is the affectionate term that Thais use to describe General Prayut who has been in office since 2014 when he staged a military coup d'état.
The prime minister continued to be effusive in his thanks to the Chinese government and in particular to President Xi as he made a major announcement.
'Today I received good news. The Chinese government has opened the country. This will allow tour groups to travel to Thailand which will have many tourists. We originally were open to independent travellers but from today we will be open, as before, to tour groups. Therefore, thank you for letting Thailand be the first country for tour groups to visit. Thank you very much,' said the prime minister to huge applause from his audience. 
PM said foreign tourism is already 50% recovered and promised that the sector will be 80% recovered in 2023 thanks to Chinese tourists returning
General Prayut spoke of the importance of tourism to the Thai economy and held up the prospect of enhanced cultural tourism between China and Thailand, particularly for the Chinese New Year celebrations.
'The sound of joy is heard during the festive New Year,' General Prayut told his audience as he hailed grassroots tourism as essential to Thailand's economy and promised that the reopening of Thailand to Chinese tourism would benefit secondary cities and markets in Thailand as well as the more popular hotspots.
The Prime Minister said that the country's tourism sector was already back to 50% of what it was in 2019 and promised that this year, that figure would rise to 80% as the economy recovers.
China and Saudi Arabia singled out to the audience by General Prayut as close friends of Thailand, particularly in these economically challenging times
At the same time, he warned that the kingdom faces many economic difficulties but highlighted the country's friendships with countries such as China and Saudi Arabia as singularly important relationships as it seeks to negotiate its way forward.
'We also have good friends, good friends, Saudi Arabia and China,' the PM noted.
General Prayut said that both Saudi Arabia and China have been good friends of Thailand for a long time at all levels to the sound of drums and applause from those attending the event.
He ended his address by using the Chinese New Year's Greeting to all present which was 'Xin Zheng Ru Yi Xin Nian Fa Cai' or Happiness, fulfilment and wealth forever.
Further reading:
Thailand turns to China in 2023 for GDP growth in a world buffeted in real-time by raw geopolitics
Property market collapse in China and a Chinese economic recession is the key threat to Thailand
Prayut visits Saudi Arabia to meet kingdom's de facto ruler Crown Prince Mohammad bin Salman
Central bank reassurances as ex-minister raises loan quality with China's economy in trouble
Pelosi defies Communist China's concerted campaign of intimidation and visits Taiwan sparking a crisis
China could be an economic time bomb sitting on Thailand's doorstep as Evergrande collapse nears
Abe's legacy will be his efforts to awaken Japan and build a defensive alliance against China
Former Pheu Thai finance minister expresses unease about US regional moves to counter China's rise
Thailand with a falling baht caught in stagflation spiral with high inflation and low GDP growth this year
World inflation crisis may lead Bank of Thailand to act before August and raise interest rates more sharply
Good economic news, test now is how to emerge from stagflation with large price shock looming as inflation rises
Prolonged Ukraine war to see Thai inflation at 6.3%, a stalled economy and a possible downgrade
Travel sector calls for endemic status, scrapping of Thailand Pass and full normality on entry
Oil still boss as Thailand's economy faces a return to 1970s stagflation over the ongoing Ukraine war
Fears for Thailand's economy over Ukraine war with rising inflation rates and loss of confidence
Another GDP contraction looms as Thailand tries to boost its economic fortunes by spending more
Richest man in Thailand says COVID-19 is like a World War, the kingdom could end up a big loser in the end
Thailand to reopen to 'big fish' tourists as a cryptocurrency friendly haven says promotion agency boss
Industry leaders and central bank all warn that foreign tourism must return to avoid a collapse
UK Foreign Secretary visits Bangkok after AUKUS security pact further raises tensions with China
Trade pact with Hong Kong as Thailand negotiates both Chinese and new western trade relationships
US Ambassador resigns as Biden Presidency starts with growing tensions with China over Taiwan
US move against Thailand on trade is a warning as Thai exports to America boomed in September by over 19%
Thailand's trade agenda may be complicated and thwarted by raised tensions in the Indo Pacific region