As relations between Thailand and the USA improve, the country promotes ASEAN and friendship with all countries but appears to want to keep its economic options open.
Since the current Thai military government came to power in 2014, there has been speculation that Thailand is moving closer to China but there are mixed signals. Thai PM Prayuth Chan-ocha, in an interview carried on Time magazine recently, clearly stated that China was the country's number one partner but emphasised also Thailand's relationship with the United States. The Thai Prime Minister, on another occasion, proposed creating an economic fund for Southeast Asian countries to counter a growing dependence on Asian giants, notably China, as a source of funding.
The move is timely as Thailand's growth has picked up while China and the United States have begun, what appears to be, a growing trade war. Thailand has unveiled an imaginative plan to transform its economy to a high value one through the employment of digital technology across all business sectors but also in the development of enterprises competing within the global digital economy.
Since 2016, the country has taken concrete steps towards this goal including the development of a development corridor in eastern provinces on Thailand's seaboard, a digital government ministry and funding to kick start investment in the sector. The sourcing of funding, skilled workers and the development of unique technologies will be key goals. Thailand will find itself facing competition.
New fund announced by Thai PM seen as a counterweight to dependence on Chinese funding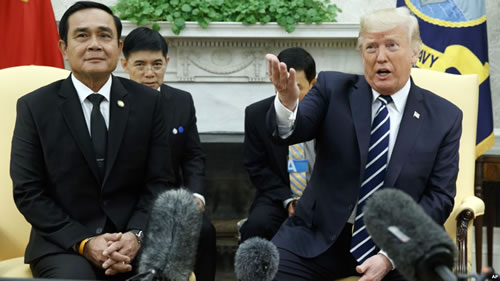 In some Asian countries and Africa, Chinese investment is seen as the lifeblood of the economy and is embraced. Thailand's position is stronger. It is a more developed economy with a network of relationships with foreign powers. Thailand's response to China's increasing economic power, however, has been a combination of the two approaches.
The Thai government and leading Thai companies have established closer ties and co-operation with China but there is a wariness of any dependence on Chinese investment and trade.
Thailand is a country with a strong culture of independence. This is how the announcement by Thai Prime Minister Prayuth Chan-ocha that Thailand was spearheading a new fund for infrastructure and development projects in the ASEAN region was interpreted by many analysts when it was announced recently.
Addressing the audience of the summit of the Ayeyawady-Chao Phraya-Mekong Economic Cooperation Strategy (ACMECS), a political, economic and cultural organisation, the Prime Minister said Thailand pledged a substantial amount of money to the fund, which will be jointly managed by Thailand, Cambodia, Laos, Myanmar and Vietnam. A lot of detail relating the fund is still unclear, such as its size and budget.
It is understood that this will be discussed by the officials of all five countries during the year. It is known, however, that the money will come from the sale of stocks and bonds while financial contributions from foreign countries and institutions will be welcomed. Experts believe that the initiative is part of Thailand's plan to reduce reliance on China in particular and in other Asian powers in general.
Previous ASEAN initiatives have been lacklustre
Its success is open to question. Conflicting interests between ASEAN members as well as outside partners have rendered previous regional infrastructure projects less than successful. Enormous financial contributions from the China-ASEAN fund and Chinese direct investments can easily dwarf whatever size the Thailand-sponsored fund may reach.
China has already made inroads into the region as it commits to granting nearly $12 billion in loans and aids in the countries that have come together to create the fund. One of the key projects in this plan is an ambitious $ 5.5-billion high-speed railway that will link China with Thailand's eastern provinces through Laos.
Thailand has moved more towards China but has emerged from the shadow of the 2014 coup with a strong EU and US relationship
However the plan may play out, the economic fund announcement is further evidence of Thailand's resolve to preserve its unique position as an independent economic and diplomatic player in Southeast Asia. Some observers have argued that a void has opened in the region as initial policies pursued by American President Donald Trump suggest less of an emphasis on the Asia Pacific region than that shown by the Obama administration.
Many commentators suggest that Thailand is moving closer into China's orbit. However, it can be argued that Thailand is doing what it has done best for centuries, which is to maintain a delicate and balanced relationship with all countries and balancing its position between more powerful actors.
While the relations between Thailand and the West undoubtedly deteriorated after the 2014 coup, it has improved remarkably in the last twelve months with the normal and warm relationship between the EU and the United States emerging. Thailand has been on increasingly better terms with China since the coup but, it would be wrong to use the coup as a baseline to understand Thailand's policy.
Thailand has already emerged for the diplomatic shadow of the 2014 coup. Thailand is now pursuing more long terms goals as the country has returned to political stability and strong economic growth. The mission of the Thai government now appears to be to build on this foundation and indeed maintain it with the help and understanding of foreign countries to which it seeks to explain its long term vision.
Thailand position in South East Asia is strong and backed by skilful diplomacy
Far the criticism from the previous US administration directed at the junta in the aftermath of the 2014 coup, the relationship with the Trump administration has been warmer and more pragmatic. Military relations and strategic dialogue between the two countries were quickly and quietly restored. This underscores the mutual benefits that both sides enjoy from a close alliance.
In relation to China, Thailand is home the most significant Chinese ethnic population in Southeast Asia. Thailand has also had close economic and strategic links with Beijing for a long time.
In fact, Thailand maintains excellent relationships with other key countries in the Asian Pacific area, notably Australia and Singapore. The suggestion of Bangkok as a venue for the recent US-North Korea summit also underlines Thailand's unique standing as a friendly but neutral player in the region.
Thailand's skilled diplomacy is exemplified by its manoeuvres during the turbulent 20th century. As the Cold War raged across the world, Thailand made ingenious moves when it showed allegiance to America by sending its army to fight with US forces in Vietnam while slowly building ties with Communist China.
Thailand's maintains a delicate balance between America and China
Maintaining the U.S. as a key military partner and a powerful China as its biggest trade partner, Thailand is at a very critical time in terms of maintaining its independence in the clash of the titans. How far it can take advantage of China's economic power without trading off its security remains to be seen. But it would be well for foreign observers to remember that Thailand is one of the very few Asian countries that avoided being colonized by mighty European powers in the last two centuries.
Thai PM confirms China's position as the country's No. 1 partner but emphasises that all countries are good friends with Thailand
In a wide-ranging and informative interview with Time magazine, the Thai Prime Minister reminded readers that relations between Thailand and China have existed for over 1,000 years while those with the United States of America have existed for around 200 years. 'China is the number one partner of Thailand along with other countries in the second and third place like the U.S. and others.
They are all good friends to Thailand. Thailand is a small country, so we need to properly balance political and foreign affairs with all fellow countries.' It was a frank and informative exchange. The Prime Minister was asked if he thought relations between Thailand and the United States had weakened in recent years. 'I suppose America is somewhat busy with its own issues so there seems to be some distance between the U.S. and ASEAN.'
It is a theme that Thailand seems to be striking, an emphasis on the ASEAN community as opposed to dependence on either one of the great powers. However, when the Thai PM referenced China as Thailand's leading partner, he did stress that Thailand relationship with the U.S. was significant and Thailand's friendship with all countries.
Relations between Thailand and the United States have improved
The Thai Prime Minister referenced his discussions with US President Donald Trump suggesting the United States may, in the future, show more interest in the ASEAN community. The PM revealed that although the U.S. President has never visited Thailand that he has read about the Kingdom and knows about the country.
He said Trump praised Thailand's delicious food, the kindness and good nature of the Thai people and that Thailand is known by the sobriquet of the 'Land of Smiles'. He said Trump had informed him that he would like to visit Thailand someday. The Thai Prime Minister then assured the U.S. based magazine that the Thai government supports investments by wealthy Thai companies and individuals in the United States.
On the Thai PM's visit to America in October 2017, US President Trump was keen to promote investment in the United States and increased purchases of American products and services from Thai companies. In his Time interview, the Thai Prime Minister pointed to investment by Thai entities in an energy project in the U.S. state of Ohio involving millions of dollars and the purchase of aircraft.
During the visit by Prime Minister Prayuth Chan-ocha to Washington there was an acknowledgement that the relationship between Thailand and the United States had improved since the coup in 2014 when the relationship took a nosedive and became quite strained with a number of incidents as Thai people and the Thai government reacted negatively to strident U.S. censure.