Deputy National Police Chief raises a red flag as he advises that unless the flow of Chinese criminality into Thailand which has been ongoing for decades is turned off, the country's foreign tourism is at risk and also, in a very real sense, its national security due to the use of surrogate children and other devices by Chinese criminal masterminds to subvert Thai laws. This week he revealed that much of what he is learning is coming from China's state police who are assisting authorities in Thailand. He warned that many Chinese tourists are already being put in fear of travelling to Thailand due to powerful online messaging at home warning of the dangers in the kingdom.
Amid a sharp rise in crime linked to Chinese nationals in Thailand with almost daily reports of abductions or dramatic cases, the country's favourite policeman 'Big Joke' or General Surachate Hakparn has warned that an end must be brought about to the movement of shady and corrupt Chinese criminal elements in Thailand who for the last two decades have been settling here as they take flight from stronger law and order measures imposed by Beijing. The deputy national police chief also highlighted the case of a Chinese woman who arrived here 35 years ago and set up an extensive transnational criminal empire engaged in providing surrogate Thai children to Chinese nationals. He outlined how the woman has amassed a fortune of billions of baht which Thai authorities cannot reach as she, in a move which General Surachate is convinced must have been planned from the outset, made sure all the assets were tied up in bona fide business concerns owned by her three Thai children who are strictly engaged in honest and legitimate commercial enterprises in the country including a well regarded Thai insurance company with over ฿600 million a year in income.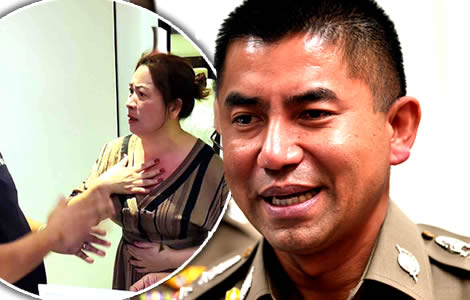 Thailand's leading policeman, Deputy National Police Chief General Surachate Hakparn or 'Big Joke' this week warned that it was critically important to the country's tourism prospects to wipe out illegality which has spread into Thailand from China because of a crackdown against illegal activities in the middle kingdom over the last two decades.
It comes amid a rising number of cases involving Chinese tourists and shady business people being abducted for ransom in Thailand, often by other Chinese nationals either concerning an alleged debt or simply for ransom.
Arrest warrants on Monday for a six-member Chinese abduction gang while more were requested on Wednesday for 11 people in another Bangkok case
On Monday and Tuesday, Thai authorities issued arrest warrants for six members of a gang of Thai nationals who abducted a Chinese businessman last Friday night in Sathorn and extorted ฿3.93 million from his account while the victim, who has bizarrely arrested himself for assault on Sunday in Hua Hin, ended up being detained by Immigration Police after officers found he was wanted for fraud by the Chinese police.
On Wednesday, police at Bang Phong Phang police station in the Sathorn area of Bangkok led by Deputy Metropolitan Police Bureau Major General Noppasin Poolsawat were able to rescue another Chinese man who had also been abducted for ransom.
The victim was reported missing by his wife at Yannawa Police Station on Sunday, April 16th and a police rescue operation saw three suspects, one Chinese and two Thai nationals arrested in due course.
The abduction, which may have been related to an alleged debt, led police after further investigation to petition the Bangkok South Municipal Court for arrest warrants for eight other people involved.
Case of Chinese woman who obtained Thai citizenship in 1992 shocked the police due to the depth of criminality and the foresight of a mastermind
The complex nature of the activities of Chinese nationals who have arrived in Thailand and become involved in criminality was highlighted this week when General Surachate revealed that a Chinese woman who obtained Thai citizenship in 1992 and who has three grown children, managed to build up a fortune of billions of baht all held legitimately in their own names as Thai nationals, an automatic status obtained at birth through her citizenship.
The top policeman told reporters this week that the fortune under the control of the children includes a legitimate Thai insurance firm with reported income in excess of ฿600 million per year.
Police General Surachate earlier disclosed that the woman, who was arrested in a blaze of publicity by officers on April 8th in a building on the Silom Road in Bangkok and with simultaneous raids on three other occasions throughout the city, is still being investigated with more serious charges to follow which will likely include human trafficking offences.
Charged initially with forgery and supplying false information. It is thought there may be human trafficking or money laundering charges in due course
Police have charged her on a preliminary basis with giving false information to authorities and for the use of forged documents as officers are looking for a legal basis to charge her with money laundering offences.
This will require a more complete picture of her affairs and may necessitate a forensic investigation into what appears to be a sprawling empire.
The woman identified as Ms Navaporn Phakiatsakul had come to police attention through another Chinese kidnapping in Chonburi after officers checked the identity of the victim's family, all Chinese and discovered that a wife and mother who had been abducted had overstayed her visa in Thailand.
It is understood that police discovered that the woman had a son with Thai citizenship who had been born to a Thai surrogate mother which led police to Ms Navaporn.
Avalanche of criminality including fake identity documents and other law breaking all so far learned on one assumed name with others to also be probed
Police subsequently found an avalanche of information linking Ms Navaporn with criminal activities such as the use by 26 women of her building as a place of address at the local registry office in the Bang Rak district of Bangkok, forged identity documents, fake visas and other irregularities associated with her activities in what appears to be an ongoing and extensive surrogacy business where Chinese couples pay for Thai women to act as surrogate mothers to children and where those children are born with Thai citizenship.
This, in turn, allows their parents to obtain long-term visas in Thailand and to make investments in property and other holdings through the use of their children's identity and citizenship.
Police have also discovered that the woman changed her name multiple times and fear even more revelations when those other identities are also investigated.
The police officer noted that such criminality was not only posing a threat by attracting rampant criminality into Thailand from China and undermining the country's foreign tourism industry but is also a severe risk to the kingdom's national security.
Big Joke working closely with China's police
General Surachate said much of what he is learning is also coming from China's police services which are providing invaluable assistance and insight to Thai authorities on the threat being posed to both countries and honest people.
It comes after the Thai Embassy in Beijing in March was forced to issue a statement countering a massive and powerful online campaign of disinformation and rumour on China's internal social media channels urging Chinese people not to holiday in Thailand and warning them of being kidnapped or murdered.
Astonishingly, this occurred before the current raft of kidnapping, murder and extortion cases often involving Chinese actors themselves.
Plan to revoke the woman's Thai citizenship obtained after she married a Thai man in 1988 or 1989 whom she divorced in 1991 and to fully prosecute her
As Thai authorities continue to investigate Ms Navaporn's story in Thailand beginning with her marriage to a Thai man sometime in 1988 or 1989 whom she divorced in 1991 to today, they have already discovered that the woman has several identities which may reveal further exploits.
While prosecutors are determined to revoke the woman's citizenship and make her face the full extent of any potential criminal penalties before deporting her back to China, they are also powerless to take action against the woman's three children who are legitimate and wealthy Thai businesspeople.
'When the children reached the legal age, they were brought into it. Her children hold all the assets, which are worth billions of baht. She must have planned this from the start,' General Surachate said in recent days as he has ordered officers to probe deeper into the woman's links with the medical community in Thailand which he suspects must have given her assistance with her surrogacy business which also extends its operations into a neighbouring country.'
Further reading:
Chinese student here only 20 days kidnapped, tortured and murdered by evil gang from China here as tourists
Fear-mongering, fake news and disinformation being stoked in China against visiting Thailand
Chinese tourists arrested on kidnapping and extortion charges insist they are innocent
Police defend Pattaya search warrant raid which saw two officers shot with Chinese man arrested and charged
Chinese man linked to organised crime arrested at luxury Pattaya mansion after shooting policemen
Illegal lending app run by Chinese staff charging up to 20% interest per week taken out by immigration police
Four Chinese men arrested after hideous murder of a Chinese tourist and his wife last Monday night
Chinese woman seeks death penalty for husband who tried to murder her in Thailand by pushing her off a cliff
Chinese man who killed his wife in Thailand may face further charges including premeditated murder
Chinese credit card scammer arrested in Lumpini by Thai police after complaints from banks
Chinese pickpockets staying in hostels as backpacker visitors targeting tourists in Bangkok