Thailand's proposed 'government of hope' would be committed to upholding and protecting the status of Thailand's revered monarchy. The comprehensive new programme leaves parties also free to pursue their own legislative agendas both in parliament and in government which do not conflict with the programme as laid out. It is too early to say whether this will appease opposition among a large core group of upper house members or senators who are still reported to be against the proposed coalition. The Move Forward Party led by Pita Limjaroenrat also, on Monday, faced a new and broader complaint calling for its dissolution lodged with the Election Commission by activist lawyer Theerayuth Suwankaesorn which has further increased uncertainty over the fate of the proposed new government over a week after the May 14th General Election.
The Deputy Leader of the Move Forward Party, tipped to be Thailand's next Minister of Finance, Ms Sirikanya Tansakul, on Monday spoke about growing confidence that the party would be able to form its proposed government with Pheu Thai with more support coming from within parliament and positive noises from the Thai Senate. The proposed coalition, on Monday afternoon, published a Memorandum of Understanding signed by the eight parties which did not refer to the controversial Section 112 provision on lèse-majesté and promised a new constitutional reform programme would be launched within 100 days with a referendum to be put to the people which could lead to a new constituent assembly. The new programme commits itself to uphold and protect, as inviolable, the status of the Thai Monarchy despite the groundbreaking and far-reaching programme of reform being proposed by what the Move Forward Party describes as a 'government of hope' for Thailand.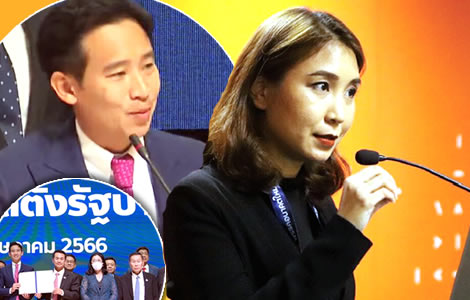 On Monday at 4.30 pm, nine years to the minute, since General Prayut Chan ocha staged his 2014 coup by taking all political leaders, invited to a high-level conference into custody and suspending the government, the Move Forward Party as the leader of an eight-party coalition with 313 setas reported agreement on a Memorandum of Understanding as to the formation of the next government amid more positive signs from the upper house or Thai Senate that enough senators may be prepared to give their blessing to the will of the people as expressed in the May 14th General Election.
There is increased concern and speculation about whether a political impasse or instability can be avoided on one hand and also the economic policies to be pursued by the predominantly Move Forward Pheu Thai government which may come to power.
Prime Minister Prayut Chan ocha on Monday assured markets the caretaker government will perform diligently and that the kingdom's economy is sound
Earlier on Monday, Ms Trisulee Traisanakul, a spokesperson for the Prime Minister Prayut Chan ocha assured jittery markets created by the current uncertainty over the political situation, that it was temporary and the fundamentals of the Thai economy were sound.
Ms Trisulee said that the caretaker government would manage affairs well until a new government takes the reins including speeding up the disbursement of existing budgets.
She said the PM was confident that with a recovering foreign tourism sector and Thailand becoming a key location for firms moving production in response to geopolitical tensions, the future of the economy was promising.
One key question is who will be appointed as Minister of Finance in the new government and the answer to that appears to be the Deputy Leader of the Move Forward Party, 42 year old Ms Sirikanya Tansakul, who is being tipped for the role.
Tipped as the next Minister of Finance, Sirikanya Tansakul, spoke confidently on Monday about her growing confidence a new government will be formed
Ms Sirikanya is a graduate of Thammasat University's Faculty of Economics and the University of Toulouse in France.
She was a member of parliament in the 25th House of Representatives from 2019 to 2023 and Chaired its Economic Development Commission.
Appearing on Monday on a Thai TV programme, she was upbeat about the prospects of 43-year-old Mr Pita Limjaroenrat becoming Thailand's 30th Prime Minister in August and the youngest to occupy the seat in generations.
She pointed to the offer by the Thai Teacher for the People party to support the government without preconditions in parliament bringing the tally to 314 and said that appointments were being made to speak with senators to allay their concerns.
No mention of Article 112 in new government programme or memorandum unveiled on Monday with over 20 policy proposals for sweeping reform
On Monday afternoon, details of the new Memorandum of Understanding emerged and the first key point was that there was no mention of the controversial Article 112 Criminal Code provision in it.
This comes with strong indications from key coalition partners such as the Pheu Thai Party and Khunying Sudarat Keyuraphan's Thai Sang Thai Party that they were opposed to either abolishing or amending the law which concerns lèse-majesté and the monarchy.
The programme outlined in the document is divided into over twenty policy proposals and a second schedule of resolutions concerning a modus vivendi for the new government, chief among them being that no party will act against anything in the official programme while each party will be free to pursue its own agenda in parliament on this basis.
The key proposal within the policy platform is that within 100 days, Thailand will have a referendum where the people will have their say on whether a new constitution should be drafted for their approval to replace the 2017 Constitution.
If passed, there will be an elected constituent assembly to draw up a new constitution which would then have to be ratified by a second referendum.
Programme offers full support for the Monarchy
The new programme, at the same time, clearly commits itself to upholding the inviolable status of Thailand's revered monarchy. 
It is reported that this provision was encouraged by the seven other parties to the coalition in order so that senators or others can relinquish any doubts about the Move Forward Party which has, itself, always insisted that its support for the country's highest institution was second to none and indeed that its policies protected the monarchy.
The new programme also includes a plan to relist cannabis as a scheduled narcotic but, at the same time, introduce a law on its consumption and use by the public in a controlled and responsible way.
This policy sends a strong signal that the new coalition is not prepared to reconcile itself or to do business with the Bhumjaithai Party which is wedded to its cannabis policy which proved so controversial during the election.
Economic policy and agenda is a combination of Move Forward and Pheu Thai plans with both structural reforms and pro-growth initiatives to raise incomes
The programme calls for an economic platform which had been expected to be a combination of Pheu Thai and Move Forward party policies which will see the start of the creation of a new welfare state in Thailand to care for people from infancy until old age.
The economic programme will also allow for an increase in the earnings of workers on a gradual basis and more generous welfare payments to address inequality.
In the business sphere, the policy plan calls for the removal of red tape and bureaucratic processes which are a source of resistance to business development and a source of corruption within the system while removing all monopolies in Thailand, particularly concerning the production of alcoholic beverages.
At the same time, to balance this out with the view of the predominantly Muslim Prachachart Party, it was emphasised that the government would not be involved in promoting the sale and consumption of alcoholic beverages but in facilitating open and free competition in all business sectors of the wider economy.
Reconciliation programme with laws to prevent future coup d'états by imposing duties on unelected officer holders. Same-sex marriage law to be passed
The programme calls for a new reconciliation process in society to heal the country's political divisions which will focus on ensuring that all political voices are heard through the parliamentary process.
At the same time, it calls for laws to specifically prevent any future coup d'états including placing an obligation on key office holders to resist such actions should they take place.
A Marriage Equality Act will be introduced allowing for marriage to be contracted between all sexes and in respect of all personal relationships while Thailand's new law will protect those with more traditional religious views.
The plan calls for a 30% to 40% reduction in the size of the Royal Thai Army while phasing out national service or military conscription in favour of a volunteer defence force.
Reforms will take place throughout Thailand's extended public service where the emphasis will be on zero-based budgeting and transparency to root out waste and corruption.
The policy platform also committed itself to upholding key principles of Thailand's existing foreign policy including balancing the relationship with competing powers in Asia, currently the United States and China, while pursuing a leadership role within the ASEAN community of nations.
Plan to suspend martial law in Southern Provinces
The new government plans to suspend martial law in the Southern provinces while setting up a task force to review security with a focus on respect for human rights. There will be more involvement of local groups in security arrangements and law enforcement with priority given to a peace-building process for the region.
The programme will also provide a budget to solve long-running land disputes and will distribute large amounts of land to farmers throughout the country with title documents to boost agriculture and create a more sustainable living.
In agriculture, the government will introduce new marketing methods, technology to improve production and programmes to give homesteads energy security and reduce the cost of living for those on the land.
Thailand will have a new fisheries policy aiming to eliminate administrative obstacles and create sustainable careers in the industry.
The plan also calls for stronger protection of workers' rights and an emphasis on generating sustainable incomes for lower-earning households.
Structural reform in the education system and new curriculum to raise standards of education to international levels as well as access for all citizens
Finally, the new government will address the need for structural reform of the education system by improving the curriculum to meet international specifications and by widening access to education among all sections of society in a 'learn to earn' programme where all Thai people can continually seek to improve their skills so as to create added value for the economy. 
Concerning the working guidelines or modus vivendi of the new government, a key principle will be that it will seek to uphold the civil and political rights of all people.
High standards in public office and integrity
The new government, its ministers and officials will act with integrity at all times and any corrupt behaviour or inference will see such individuals removed from office.
The coalition partners will work sincerely and honestly with each other and in the work of government and adhere to this principle even over any loyalty to an individual political party or sectional interest.
After this, each party, MP or minister may pursue other legislative agendas or policy proposals which do not conflict with the programme.
It is still too early to tell if this formula will work with reports that between 20 and 75 senators may be open to supporting the coalition government provided that there is a guarantee that the Article 112 provision on lèse-majesté is neither removed nor amended by the government or its agents.
Uncertainty still hovers over the fate of the coalition
Despite all this, uncertainty over the political fate of the new coalition is rising due to Thailand's 2017 Constitution and the power of the country's Election Commission which has become a magnet for complaints relating to both politicians and political parties.
With Prime Ministerial hopeful Mr Pita Limjaroenrat already facing a complaint regarding a shareholding in a defunct media firm linked with his deceased father's estate going back to 2008, which has been taken up by the Election Commission, on Monday, he and his party were facing another complaint which was filed by lawyer and constitutional activist Mr Theerayuth Suwankaesorn who argued that the Move Forward Party's proposal to amend Article 112 is, in itself, sufficient and strong grounds to have the party dissolved by the Constitutional Court.
'The party's plan could erode, damage, or undermine the key national Institution,' declared Mr Theerayuth to reporters as he filed his petition in Bangkok.
Further reading:
Jatuporn warns Pheu Thai may be turned as he predicts a political impasse. Should wait for 2024
Election vote for Move Forward may have been a cry for help from voters mired in short-term debt
Pita, Move Forward and eight other parties meet in Bangkok and come out smiling, ready to govern
Pita plots a new coalition government with Pheu Thai but open conflict has already raised its head in the Senate
Move Forward Party's good election result leaves uncertainty as to who will form the government
Move Forward leader denies claims he held shares in media company barring him as a Bangkok MP
Move Forward Party surging in the polls as the General Election campaign enters its final week
PM warns giveaway policies of some parties may be 'bad karma' for the country in the longer run
Leader of PM's UTN tells rally a government led by his party will 'get tough' with nation haters
Deputy Prime Minister Prawit Wongsuwan warns that those in power who support coups still exist
Former ministers rejoin the Palang Pracharat Party but there is no new economics czar Somkid
Ung Ing says Prawit is better liked than PM Prayut with reports of the return of key ex-ministers
Whip hand with Pheu Thai to secure power in this year's General Election despite Senate's waning power