China is trying to reclaim its position as an economic juggernaut after its economic reopening and the scale of the 'decoupling' by international business becomes apparent. The move away from China is a process that continues to be driven by a White House and a US administration that only this week said it is willing to pay an 'economic price' to protect its national security interests. It comes amid a shift by countries in the Indo-Pacific towards closer links with Washington.
A one-day event attended by key world business leaders and international media invitees on Friday in Shanghai heard hardline Chinese Foreign Minister Qin Gang declare that China had created a 'new form of human advancement' as the Communist Party showcase event heard that it would not compromise its position on Taiwan.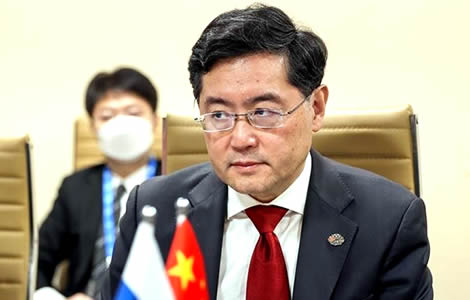 The Lanting Forum, a one-day event on Friday, April 21st at which the Chinese Foreign Affairs Minister was the keynote speaker, has been running since 2010 and is held at the Great Halls in Shanghai.
The event, themed 'Chinese Modernisation and the World' included participation by leading business people, representatives from international organisations and media. 
Top global business leaders and invited international media audience meet in Shanghai to discuss a vision of a new, modernised world powered by China
It consisted of three panel discussions and a luncheon in which the high-level business community representatives could discuss issues such as China's development, improved global governance, stronger people-to-people exchanges and the pursuit of higher standards.
Qin Gang, former US ambassador in Washington DC and a 'wolf warrior diplomacy' spokesman at the Ministry of Foreign Affairs in Beijing who was installed just recently in the role, when he quickly warned that the United States and China will face war if there is no change of course, has in recent weeks appeared to moderate his pitch towards assiduously courting international business links with China to counter a movement towards decoupling and a dramatic decline or even at one point, a halt in inward investment.
'China has found a path by itself to modernization and created a new form of human advancement,' Qin told participants of the forum which appeared to be a showcase for China's policy since President Xi Jinping consolidated his power as a near dictator at the 20th National Congress of the Communist Party in October 2022 when he installed a more hardline leadership.
Foreign Minister underlined China's unwavering position on self-governed Taiwan which American military chiefs have warned is facing a credible threat
'Modernisation should not make the rich richer and the poor poorer, nor should it serve the interests of only a few countries or individuals.'
While making accommodating noises concerning cooperation with global business concerns, the foreign minister appeared to be reiterating China's implacable position on the self-governed island of Taiwan which the US believes to be facing a credible military threat from the mainland with senior American security chiefs believing that an attempt to take the island by force is becoming more plausible.
At the same time, other Asian countries such as Japan, South Korea and the Philippines have been strengthening their defensive postures including more cooperation with the United States in the Indo-Pacific against what is seen as growing Chinese belligerence and assertiveness with all countries now increasing military spending.
Growing belligerence and assertiveness by China is driving rising military budgets in the region and closer ties with Washington DC with ASEAN in play
This also includes Australia and Indonesia which have become involved in growing tensions with China despite Beijing's recent appeal to the ASEAN community to work with it in ironing out tensions relating to the South China Sea and maritime disputes as the middle kingdom refuses to accept international law above its dogmatic claims to extensive seas off its coasts.
On Friday, however, Mr Qin Gang pointed the finger at the United States which he accused of trying to suppress China's emergence as a regional and world power by leveraging fears over military action against Taiwan while interfering in the island's relationship with the Chinese mainland thereby threatening the One China Policy which most countries in the world including Thailand have signed up to.
The Foreign Minister also, notably, told those attending the event that both sides of the Taiwan Strait belonged to China.
In October, at the 20th Communist Party Congress in Beijing, President Xi Jinping promised the party faithful that Taiwan would be united again with mainland China.
China reeling from the real economic shift away from it as it shifts its posture to woo back the world's business elite despite its human rights record
China, for its part, has been left reeling by the economic movement away from investment and trade with the world's largest economy which started with the US-China Trade War in 2017 initiated by former US President Donald Trump and which has intensified under the Biden administration.
In recent moves, it appears focused on shoring up its business credentials including the relaxation of a crackdown on its key business leaders and corporations which has been a feature of President Xi Jinping's leadership.
The latest move by the United States includes limiting, blocking and discouraging investment in China across key areas of vital economic interest for the US economy and its security.
US officials have already started orchestrating a range of blocks on investment and trade with China in measures which have been copied by countries such as the Netherlands and Japan related to advanced technology and chips.
The European Union is also moving in this direction based on countering China's role in flagrant and egregious human rights abuses against significant elements of its own population now identified and confirmed by a recent United Nations report.
United States got tougher on China as hostilities opened in Ukraine on February 24th 2022 and sees a prolonged struggle against authoritarianism 
Senior US security officials have also made no secret of the fact that the economic sanctions and embargoes imposed against Russia over its invasion of Ukraine on February 24th 2022 also are intended to send a message to China about the determination of the United States to act decisively and in a punishing manner if any forceful move is made by China on Taiwan.
The Biden White House perceives a growing conflict between the forces of democracy and authoritarianism in a prolonged world struggle.
In response, China has confirmed the West's worst fears since the controversial visit to Taiwan last year by former House of Representatives Speaker Nancy Pelosi and the recent meeting between Taiwanese President Tsai Ing-wen and new House of Representatives Speaker Kevin McCarthy in California.
China appears to be preparing, at some point, to impose a sea and air blockade on Taiwan, a move which would trigger a global international crisis
It has deployed strong and more penetrating military exercises by air and sea including, pointedly, what are clearly preparations for a blockade of Taiwan, a move the international experts predict the Chinese may take at some point. 
On Thursday, US Treasury Secretary Janet Yellen spoke of the Biden administration's will to pay the economic cost to protect vital US national security interests against China.
Kaye attendees at the Lanting Forum on Friday included the Chairman of HSBC Holdings Marks Tucker and the Mercedes-Benz Group Chief Executive Officer, Ola Kallenius.
China however says it is a peacemaker
On Friday, Foreign Minister Qin Gang spoke of China's pursuit of 'peaceful solutions' to conflict and the potential for conflict and pointed to the communist country's peace plan for Ukraine which has been dismissed by Ukrainian officials and Western capitals as accepting Russia's invasion and belligerence in the first place, being counterproductive and ultimately insincere or even cynical.
At the same time, China has been assisting Russia economically as well as morally and is seen as developing an alternative power bloc in response to what it sees as unipolar US dominance of the world economy.
To many international observers and indeed some states, it is felt that the current path to potential conflict and even all-out war is very much open. 
Further reading:
Sub call due soon but closer ties between Chinese and Thai navies signalled by top-level visit
China's new foreign minister warns of certain US-Chinese war if Washington fails to reverse course
War with China is a rising spectre that must be confronted as US General predicts conflict by 2025
Heat turned up over the Sukhothai naval tragedy with 19 thought to have perished and 10 missing
Bad news from Beijing with Xi's rise, the prospect of war and a divided world have greatly grown
Chinese President Xi Jinping may be the star attraction at Thailand's APEC summit next month with Putin
Pelosi defies Communist China's concerted campaign of intimidation and visits Taiwan sparking a crisis
Abe's legacy will be his efforts to awaken Japan and build a defensive alliance against China
Former Pheu Thai finance minister expresses unease about US regional moves to counter China's rise
US to unveil new economic relations framework for Asia at ASEAN Summit as China warns of new cold war
Thailand and Japan announce defence pact on visit by Japanese PM to Bangkok ahead of US summit
US ASEAN summit as 'dangerous directions' now emerging in Asia as China's regional power rises
US sanctions on Russia part of a 'profound' geopolitical shift to Asia as many US firms leave China
Thai tourism emphasises its neutrality in the Ukraine war, calls for a review of payment systems
Russia warns Thais planning fight for Ukraine they will not be treated as enemy combatants under UN treaties
Thailand votes on the right side of history in UN deploring Russian military action in Ukraine
World lives in fear – UK Minister says Putin may not be in his 'right mind' as Thursday's invasion goes awry
China could be an economic time bomb sitting on Thailand's doorstep as Evergrande collapse nears
UK Foreign Secretary visits Bangkok after AUKUS security pact further raises tensions with China
Lowering of US flag in Chengdu is a wake-up call for foreigners living in Thailand and with close ties here
US is a better friend for Thailand than China says US ambassador as tensions grow between the 2 powers