The 29-year-old officer with Mayo Police Station suffered four gunshot wounds after the gang opened fire near a bridge they were lurking at before he arrived on his motorcycle.
Police in Pattani are investigating the murder of a serving police officer in the province on Wednesday night at the hands of what is thought to be a drug trafficking gang linked with the ongoing insurgency in the province. He was gunned down in a hail of bullets from an M16 assault rifle while riding his motorbike back from an intelligence gathering mission.
Police in the Mayo District of Pattani are investigating the brutal murder of a policeman on Wednesday.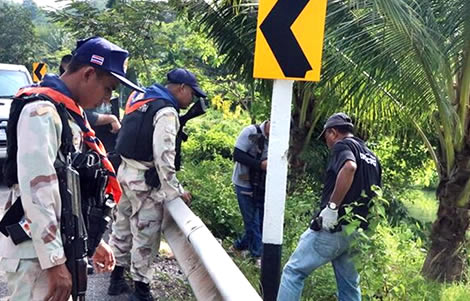 Police Senior Sergeant Saifu Deen, a 29-year-old squad commander attached to Mayo Police Station in the centre of Pattani province on the Malay peninsula, is reported to have been returning from a mission to find intelligence on drug trafficking in his area when he was gunned down by a gang near a well-known bridge in the district at approximately 9.30 pm.
Commander of Mayo Police Station briefed reporters Thursday on the atrocity. Police are examining 10 spent M16 bullet cartridges retrieved as evidence 
Details of the case were given at a media briefing on Thursday by Police Colonel Suebsakul Maneenuan, the Superintendent of Mayo Police Station.
He said the remains of the police officer showed that he had suffered four gunshot wounds in the flank and leg. Police found 10 spent casings from an M16 assault rifle at the scene.
These have been retrieved and are being used for evidentiary purposes including forensic testing to link them to the potential firearm if it comes to police attention in the future. 
This type of weapon is now associated with attacks in the southern provinces linked with the ongoing insurgency.
Gang lurking near a bridge as the police sergeant approached on his motorbike and began to open fire
It is understood that Sergeant Saifu was driving on his motorbike on Wednesday, returning from his field trip, when he came across a group of people lurking near the bridge on the side of the road.
As he approached the gang they opened fire on him, throwing him from the motorbike and causing it to spin out of control.
The assailants then approached and fired more shots at him until the police officer lay dead. They then fled the scene. 
Gang thought to be linked to the insurgency
Police are not certain as to the nature of the gang responsible, but believe there may be a link between the drug trafficking activity and the insurgency in the province which has been ongoing for some time.
Police Colonel Suebsakul told reporters that the investigating officer who was killed was working on an important drug trafficking case and had left earlier on Wednesday to meet informants and collect information.
The senior officer indicated that Sergeant Saifu was concerned about heightened drug trafficking activity in the area.
Further reading:
Family and villagers seize body of slain insurgent wanted for a number of bombing attacks in Yala
Narathiwat bomb explosion leaves one senior police officer dead. PM demands tighter security
Pattani bombs put Thai security agencies on alert as they gear up for APEC Summit in Bangkok
Top insurgent leader suspected as behind Monday night's large bomb attack on Pattani district
2 killed in 15-minute firefight between security forces and insurgents as Pattani siege is ended
Killer gang linked to murdered family holed up at a Pattani resort but refuse to surrender peacefully to task force
3 'innocent' relatives dead in a horrifying terrorist attack on a main road in southern Thailand
Suspect arrested linked to Yala outrage as top brass face up to a new threat in the South
Thai court issues warrants for two southern insurgents linked to ฿85 million gold heist in Songkhla
Rapid progress being made on Bangkok bomb probe with 9 suspects already being held by police
Bizarre coincidence as schoolboys cause Friday's Bangkok bomb that put workers in hospital
Two Muslim men questioned as security officials link Friday's bombing to southern insurgency
Bombs and fires set off in Bangkok designed to cause early morning terror in the Thai capital