Plan to raise credit card minimum monthly debt repayment from 5% to 10% over two years in 2024 and 2025 gives some idea of how fragile the situation is. Originally it was planned to raise the minimum rate to 8% this year but this was postponed because of the weak economy.
This week, the Bank of Thailand announced that non-performing loans did not increase in the second quarter of the year among the country's main retail banks, coming in at 2.67%. The announcement came as the bank announced plans to increase the minimum level of debt repayment on credit cards as part of its programme to rein in expanding private sector debt in a coordinated campaign in 2024 and 2025. However, there are still strong concerns over an expansion in borrowing and default rates with the picture from the central bank appearing to conflict with information coming from the country's National Credit Bureau which points to a substantially higher default rate on auto and personal loans of over 7.4%.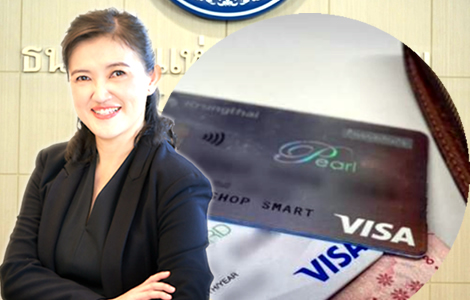 The Bank of Thailand this week confirmed that it was proceeding with plans to rein in pandemic-era concessions on credit card repayments in Thailand with a proposal to increase the minimum monthly payment from a current 5% to 8% in 2024.
This figure would rise again in 2025 to 10%.
This would bring credit card repayments back in line with conditions that existed before the pandemic. 
Senior Director at the Bank of Thailand, Suwannee Jesadasak, estimated on Wednesday that between 70% and 80% of credit cards issued by financial institutions are in a position to meet the new requirements from next year.
Central Bank plan to increase credit card monthly debt repayments in 2024 and 2025 to help rein in Thailand's massive ฿16 trillion in household debt
Ms Suwannee said she was confident that the bank would be able to impose the higher repayment requirement over the next two years as part of its campaign to rein in expanding household debt in the kingdom.
At present, the bank allows borrowers to repay a minimum amount of 5% of the balance on their credit cards per month as part of the Kingdom's debt assistance measures introduced during the pandemic.
The news comes as, in recent months, it has been revealed that Thailand's total level of private sector debt has risen to ฿16 trillion or 90.6% of GDP.
This week, Ms Suwannee told reporters that credit card holders who cannot adapt to the higher repayment demands in 2024 will have the option to convert their credit card debt or outstanding balance over to credit card loans at a maximum interest rate of 16% per year. 
Bank of Thailand plans to experiment with risk-based pricing on new debt but will not allow interest rates to rise on existing credit card holders
'Previously the central bank planned to increase the minimum payment for credit cards to 8% this year but delayed the hike to next year, in line with economic circumstances,' the senior Bank of Thailand official explained.
The Central Bank has prepared a range of measures to be introduced in the first and second quarters of 2024 increasing the level of repayment on outstanding debt within the financial system while also introducing new screening measures and criteria to improve the quality of loans being advanced, going forward. 
The plan being proposed by the Bank of Thailand includes a range of new debt regulation measures and experimentation with risk-based pricing which may allow banks to vary the interest rate charged to customers depending on the risk involved with some suggestions that the bank may even remove maximum ceiling rates for certain borrowers.
Financial institutions urged to show understanding with credit card holders who are in difficulty
This week, Ms Suwannee underlined the policy of the Bank as it liaises with the financial institutions which it oversees while urging them to show understanding and flexibility to the Kingdom's credit card holders.
She also stressed that the Bank of Thailand does not have any plans to allow for an increase in the maximum interest rate charged to existing credit card holders as such a move would affect the ability of borrowers to repay and pare down outstanding household debt at a time when the country's recovery is being challenged.
Thailand recently reported a drop in consumer confidence for the first time in 14 months and is facing a slump in exports this year with output for the kingdom expected to be down by 2% by the end of 2023.
Figures released on Friday showed a steep fall in exports for July of 6.2% compared to last year, surprising forecasters who had expected a lower figure.
The kingdom's economy is currently depending on foreign tourism and domestic expenditure from increased employment in that sector.
New government will boost confidence amid concerns about rising private sector debt despite latest non-performing loan figures to the end of June
This week's election of former property tycoon Mr Srettha Thavisin as PM and the likelihood of a stable government for the next four years made up of parties from across the political divide is likely to be welcomed by the business sector in the kingdom and consumers as it has removed the threat of political instability and resolves a brewing crisis that had arisen from the May 14th general election.
This is already having a positive impact on Thailand's currency and confidence within both the business sector and the domestic economy including consumers. 
However, there is concern about the country's rising household debt level, despite a report this week from the Bank of Thailand which showed non-performing loans within financial institutions overseen by the bank falling marginally to 2.67% at the end of June from 2.68% at the end of March.
The central bank presented this as a signal that Thailand's banking system remains robust with strong provisions for bad loans in any event and capital ratio buffers imposed by it. 
Recent information from the National Credit Bureau (NCB) spoke of ฿1 trillion from ฿13.5 trillion as being out of order with 14.2% of auto loans
Nonetheless, in response to the announcement, the Stock Exchange of Thailand (SET) listed Bangkok Commercial Asset Management, PLC, warned that non-performing loans which are being traded in the financial markets at the moment, are expected to rise to ฿100 billion and that the market for such financial assets is rising. 
This also comes after disturbing reports in recent weeks from the National Credit Bureau where the director Mr Surapol Opasatien revealed that it is overseeing ฿1 trillion in non-performing loans out of the ฿13.5 trillion that the organisation supervises. 
The bureau has also in recent months warned about a high level of defaults linked with auto loans, which currently stand at ฿2.6 trillion in Thailand and have a default rate of 14.2%.
Thailand has up to 20 million credit cards but only 14 million cards are active on a regular basis
Recent figures from the National Credit Bureau show that the kingdom currently has 20 million credit cards with only 14 million of these regularly used.
Approximately 3 million of these may be overdue based on this week's information from the Bank of Thailand which suggests that between 20% and 30% of credit cards may not be able to meet the minimum monthly repayments. 
In recent weeks, while outlining the bank's programme to tackle the complex and challenging issue of private sector debt in 2024, Deputy Bank Governor Ronadol Numnonda revealed that Thailand's financial system currently has ฿7.8 trillion in unsecured loan amounts spread across 135 financial institutions.
Further reading:
Thailand preparing for a soft landing as 'cracks' open up in the Chinese economy says bank chief
Economic danger signals emerging as politicians wrangle over who will form the next government
Bank of Thailand to tackle household debt in new plan from 2024 which will see higher standards
Politicians skating on thin ice as the economy may not be able to withstand a political stalemate
Debt crisis may be one of the top items on the new cabinet's agenda as central bank stands ready
Potential hazard lights flashing as kingdom's auto loans spiral into default with sky-high borrowing
Bank of Thailand governor gives veiled warning to voters on the danger posed by populist policies
Financial markets debt sell-off sending a signal to Thailand before the May 14th General Election
PM warns giveaway policies of some parties may be 'bad karma' for the country in the longer run
Economic recovery shaky despite strong foreign tourism as global economic outlook deteriorates
Recession fears rise as growth projections are cut and export output continues to decline in 2023
Good news on foreign investment at the start of 2023 fails to mask stunted competitiveness issue for economy
Economy faces export clogs with rules in China and 'green imperialism' from European Union
Vital European Union free trade deal with Thailand with stiff demands from Brussels to take time
Thailand's financials are sound but the economy is exposed if another world banking crisis emerges
Thai economic woes grow with a 10-year high trade deficit as January exports slumped by 4.5%
Credit crunch as firms seek more bank loans with tightened lending criteria and recession fears
Even as the baht surges, Thailand faces economic recession in mid-2023 with lower earnings
Thailand's trade agenda may be complicated and thwarted by raised tensions in the Indo Pacific region