A troubling external geo-political environment adds to the sense of danger with US President Joe Biden warning on Friday that China's economy, on which Thailand has become very much dependent, is a 'ticking time bomb' much the same as the country's private debt sector where non-performing loans are have spiralled out of control in the second quarter of 2023.
As Thailand's politicians wrangle over who will take power amid a well-conceived conservative plot to use the unelected Senate to control the formation of the next government, the country's economy is manifesting danger signals with a prolonged export slump and a rising problem with private sector debt that may just become explosive. These have combined with political instability concerns to reduce consumer confidence for the first time in 14 months.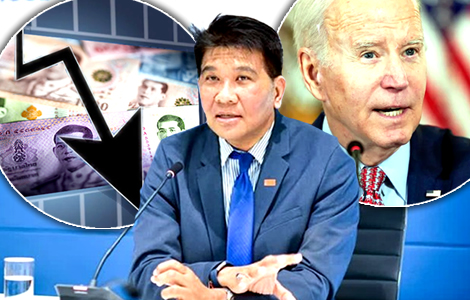 On Thursday, the University of the Thai Chamber of Commerce, through its Advisory Centre for Economic and Business Forecasting, revealed that the consumer price index in the kingdom had dropped for the first time in 14 months.
It fell from 56.7 in June to a current figure of 55.6 and the University reported that three further indexes, including one monitoring confidence in the future and job opportunities, had also dropped in the same period.
Consumer confidence falls reflecting a setback at grassroots in Thailand's recovery after 14 months of growth, a strong signal that all is not right
A briefing on the news was given by the President, Thanavath Phonvichai, who singled out the continued delay in forming a government as the key factor with the country grappling with renewed fears of political instability.
In addition to this, there is mounting evidence of financial pressure on Thai households and business concerns to make ends meet with rising bank interest rates with the latest increase of 25 basis points announced by the Monetary Policy Committee of the Bank of Thailand in August bringing Thailand's benchmark borrowing rate to 2.25%. 
Although this figure is well below regional norms and US rates, currently at 5.50%, even this rate for borrowed money is causing hardship for those with debt, a sign that the economic recovery is fragile and the country's financial system is delicately poised.
Borrowing and bank debt become highly problematic as interest rates have risen, even at less than half the rate seen in other economies and the US
Thailand's business sector still appears to still suffer severely from the COVID-19 shutdown in 2020 and 2021. The news comes with Thailand's exports continuing to slump and with fears that the country could see at least a 2% loss in export output this year with hopes for a second-half recovery petering out with fears of a potentially steeper downside.
The key reason for this slump is a lack of demand in developed and Western countries because of heightened interest rates there although the United States economy appears robust and able to withstand the higher cost of borrowing with figures in the last 48 hours showing more positive than expected jobless numbers while consumer prices are being reined in.
This may offer some relief to Thailand even as the Federal Reserve stands committed to further interest rate hikes until inflation in the USA is well within its targeted range of 2%.
Big problem coming into view is Thailand's over-reliance and coupling with China which increasingly looks like a bad bet for a kingdom in denial
The biggest disappointment this year for Thailand's manufacturing base, the backbone of the country's official economy, is a tardy recovery in China. In the last two decades, Thailand has become a secondary source of manufacturing support to leading Chinese concerns. 
This is coming amid disconcerting reports from Thailand's northern neighbour of false economic data and a crisis in China's regional banking system with a collapsing property market which has fed into falling secondhand house prices in the communist country.
Yet these reports continue to be met in Thailand with an insistence by many business leaders and analysts that the kingdom's economic future still lies with China's expansion, an assumption in itself that must soon be questioned.
On Friday, US President Joe Biden described the Chinese economy as tanking. He said it was a 'ticking time bomb' waiting to explode underneath the world's economy.
Long drawn-out political dance for power driven by a conservative plot to use the unelected Senate to coerce into being a government to its liking
Closer to home in Thailand, meanwhile, the implications of the drawn-out political process in forming a government are damaging the Thai economy.
This includes a lack of budgetary disbursement as the caretaker government is precluded from embarking on new projects in its constitutionally restricted role.
Thailand's image abroad among foreign investors, especially those from Western economies, has been dented due to the stalemate that replaced the initial euphoria of the May 14th General Election result with a conservative plot to install a government including and perhaps eventually even led by parties linked with the 2014 coup leaders, due to the unelected Senate's influence.
The story is something not lost on international media which portrays the kingdom as another Southeast Asian state in China's orbit while plagued by authoritarianism. The interest shown by international media in the story is because the country is seen as potential hope for democracy in what has become a troubled region.
Foreign tourism continues but it is with lower spending short haul travellers with more long haul visitors from traditional western markets needed
In the midst of this, there are some positives with the recovery of the foreign tourism industry moving apace, although this is limited because of a contraction of airline connectivity rates for the kingdom, causing the industry to become more dependent on short-haul tourists from the Asia-Pacific who spend up to 16% less per trip.
The current political crisis, if it turns nasty, may play into fears among long-haul foreign travellers.
This could happen if the government that emerges from the current protracted negotiations is one rejected by public opinion although the country's Move Forward Party, through leader Pita Limjaroenrat, has this week sent a signal that it is prepared to let the political process move on and bide its time as the main opposition looking to the long term.
Public confidence in the political process shaken by developments since the May 14th General Election as country faces rising economic challenges
The failure of the Move Forward and Pheu Thai Party alliance which between them accounted for 65% of votes cast in the May 14th General Election to form a government has created a potentially dangerous lack of public confidence in the political process.
On a positive note for the economy, Thailand is benefiting from higher prices for rice with a worldwide shortage caused by the Russia-Ukraine war and consequent import bans placed by countries such as India. 
However, this is offset by fears that farmers may suffer from a drought caused by the El Niño effect this year, which threatens productivity. 
On Monday, Mr Surapol Opasatien, the Chief Executive of Thailand's National Credit Bureau (NCB) which monitors ฿13.5 trillion worth of debt in the economy out of a total of ฿16 trillion as estimated by the Bank of Thailand or 90.6% of GDP, revealed some alarming figures about an ongoing crisis in the second quarter of 2023.
Non-performing loans in the second quarter of 2023 stood at ฿1 trillion or 5.7% of GDP according to the National Credit Bureau (NCB) boss on Monday
He confirmed the amount of non-performing loans in the monitored portfolio amounted to ฿1 trillion or 7.4% of the total amount of loans outstanding. This is also the equivalent of 5.7% of GDP.
This figure is far higher than the numbers reported by the country's banks and financial institutions and must be carefully examined by economic analysts to reconcile what exactly is happening. 
The household debt problem has begun to finally ring alarm bells even before a Bank of Thailand plan to tackle it begins in 2024 and 2025 with the central bank Governor, Sethaput Suthiwartnarueput, admitting in the last few days that the country may have to choose between the goal of maintaining economic growth performance and countering this challenge in the months and years ahead.
In recent weeks, there have been reports of rising auto loans and a large number of repossessions of vehicles.
But Mr Suripol on Friday revealed that this accounts for only ฿200 billion of the ฿1 trillion in problematic loans. 
A higher figure, quoted at ฿250 billion, relates to non-performing loans to do with personal accounts. 
Rising interest rates and non-performing loans are the combination for a potential crisis but Thailand's economy may not be able to take the medicine
The central bank itself has highlighted the phenomenon of constantly revolving personal loans as one of its key concerns.
The bank has proposed introducing tough new measures in 2024 for banks and concessions to long-term borrowers to fix this problem. 
In July, Deputy Bank of Thailand Governor Ronadol Numnonda revealed ฿7.8 trillion in unsecured loans on the books of banks and other institutions in Thailand.
Nonetheless, in a recent interview, the Governor of the Bank of Thailand, Mr Sethaput, indicated that some of these measures would have to be tested to see if they would work well for the Thai economy.
The governor also cautioned the market not to assume the bank will continue to raise interest rates, creating pressure within the banking system. 
Rates have risen from 0.5% to the current level of 2.25% with the Bank of Thailand repeatedly highlighting that much of these rate increases have not been passed on to consumers by the retail banks although such a course of action must have commercial limits.
Problems sprouting among business concerns and borrowers ring-fenced during the Covid-19 crisis which is still adversely impacting the economy
In the briefing to the media this week, the National Credit Bureau boss also mentioned a category of loans called SM loans or special mention loans which are where borrowers fail to make payments within 30 to 90 days of the due date and clarified that this category had seen a reduction in the second quarter from ฿600 billion to ฿470 billion at the same time.
TDR loans are another category where creditors have sought and obtained concessions from debtors or banks outside the scope of normal business terms.
The Bureau boss said that this figure was the highest seen in 12 months, having increased from ฿780 billion, which was the figure recorded from the second to the fourth quarter of 2022, to ฿980 billion
Mr Surapol highlighted also a significant ฿370 billion, in the second quarter, for loans which had been restructured due to the COVID-19 crisis and highlighted that this figure had risen by ฿60 billion from ฿310 billion from the first quarter of the year. 
These loans are linked with 300,000 borrowers and 4.9 million accounts which experienced difficulties beginning during the COVID-19 crisis, showing that the country's financial system and bank debt carried on the balance sheets of institutions have not yet recovered from that era with the situation growing darker as, in some cases, concessions come to an end and interest rates have begun to rise.
Rising non-performing loan rates for 2023
Mr Surapol said that the figures showed difficulties being experienced by these borrowers who suffered financial setbacks during the COVID-19 crisis to keep up with the existing debt restructuring program agreed by them. 
He warned that new arrangements may have to be made and that this may see a further increase in non-performing loans throughout the rest of the year. 
'Given the expiration of debt assistance measures, debt restructuring among the vulnerable segments could be rampant, possibly increasing non-performing loans for the remainder of the year,' he noted.
Private sector debt overseen by the National Credit Bureau relates to 32 million borrowers across 135 different financial institutions in the Kingdom.
Further reading:
Bank of Thailand to tackle household debt in new plan from 2024 which will see higher standards
Politicians skating on thin ice as the economy may not be able to withstand a political stalemate
Debt crisis may be one of the top items on the new cabinet's agenda as central bank stands ready
Potential hazard lights flashing as kingdom's auto loans spiral into default with sky-high borrowing
Bank of Thailand governor gives veiled warning to voters on the danger posed by populist policies
Financial markets debt sell-off sending a signal to Thailand before the May 14th General Election
PM warns giveaway policies of some parties may be 'bad karma' for the country in the longer run
Economic recovery shaky despite strong foreign tourism as global economic outlook deteriorates
Recession fears rise as growth projections are cut and export output continues to decline in 2023
Good news on foreign investment at the start of 2023 fails to mask stunted competitiveness issue for economy
Economy faces export clogs with rules in China and 'green imperialism' from European Union
Vital European Union free trade deal with Thailand with stiff demands from Brussels to take time
Thailand's financials are sound but the economy is exposed if another world banking crisis emerges
Thai economic woes grow with a 10-year high trade deficit as January exports slumped by 4.5%
Credit crunch as firms seek more bank loans with tightened lending criteria and recession fears
Even as the baht surges, Thailand faces economic recession in mid-2023 with lower earnings
Thailand's trade agenda may be complicated and thwarted by raised tensions in the Indo Pacific region