Wednesday's Police Commission meeting went ahead with the appointment of the 14th National Police Commissioner amid earlier reports of a postponement. There are growing questions on all sides about the nature of Monday morning's raid on the home of the Deputy Chief of Police Surachate Hakparn with hints of a better rivalry within the force. Throughout 2023, the Royal Thai Police has been dogged with corruption charges against senior police officers allegedly linked with gambling sites with many of those arrests being made by the man in the spotlight on Monday. On Tuesday, Deputy Prime Minister Somsak Thepsutin called for the partial legalisation of online gambling in the kingdom.
Thailand's best-known and loved policeman awoke to a nightmare on Monday morning this week at 8 am when his home was raided by Central Investigation Bureau (CIB) officers armed with a search warrant and accompanied by an armed commando tactical unit. The raid came as eight of his close subordinates were arrested linked with a ฿1 billion gambling network operating from Laos known as Minnie's. The raid is believed to have scotched General Surachate Hakparn's chances of becoming National Police Commissioner after emerging as the favourite for the role as recently as September 10th when he was reporting to Prime Minister Srettha Thavisin at the Prime Minister's residence, the Phitsanulok Mansion in Bangkok, on the ongoing Nakhon Pathom case into provincial corruption and the murder of a police officer ordered by a local kamnan or headman on September 6th last. On Wednesday afternoon, the Police Commission chaired by Prime Minister Srettha Thavisin appointed General Torsak Sukwimol as the country's 14th police chief. The dramatic swoop on Monday follows months of tension between General Surachate and other officers over the operation and suppression of gambling websites including arrests by a task force directed by him in May this year linked to a site called Foxbet168 which saw the Provincial Police Chief of Chonburi charged.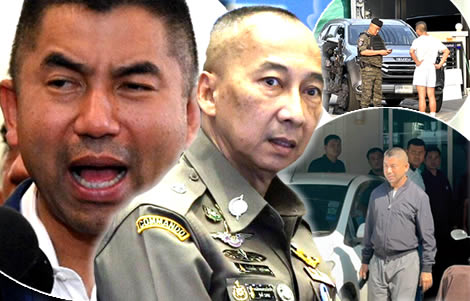 Just days before the Police Commission and the Prime Minister were about to announce the name of Thailand's next National Police Commissioner, an early morning raid, on Monday morning, for the second time, disrupted the career of Thailand's favourite policeman, Deputy Police Chief General Surachate Hakparn also known as 'Big Joke'.
At 8 am, on Monday morning, as part of a huge police operation targeting 30 different locations across six provinces, officers with the Central Investigation Bureau accompanied by a heavily armed commando unit with high-powered assault rifles and night vision goggles, turned up outside the Bangkok home of Deputy Police Chief General Surachate on Soi Vibhavadi 60, one of five townhouses in the same development behind the Police Club in Bangkok which is where General Surachate established his operations base in recent times. 
A visibly surprised and dishevelled General Surachate emerged to greet officers, wearing grey-white boxer shorts and a T-shirt.
Bewildered police officers among the raiding party on Monday along with a heavily armed police commando tactical support unit with night vision lenses
Some of the raiding policemen, especially those in plain clothes, appeared bewildered, telling reporters in personal briefings that they were unaware the residence being raided was that of the top police officer who is an instantly recognisable figure among the Thai public.
However, it emerged that the residence in question, one of five that was raided by the police operation unit on Monday morning, is situated in a housing development with its own internal security.
The search warrant for the premises was granted based on requesting officers identifying the owner of the five properties, a transportation magnet from Udon Thani by the name of Mr Hia Taem and a key subject in the investigation, another policeman had, allegedly, seen visiting the homes.
The police officer associated with the property, according to investigators who applied for and were granted 30 search warrants and 23 arrest warrants by Bangkok South Municipal Court on Friday 22nd of September was named later by the police as Police Lieutenant Colonel Chanon Uamthorn.
Case pursued linked to gambling site 'Minnie's'
Investigators working on a case linked to an online gambling network with links to Laos and with a reported ฿1 billion in circulation, reportedly saw this officer entering and exiting all five houses as part of the probe into the illegal gambling site network known as Minnie's.
It is understood that the investigation which led to Monday morning's shocking raid which was carried by all news media in Thailand, including live television reports, originated from an investigation commenced in May which led to the July arrest of three suspects who were involved in the operation of 12 illegal gambling websites.
On Monday morning, Deputy Police Chief General Surachate Hakparn initially refused access to the house to the police but then changed his mind after speaking with the Head of the Central Investigation Bureau (CIB), General Jiraphop Phuridech.
The Deputy Police Chief watched from vantage points both inside and outside the house as officers went about the search.
It was later confirmed that nothing illegal was found at the property.
Big Joke begins the fight back with a briefing at the Police Club on Vibhavadi Rangsit Road in which he decried the raid on his home as 'political'
At a briefing at the Police Club on the Vibhavadi Rangsit Road later, General Surachate attributed the raid on his home to 'politics' within the Royal Thai Police and his candidacy to become Thailand's next national police chief. 
Before the announcement of the new Police Chief which was scheduled by the Prime Minister for Wednesday, it was thought the decision may have been postponed in the aftermath of the controversy surrounding the raid on Monday morning, but the appointment went ahead.
General Surachate, who only two weeks ago was consulting with the Prime Minister at his official residence in Bangkok, the Phitsanulok Mansion, to do with an explosive investigation relating to corruption in Nakhon Pathom, did not get the nod, even though at that point on September 10th last, he was confidently expected to take charge of the force and launch a campaign to root out corruption.
Up to Monday morning, General Surachate was firmly considered the favourite to become Thailand's next National Police Chief.
On Wednesday afternoon, those hopes were dashed.
This came about after the outgoing Prime Minister, Prayut Chan Ocha, at the end of August, agreed to reverse a provisional decision made by the Police Commission appointing Police General Torsak Sukwimol, the current Technology Crime Suppression Division boss and Deputy National Police Chief to the role.
The Commission, on Wednesday, reversed course again and appointed General Torsak.
Prime Minister chairs Police Commission which proceeded with the appointment of the 14th National Police Commissioner amid swirling controversy
On Wednesday, with a panel of enquiry already established to look into the raid, the Prime Minister sitting for the first time as Chairman of the Police Commission went ahead with the appointment of the 14th National Police Commissioner despite calls for a further postponement.
General Torsak will now take over the role after outgoing National Police Commissioner General Damrongsak Kittiprapas retires on September 30th or next Saturday.
It was speculated that after Monday's raid and the continuing reverberations from developments in the gambling website case which has allegedly implicated eight close subordinates of General Surachate and their subsequent arrests, the job would revert, as planned, to General Torsak, despite it being known, up until Monday that the new government and cabinet was more disposed towards giving the role to 'Big Joke'.
The senior policeman who is portrayed in the media as a crime-fighting hero in Thailand has been through something like this before, however, and is well known for his resilience.
Second time around for 'Big Joke' who is known by the public as a police crusader against corruption particularly in the ranks of the Royal Thai Police
In 2019, General Surachate, or 'Big Joke', was abruptly removed from his then dream job as Head of the Immigration Bureau by the National Police Chief at that time General Chakthip Chaijinda.
He was assigned to a role at the Prime Minister's Office in a move that had been speculated as linked to the senior officer's objection to a procurement contract linked with a critical database screening system for incoming travellers at entry points to the kingdom being installed by a partnership company in Thailand in association with a German manufacturer.
General Surachate objected to the cost and delays in the installation of the project.
This led him into conflict with the then National Police Chief General Chakthip who in recent weeks has been the subject of censure by the National Anti-Corruption Commission (NACC) because of complaints raised over the contract, based in part, on evidence given by General Surachate at the time and other rank and file police officers to the Commission.
Allegations against subordinates of Big Joke form the basis for the eight arrest warrants issued by the Bangkok South Municipal Court on Friday 22nd
Senior investigators linked to Monday's investigation have implicated officers known to be close to Big Joke including a Police Major General and a Police Colonel who are accused of being administrators of the now suppressed gambling network.
On Monday afternoon, when speaking to reporters, General Surachate said he could not comment definitively on these allegations as he was not a party to the details of this investigation but made it clear that if it was found his officers were involved in wrongdoing he would not stand by them.
However, he insisted that they were entitled to justice.
On Wednesday, General Surachate said that an arrest warrant for police should be applied for through Thailand's Court for Corruption and Criminal Misconduct. 
He also thought the officers in question should have been summoned to hear any allegations against them.
Country's top police officer targeted and removed many police officers including senior-ranking provincial police chiefs from Chonburi to Narathiwat
It should be noted that General Surachate has been in conflict with key officers working with the Cyber Crime Investigation Bureau (CCIB) at a lower level since June this year when ten police officers, including senior commanders with the force, were arrested by an operation unit led by him in association with the operation of another gambling network known as Foxbet 168, leading officers to be charged under Section 157, Section 149 and Section 309 of the criminal code. 
Subsequently, several officers from the Cyber Crime Investigation Bureau (CCIB) came forward to file their own complaints with the Anti-Corruption and Misconduct Division in which they identified the investigation against them led by General Surachate Hakparn as a cause of complaint.
The ten officers charged by the task force led by General Surachate, at that time, included the police chief of Chonburi province as well as senior officers from the Cyber Crime Investigation Bureau (CCIB).
Big Joke also led an investigation into corruption by police in Narathiwat province in 2022/2023 which saw senior officers including the Provincial Police Chief removed.
Nakhon Pathom police murder and subsequent criminal probes sent shockwaves through the ranks of the force breeding hostilities and tension
It is also being reported behind the scenes that General Surachate became the focus of ill will from many officers within the force linked with his zealous handling of the investigation relating to the murder of Police Lieutenant Colonel Siwakorn Saibua on September 6th at a social event in Nakhon Pathom province which led to the arrest of the kamnan of Ta Kong sub-district in Nakhon Pathom who is currently being held on murder charges at Bangkok Remand Prison.
General Surachate, acting on his instinct in the case and driven by public outrage at what happened, was successful in recovering the dumped surveillance footage from the building where the fatal shooting took place which implicated most police officers at the scene.
Initially, six police officers were arrested and are currently being imprisoned in Samut Songkhram province on charges of dereliction of duty along with other more serious offences while an ongoing investigation into the matter was transferred suddenly last week by the National Police Commissioner General Damrongsak Kittiprapas to the Central Investigation Bureau and away from the control of General Surachate.
On Tuesday, General Jiraphop Phuridech of the Central Investigation Bureau (CIB) confirmed that 15 other officers faced criminal charges linked to that case.
Death of Police Lieutenant Colonel Siwakorn Saibua and subsequent suicide of Police Colonel Vachira Yaothaisong have shocked and divided the police force
This move was the first indication that General Surachate was facing problems.
On Wednesday, alluding to the dangers he faced, General Surachate, in a cryptic remark, told reporters to understand that he had no intention of ever committing an act of self-harm against himself. 
The case that resulted from the violent murder of Police Lieutenant Colonel Siwakorn Saibua on September 6th in Nakhon Pathom near Bangkok has morphed into a huge investigation into police malfeasance as well as the premeditated murder of the officer in addition to a parallel probe by the Department of Special Investigation (DSI) into government procurement contracts awarded to Kamnan Nok also known as Mr Praween Chankhlai.
In the immediate aftermath of the murder of the officer and the subsequent killing of the henchman working for him who fired the fatal shots Mr Tanachai Mannak or Nong Tapha, there was a further death linked to the affair when the commanding officer of the slain policeman, Colonel Vachira Yaothaisong, who it is understood was a close friend of the newly appointed police chief, General Torsak Sukwimol, took his own life 
It has been reported in the last 48 hours that General Torsak is thought to harbour some grudge towards General Surachate Hakparn not only because of fearing being trumped for the top job in the police but because of the death of Police Colonel Vachira, who, it is understood, felt under pressure from investigators into the Nakhon Pathom killing under the direction of General Surachate, who at the time was reporting directly to the Prime Minister Srettha Thavisin and appeared to have the PM's confidence.
Big Joke not clear who ordered the raid on his home
On Monday, Police General Surachate noted that he was not yet clear about who ordered the search on the home where he was living that morning but accepted that eight officers who were his immediate subordinates had been detained in connection with offences linked to gambling websites.
Big Joke continued to insist however that the operation against him was politically motivated in terms of a power struggle within the Royal Thai Police.
The top police officer also told reporters that his career had seen him operate without fear or favour in the prosecution of many policemen within the ranks and therefore he was aware that he may at all times be the subject of ill will or animosity.
Later on Monday morning, General Surachate began the process of filing a complaint in court about the raid on his home which he contended was illegal.
House on Vibhavadi where he was living owned by a respected businessman from Udon Thani who has been a very close friend of Big Joke for a long time
When questioned about the status of the property, General Surachate said that it was where he was living or his residence but then he suggested he was renting it from relatives.
Police investigators working on the case against his subordinate officers who authorised the search warrants for the property have pointed out that if he was renting the property there should be a corresponding rental contract. 
However, the owner of the house, identified as Mr Hia Taem, an ultra-wealthy transport businessman with a clean reputation, is believed to be a close friend of General Surachate from his career as a junior officer and through his time in the wilderness when he was effectively ejected from the Royal Thai Police from 2019 to 2021. 
Indeed, there are reports that he spent part of the weekend previously in Udon Thani, in the company of the northern businessman together with senior officers with the provincial police in Udon Thani, where the deputy police chief made an offering to a shrine at a local temple.
It is also suggested that General Surachate was aware, over the weekend before the raid on the residential property on Soi Vibhavadi, that a concerted move was in motion against him from quarters within the police force as speculation grew as to who would get the top job.
23 people sought on arrest on warrants issued last Friday in connection with the online gambling network operation with ฿143 million in assets seized
Officers linked with the investigation on Tuesday, who vehemently denied any political motive as suggested by Big Joke, revealed that 23 people in total had been arrested including 8 police officers and 15 civilians while a further 6 civilians were still at large and being tracked down by police on foot of arrest warrants from the Bangkok Southern Municipal Court.
In response to reports of legal action by General Surachate on Monday, Police Lieutenant General Trirong Phiwphan of the Office of Legal Affairs and Litigation with the Royal Thai Police came forward to offer some clarification. 
He stated that 30 residences or locations were the subject of search warrants across six provinces. He gave some background to the case. 
He said that arrest warrants were issued for 23 suspects including the 8 police officers.
Police Lieutenant General Trirong acknowledged that there was no evidence at this point to link Police General Surachate with any wrongdoing but, related to his subordinate officers, there was, according to the senior police official, clear evidence linking them to the illegal gambling gambling websites and a number of bank accounts through which ฿260 million had been processed. 
The senior police officer at Royal Thai headquarters also revealed that ฿143 million in seized assets had resulted from Monday's operation including luxury cars, diamonds, gold and amulets.
Key players are a police officer, two civilians and an ordinary soldier linked with the gambling site's operation and money flows, no links to Big Joke
He described those arrested including one police officer and two civilians along with an ordinary soldier who was in charge of the gambling network and its management. 
The others arrested were detained on charges linked with money laundering and operating bank accounts to facilitate criminal activities linked with the illegal gambling network.
Police Lieutenant General Trirong pointed out that officers who conducted the search were not aware that Police General Surachate was living at the address as it was owned by the Udon Thani businessman Hia Taem along with four other houses on the same road, in the same development. 
The headquarters administrative officer said that police would now seek a statement from Mr Hia Taem as to his connection with General Surachate.
He confirmed that service charges on the five properties on Soi Vibhavadi 60 were paid for by the northern businessman and also revealed that electricity accounts for all five houses were paid from a common source.
Top officer requests all beneficiaries including news media groups to come forward to explain themselves to police investigators working on the case
Police Lieutenant General Trirong cautioned that the investigation is still ongoing but revealed: 'We would like to confirm according to the news that media organisations and individuals are among the beneficiaries of the gambling network.'
'We cannot yet reveal the amount. We would like to publicise it to people. We know that there are financial transactions related to the bank accounts. And we would like people who benefited from these bank accounts to come forward and give a statement to the police,' he disclosed.
The top officer was referring to two bank accounts linked to the operations of the gambling websites, which are at the centre of the police investigation. 
Police Lieutenant General Trirong explained also that the presence of a heavily armed commando unit at the property on Monday morning was required on a police risk assessment basis, as the property was linked to a police officer albeit not General Surachate and it is generally assumed that police officers have access to weapons.
The police operation on Monday was preceded by two arrests on Sunday in Khon Kaen, one in a village residential development and the other at a hotel.
Items seized during these arrests included a high-powered computer, laptops, a safe and other items linked to the investigation which were brought on Monday to Thung Maha Mek Police Station in the Sathon district of Bangkok. 
6 police officers linked with Big Joke given bail on Tuesday by the court sitting in Bangkok on a surety of ฿100,000 and ordered not to leave the kingdom
On Tuesday evening, at just after 5.20 pm, six police officers known to be subordinates of General Surachate were given bail by the Bangkok South Municipal Court on a surety each of ฿ 100,000 and on condition that they do not leave the country. 
Police had objected to temporary release or bail based on flight risk because of the extreme penalty on conviction they faced but the court saw fit to grant bail on quite reasonable terms.
The ongoing controversy over General Surachate Hakparn and alleged links by his subordinates to illegal gambling websites comes in a year when the force has been dogged by ongoing accusations connecting senior police at the highest level to such criminal enterprises that are huge money spinners.
On Tuesday, in response to the latest explosive case, Deputy Prime Minister Somsak Thepsutin who also has oversight of the Ministry of Justice, suggested that the government must move to legalise some online gambling activity to generate revenue for the exchequer, reduce corruption and fund badly needed social schemes.
Further reading:
Big Joke reported in the running to be Thailand's next National Police Chief in coming weeks as decision looms
Big Joke promoted to a new role at police HQ working on reform of the force from April after reshuffle
Big Joke's fate still uncertain after nearly 2 years of mystery and limbo with new transfer imminent
Former Immigration Bureau boss 'Big Joke' to bring case against the PM to get his old job back after 2019 shunt
Big Joke heads to India to train as a monk after requesting work leave of absence until February 9th
Big Joke reprimanded and deputy national police chief removed on the Prime Minister's orders this week
Big Joke shooting controversy linked to the new ฿2.1 billion biometrics immigration system contract
Police top brass leading a thorough investigation into gun attack on former top cop Big Joke's car
'Big Joke' replaced by 'Big Oud' as Deputy PM says 'case closed' on departure from his previous role
'Big Joke' – Shock as Thailand's best known and most high profile police officer removed abruptly from post