The probe was initiated last October by National Police Commissioner General Damrongsak Kittiprapas following explosive allegations made by victims support activist Atchariya Ruangrattanapong who backed up his claims with evidence including a dossier and a phone recording between an arms trafficker and drug dealer working on the Thai Malaysian border which implicated the top police officer in charge of law enforcement in Narathiwat.
A fact-finding task force led by General Surachate Hakparn on Wednesday recommended both criminal and disciplinary proceedings against the Provincial Police chief of Narathiwat province who was transferred from his duties by the National Police Commissioner in October last year. The panel also recommended charges against two other senior police officers, a district chief and a key criminal suspect believed to have been working in cahoots with Police Major General Waesamae Salae who has consistently protested his innocence and even filed defamation proceedings against a whistleblower who helped bring the case to national attention.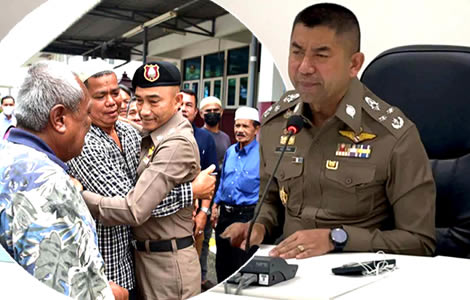 A probe within the Royal Thai Police conducted by Deputy National Police Commissioner General Surachate Hakparn has concluded that the furloughed police chief of the southern province of Narathiwat took bribes or other inducements in return for facilitating suspects involved in drug dealing, illegal arms sales and even murder in the border province close to the Malaysian border.
In November last year, Police Major General Waesamae Salae took the unusual step of filing a police complaint against a whistleblower who has not been yet named publicly, to a police force over which he had operational control before being transferred to police headquarters the month before in October 2022 when National Police Commissioner General Damrongsak Kittiprapas ordered a full probe into the revelations made by an activist while appointing the police chief of Provincial Police Region 9 to the role.
Former chief in Narathiwat reported to be a popular figure with his own support base in the province
The former police boss, who is known to be a somewhat popular figure in Narathiwat with his own support base, wanted to initiate proceedings for defamation concerning the allegations made against him.
At the time, the national police chief promised a fully transparent investigation into the allegations.
These suggested that the police chief had forced himself into an oversight role in cases that he had an indirect interest in, with a view to assisting certain suspects to evade charges after they were arrested by officers on duty.
On one occasion, it was reported that the provincial police commander had removed vital evidence in a case against an individual suspected of being involved in the murder of an on-duty police officer.
Controversy erupted in October 2022 when a crime victims activist made a range of shocking allegations 
The controversy surrounding Police Major General Waesamae exploded on October 5th 2022 when the Chairman of the Crime Victims Assistance Club, Mr Atchariya Ruangrattanapong, came forward with the explosive allegations supported by evidence including a recording and transcript of a phone call implicating Police Major General Waesamae, between an arms dealer arrested with 33 firearms and a cross border drug dealer, a former member of the Malaysian police force.
The activist followed this up with additional documentation and evidence after the police chief was temporarily removed from his duties by the police commissioner.
He alleged that the police chief in Narathiwat, up to October 2022, was working hand in glove with a network of smugglers and drug dealers engaged in a lucrative trade on the Thai Malaysian border in a province which is currently plagued by an Islamic insurgency which is thought to be funded by illegal cross-border activities.
On Wednesday, General Surachate gave a briefing on the affair in which he offered his thanks to Mr Atchariya, the media and members of the public who assisted the police task force with its enquiries.
Legal proceedings against the police chief
General Surachate confirmed that legal proceedings will be taken immediately against Police Major General Waesamae as well as disciplinary measures which should include his removal from the force.
He also announced that key subordinates of the former provincial police chief are also to face the music as well as a top administrative official in the Sungai Kolok district.
These include Police Colonel Narawee bin Wae-arong, the chief of Tak Bai Police Station and Police Captain Nima-aming Wateh a deputy head of investigation at the police station. 
The civilian official facing charges is Mr Rungruang Thimabutr, the chief of Sungai Kolok district.
Last year, Mr Atchariya revealed that key suspects and informants in Narathiwat were able to act with impunity as they carried cards with the name and telephone number of the provincial police chief.
This meant they were at liberty to carry firearms in public places without fear of prosecution.
Up to 13 police officers facing either disciplinary or legal action after General Surachate Hakparn's probe ordered by the national police chief
The inquiry's conclusions revealed by General Surachate Hakparn will see action taken against no less than 13 police officers with 10 more junior officers also implicated in the report.
The police chief, General Damrongsak Kittiprapas, appointed his high profile deputy, General Surachate, given the serious nature of the claims involving a police officer at the highest level who, allegedly, was engaging in and facilitating crime in the southern province.
The police commissioner signed order number 475/2565 on October 25th 2022 initiating the investigation.
Among one of the claims verified in the probe was that Police Major General Waesamae Salae helped facilitate the issuance of firearm licences to a drug dealer in the province.
Further enquiries required into the activities of some civilian officials in the province says deputy national police chief, his findings are 'preliminary'
On Wednesday, General Surachate or 'Big Joke' also told reporters that his findings, at this stage, were preliminary and that further enquiries need to take place into other civilian officials in Narathiwat who may be complicit in the activities revealed by the Crime Victims Assistance Club and whistleblower Mr Atchariya Ruangrattanapong.
In his briefing to reporters, General Surachate focused on four key issues which he had identified in the investigation.
The first dealt with the assassination, on July 16th last, of Police Major Thanakrit Rerkdee while on patrol in the province.
A 19-year-old suspect named as Mr Hafit Pano was arrested by police investigating the murder.
He revealed that he was hired by 25-year-old Mr Chayanon Nitho to carry out the killing in a campaign targeting government officers and officials.
The inquiry concluded that Police Major General Waesamae Salae used his influence to ensure that Mr Chayanon was not charged.
District official among 5 people slated to face criminal proceedings in yesterday's report after facilitating firearms licences to a drug suspect
According to General Surachate, the Sungai Kolok district chief, Mr Rungruang Thimabutr, was found to have facilitated the issuance of firearms licences to Mr Chayanon who had a history of drug dealing and criminality, in respect of 7 guns in return for payment of ฿40,000 without conducting adequate background checks required by law.
The third issue arose following the arrest, on June 8th 2022, of 33-year-old Mr Asi Bueheng trafficking 128 kg of marijuana into Malaysia contrary to criminal law.
As part of the response and in conjunction with the Songkhla Provincial Police and the Office of the Narcotics Control Board (ONCB), a search warrant was requested and executed against Mr Chayanon and 6 other suspects in the course of which AK47 rifles, shotguns and 3 snub noses pistols were seized.
Subsequently, an order was given that only one of those people was to be prosecuted with Mr Chayanon freed.
This was despite further evidence such as telephone records and financial information suggesting a criminal conspiracy and other offences were committed.
On this basis, the enquiry concluded that Police Major General Waesamae allowed the accused to go free and failed to perform his legal duty under the law.
All to be charged with dereliction of duty
In the fourth matter, it was found that in a case involving a security guard at Sungai Kolok Hospital, the provincial police commander intervened directly to assist the suspect in the case and the line of enquiry being pursued by subordinate officers.
On Wednesday, General Surachate identified 5 key suspects against whom legal proceedings will be taken under sections 149, 157 and 200 of the criminal code for dereliction of duty, accepting bribes for illegal acts or corrupting the legal process to benefit those facing legal punishment.
The enquiry has also identified three grounds for serious disciplinary proceedings and 10 for less serious disciplinary actions against the police officers and officials involved.
As well as Police Major General Waesamae Salae, these include Police Colonel Narawee Bin Wae-arong, the commander of Tak Bai Police Station and Police Captain Nima-aming Wateh as well as Rungruang Thimabutr, the Sungai Kolok district chief and key suspect Mr Chayanon Nitho.
Further reading:
Police chief vows swift action against Provincial Police chief suspected of assisting drug gangs in Narathiwat
Brothers of acting PM and senator to be quizzed by panel probing scandal over abusive policewoman
Golden Triangle drugs threat aired in parliament, claims of senior police officers being involved in trafficking
Torture death of drug suspect in Nakhon Sawan raises long-held suspicions on police corruption
Brothers of acting PM and senator to be quizzed by panel probing scandal over abusive policewoman
Investigation into police woman's maid abuse scandal raising serious questions about corruption
Police woman who kept 30-year-old soldier as a slave rocks Thailand, exposing a hidden, dark culture
Brutal murder of Thai maid 7 years ago sees punishment of mistress sentenced to life in prison
Bangkok Metropolitan police officer gets bail in court after admitting he killed his pretty wife unintentionally
Police probing murder-suicide theory after the bodies of two lesbian lovers were found at Pattaya hotel resort
Mother of woman who murdered her father and cut off his penis says she was sexually abused by the victim
Nakhon Si Thammarat woman denies murdering her own daughter over a land dispute on April 11th at her home
Gangster murders older man over illicit sexual relationship with his wife while held in prison on charges
Police probe mental health of suspected murderer who killed his wife and stepson in Maha Sarakham
Yaba Yaba Don't. Another murder in Phatthalung province this week linked to the evil drug now rife
Crazed man kills two in night of bloody murder in Nakhon Ratchasima on Sunday including ex-wife
Israeli wife murderer trying to evade Thai immigration blacklist back in prison where he belongs
Thai man brutally murders the man who took his wife as his own in a country that lives off passion
Nightmare tale of 45-year-old Udon Thani man who killed his drunk wife last Saturday night with a wood plank