The removal of Thailand's most well known and loved policeman known as 'Big Joke' from his role as boss of Thailand's huge immigration bureau is an even bigger mystery this week after the appointment of his replacement. The former policeman, now assigned Thailand's Office of the Prime Minister, is reported to have taken time off to visit the United States. The Deputy Prime Minister Prawit Wongsuwan has insisted that there is no investigation or enquiry into Hapkarn's activities. Mr Wongsuwan also repeatedly suggested to Thai news reporters that they should look for the answer themselves and that they should speak with former top cop. Police Lieutenant General Surachate Hapkarn is now understood to be on leave and believed to be traveling abroad.
A meeting on Friday agreed a new boss for Thailand's Immigration Bureau in a fifty five position reshuffle just two weeks after the sudden and mysterious removal of high profile figure Lieutenant General Surchate Hapkarn. The move sees 'Big Joke' being replaced by another well respected crime fighting police officer already dubbed by the Thai press as 'Big Oud' although there are indications that the new man may be less high profile. In the meantime, Thai reporters have been told by Thailand's Deputy Prime Minister Prawit Wongsuwan, who oversaw the meeting of the Police Board this week which decided the series of new appointments, that they should now direct their questions about the transfer to 'Big Joke' himself. He has categorically stated that there is no investigation into the former police boss and declared the matter of Big Joke's abrupt move as 'case closed' with no further action required.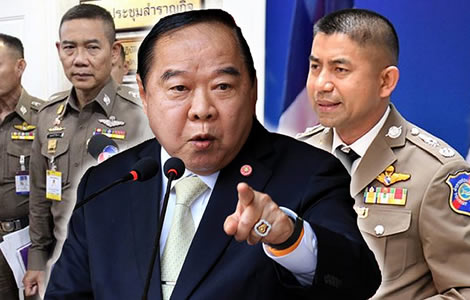 On Friday, Thai authorities named the replacement for the well known Head of Immigration 'Big Joke' Lieutenant General Surachat Hapkarn. The new man in the role is Police Major General Sompong Chingduang. Major General Chingduang has previously been the head of the Border Border Patrol Bureau. The decision was taken by the Police Board at a meeting overseen by Deputy Prime Minister, Prawit Wongsuwan. The former high profile immigration boss was removed mysteriously in a shock move earlier this month and subsequently transferred to the prime minister's office.
'Big Joke' out, 'Big Oud' in as Immigration boss
Police Major General Sompong Chingduang is dubbed 'Big Oud' by the Thai media. He is already a very accomplished police officer. In his role as Deputy Commissioner within the Metropolitan Police in Bangkok, he developed a reputation for tackling criminals and was named the 'Bangkok crime buster' who struck fear in the hearts of the bad guys.
New immigration boss made his reputation fighting crime in Bangkok and southern Thailand
The new immigration chief began his a career in the south of Thailand. He was once District Police Chief in Narathiwat province and later worked in the elite Crime Suppression Division where many high profile murder cases were solved leading to arrests and convictions. In 2018, at the time that 'Big Joke' was appointed to head the Immigration Department, 'Big Oud' took up his own role guarding Thailand's borders as Head of the Border Patrol Police.
Police chief hails from a Lopburi military family
Hailing from a military family, Major General Chingduang joined the police force after he graduated from the preparatory school of the Thai Armed Forces. He is originally from Lopburi province in the center of Thailand, north of Bangkok. 'Big Oud' made a reputation for himself in the southern border regions where he built a formidable reputation for arresting those engaged in militant activities. He has also had roles in Thailand's riot police and with the unit responsible for criminal investigations.
After the announcement today of his latest promotion as the new Head of Immigration, the new police boss declined an opportunity to comment to the media. It may signal a new style quite unlike his predecessor in the role.
Thai Deputy Prime Minister says 'case closed' on Big Joke's transfer from high profile role
On Friday, Deputy Prime Minister Prawit Wongsuwan, often quoted in the past as a supporter of 'Big Joke' or Lieutenant General Hapkarn, declined to comment and explain the decision to remove Thailand's most high profile policeman from his post earlier this month. He also, tellingly, declared that there is no investigation into the activities of the now former police officer. He suggested that the media and inquisitive reporters divine and search for the cause of Lieutenant General Hapkarn's change of status if they wished to do so. The Deputy Prime Minister, in his own inimitable fashion, declared that the case was closed. The announcement of the new Head of Immigration was made by the Thai Police Commissioner, General Chakthip Chaijinda. He also announced a replacement as new head of the Border Patrol Police in a reshuffle that involved up to 55 different roles. It is understood that the new appointments will become effective as soon as they are published in the official state Royal Gazette.
Senior junta figure dismisses talk of an investigation into former star police officer
Questioned by reporters today, the Deputy Prime Minister, who also oversees security and policing in Thailand, confirmed categorically that the former Head of Immigration, Lieutenant Surachate Hapskarn was not under investigation. The powerful deputy prime minister appeared to dismiss such reports as speculation lacking substance. 'Investigation about what? No investigation committee has been appointed. Not at all. It's over already,' he said.
Reporters should find out for themselves why Big Joke was moved: 'go ask him yourself'
Asked to give a reason why the high profile police officer had been moved, he suggested that reporters find out the reason for themselves. 'I don't know. Ask him if you want to know,' he said. He again confirmed that there is no investigation or enquiry following the transfer of 'Big Joke' from his high profile role first to police headquarters and then days later to the prime minister's office. 'There won't be any. It's over,' he said. He again suggested that if the news reporters wanted to know more, they should contact the former police officer themselves. 'I don't know. If you want to know so much, go ask him yourself.'
The former police officer has long been associated with the Deputy Prime Minister who is thought to have supported him. At one point, 'Big Joke' was even appointed as an official assistant spokesman for the senior junta figure.
Thai PM used extraordinary Section 44 powers to settle Big Joke's position in civil service
The move comes only two weeks after the shock move on Friday April 5th last when the Thai Police Commissioner himself ordered Police Lieutenant General Surachate Hapkarn relieved of current duties and transferred to an inactive post at National Police Headquarters in Bangkok. Days after this, the Thai cabinet approved the move of the high profile officer to the Office of the Prime Minister. This effectively moved 'Big Joke' out of the Royal Thai Police force and into a role in the civil service. Then within hours, the Thai prime minister used his extraordinary powers under Section 44 of Thailand's interim charter which still remains effective, to place the name of the former police officer on a list of state officials.
Thailand's most popular police man had a stunning career rising to become a three star general well ahead of his time and still in his forties
'Big Joke' Lieutenant General Hapkarn was only appointed Head of Immigration in October 2018 after a rapid rise since graduating from the Royal Police Cadet Academy only 15 years ago. His stunning career saw him promoted to a three star general a full 12 years ahead of most police officers at the same level while still in his forties. From Songkhla province in the south of Thailand, 'Big Joke' got his nickname from a eating a rice gruel concoction while serving as a young trainee. It is a play of words using the Thai language. The top cop held many senior roles, ironically, once working in the office of the Commissioner General liaising with the Thai prime minister's office. His role as Deputy Tourist Police chief was seminal and saw him publicly taking on an aggressive crime fighting role against criminals preying on foreigners. He developed a reputation for being an honest and incorruptible police officer. Last year, he became the key police official in dealing with the delicate Koh Tao rape controversy where a UK woman from London claimed she was raped in circumstances that Thai police found to be suspicious and ultimately, without foundation. In his role as the boss of Thailand's Immigration Bureau, his intervention this year in offering support for Saudi Arabian Rahaf Mohammed al-Qunun who fled her family and persecution in Saudi Arabia, will long be remembered.
Transformatory figure at Thai Immigration Bureau
During his short period as Head of Immigration, 'Big Joke' transformed the department and pursued an aggressive strategy against those breaching immigration law, internal corruption, illegal foreigners and notably online romance scammers. He reversed his role from his previous position and began a pursuit of foreigners preying on innocent Thai people. This made him extremely popular and indeed well loved. His involvement in the high profile take down of criminals throughout Thailand often with international links saw him featured in multiple news stories on a daily basis. Afeared by some foreigners at the beginning of his term as immigration boss because of his zealous approach and clear goal to root out illegals and lax practices, he gradually came to be trusted and indeed respected.
Ex top cop takes leave of absence to visit America
This week, it was also reported that 'Big Joke' has taken leave of absence from his new role at the Prime Minister's Office. It is believed that that he is traveling to the United States. He is due to return in May. This was confirmed to the media this week by Patcharaporn Intreyon who is the Permanent Secretary of the Thai Prime Minister's Office in Bangkok and now former Police Lieutenant General Hapkarn's immediate superior.
The senior government official said she agreed to the the request from the former high profile policeman as he is now a civil servant and entitled to avail of leave provisions. She said that Surachate Hapkarn's role would be decided when he returned based on his skills set and experience.
Big Joke now reclusive in new role
The former police chief, so high profile in the media up to April 5th last, has now become reclusive and has been quite out of public view. He was last pictured at an official meeting sitting in the back row studying his smartphone. It is also reported that his public Facebook page has been removed from view.
'Big Joke' – Shock as Thailand's best known and most high profile police officer removed abruptly from post