Wacky situation where a trusted 50-year-old Chief Financial Officer in a Thai conglomerate paid out ฿6.2 billion or $250 million to her online medical doctor lover based on a fake photo and story transmitted through the professional networking site Linked-In in 2022 through chat messaging.
A Nigerian man, arrested by Crime Suppression Division (CSD) police in simultaneous raids across 14 locations in Bangkok and six other provinces in August as the leader of a romance scam gang responsible for losses of over ฿800 million, sent out of the country between 2018 and 2021, was the same man arrested by police in May 2021 together with his Thai wife by the same police agency who appears to have been subsequently released by authorities after his initial arrest. It comes as, last week, police revealed Thai women had paid ฿881 million to a fraudulent Facebook page called 'Mae Sue Online' which promised to marry them to wealthy professionals and foreigners for upfront fees as high as ฿112,000 and were subsequently sent images of well known third parties pulled at random from internet sites as fake matches. Police have also confirmed that the current tsunami of cybercrime in the kingdom is dominated by romance scams with a seminar in January estimating losses of ฿30 billion over an 11-month period and 200,000 complaints made to police agencies.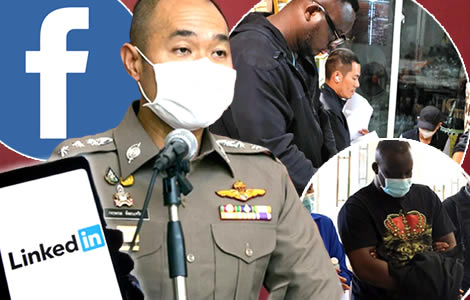 Police have revealed that an online matchmaking service operated on the Facebook social media platform managed to defraud ฿881 million from Thai women in just over 6 months from March 1st this year to September 17th.
Last week, Colonel Kissana Phathanacharoen warned the public about the online matchmaker service which catered primarily for Thai women looking for wealthy or affluent men from abroad to marry.
He identified the service provider as an online matchmaker called May Sue Online, which has already been the subject of 2,600 complaints to the police up to last week. 
Old-fashioned, personal but expensive dating service which only used a Facebook page to do business saw thousands of Thai women lose ฿881 million
The matchmaking service, unlike normal dating applications, provided what was advertised as a more old-fashioned, personal interaction with women seeking love and charged ฿7,000 for registration while also offering mentoring services on how to interact with foreigners and successfully find love abroad for a charge of ฿5,000. 
The charges included ฿20,000 for a doctor or pharmacist and ฿100,000 for a vineyard owner.
Police Colonel Kissana told reporters, as he briefed them on the case last week, that women using the service only became sceptical and finally decided to report the platform to authorities online when they began to receive match profiles which contained photographs of well-known actors and movie stars, as well as athletes and businessmen from the world of sport and business, which appeared to have been taken from media websites.
The senior police officer took the opportunity to warn all people accessing the internet to be wary of services and said that the complaints relating to this one particular site accounted for 0.8% of all scam complaints in the last 6 months. 
It is not known yet if police have identified the operators of the website or if arrests have been made.
The criminal code specifies 5 years for fraud but courts have been known to apply multiple penalties for each separate offence of public fraud
The Thai Criminal Code specifies a maximum prison term of 5 years for public fraud but courts take a dim view of the offence and often apply the penalty multiple times for specific offences which has seen those involved in large-scale fraud receive sentences of over 100 years.
Under Thai law, the maximum term of imprisonment effectively is 20 years before the prisoner can seek parole.
Many are effectively released in this time frame, if not sooner, under remission schemes operated by the Department of Corrections and through regular Royal Pardons. 
The case involving the online matchmaking site May Sue Online is being investigated by the Cyber Crime Investigation Bureau which is still asking anyone involved to make contact with them. 
The site's Facebook page had 150,000 followers before it disappeared from the social network channel and was eventually suspended or withdrawn by the service, hours after the announcement.
Internet dating in Thailand has been a success but its growing popularity even after twenty years has made it a ripe target for cybercriminals and fraud
The use of internet dating websites and applications has been very popular in Thailand since the internet took off in the kingdom over the last two decades and has led to hundreds of thousands of Thai women marrying foreigners, a phenomenon which has led to thriving Thai communities around the world as well as a growing community in Thailand of foreigners who are primarily married to Thai women, although recent years there are reported cases of foreign and western women marrying Thai men.
 Cybercrime has emerged as a significant threat in Thailand over the last year, with the outgoing National Police Commissioner General Damrongsak Kittiprapas, in July, launching an online program to educate and inform the Thai public on the dangers of cybercrime, with security experts suggesting that this is the best possible security approach given the insidious nature of such scam operations which often mimic and ape legitimate operators, including banking and insurance services as well as government officials.
Launching the scheme in July, General Damrongsak, who retires on Saturday to be replaced by General Torsak Sukwimol, revealed that from March 1st, 2022 to June 30th, 2023, the Royal Thai Police had received no less than 287,122 complaints which developed into criminal cases in which those reporting had suffered a loss of ฿40 billion or $1.11 billion.
Romance scams are the largest part of cybercrime
It is thought the vast majority of online cybercrime complaints are linked to romance scams with figures given at a seminar in January by Police Lieutenant Colonel Tananat Kangruambut of the Royal Thai Police suggesting 200,000 cases from March 1st 2022 to January 31st 2021 and a loss to victims of ฿30 billion.
The scale of the loss suffered by users of the May Sue Online social network page on Facebook comes to $24 million, showing the extent of relationship scams which form an integral part of the cybercrime threat.
A recent announcement by the Federal Bureau of Investigations (FBI) in the United States suggests that criminal gangs operating romance scams are now earning as much as the entire global narcotics trade. 
Scammers and con artists use tried and proven techniques and artifices to lure people into parting with money on the promise of love and marriage.
Second arrest in just over two years of Mr Ezeneche Uzochukwu Jerome by the Crime Suppression Division (CSD) at the end of August in coordinated raids
At the end of August, the Crime Suppression Division (CSD) led by Police Major General Montree Theskhan, revealed that they had smashed a gang led by a 45-year-old Nigerian man identified as Ezeneche Uzochukwu Jerome.
Mr Jerome was already known to police having been arrested in May 2021 together with his Thai wife Punyawee Chusinjiraphat and four others in raids in Bangkok, Pathum Thani, Nakhon Sawan and Phuket.
It is not clear how Mr Jerome came to be still engaged in romance scam activity but police reported that he had been recently released from prison in Thailand.
Woman lost ฿6.2 billion over fraudulent profile
They estimated that over a three-year period from 2018 to 2021, he had managed to amass ฿800 million which was sent out of the kingdom to overseas bank accounts.
A significant case in 2022 involved Ms Chamanun Phetporee, the Chief Financial Officer of a large Thai conglomerate who through a fake LinkedIn profile contact with a 'Dr Andrew Chang' purporting to be a US military doctor in Afghanistan, ended up wiring ฿6.2 billion or $250 million to her fake online lover from the bank account of her employer.
In July 2022, after police arrested Ms Chamanun, they revealed that the photograph of the man she had put her trust in was that of an innocent third party living in Malaysia. 
Further reading:
Campaign begins to fight cybercrime in Thailand with 800 criminal cases being reported per day
Online skimming scam impacting thousands of Thai bank account holders shut down by officials
Online scammers are an organised crime group in Thailand working with international hackers
Thai man's ฿10 million credit card fraud ended Monday with his arrest by CSD police in Bangkok
Nigerian and Thai wife arrested by police after online romance fraud costs woman ฿1.5 million
Thailand leads the world in the crackdown on online romance crooks targeting Thai women online
More Nigerians busted by Thai police for targeting vulnerable Thai women seeking love online
The scam is up – Nigerian lover boys arrested for taking advantage of Thai women seeking Love online