Plan to boost long-haul tourist numbers from Europe as Thailand needs to woo back its former tourism market in Western countries, lost during the pandemic shutdown, with more flights, convenience and nightlife as the country targets 30 million visitors in 2023 and higher spenders.
The Thai government is ready to extend the 90-day visa regime to travellers from Europe, in a move to be announced in the coming days, according to a key aide to the PM. The latest development comes as Thailand struggles to regain over 66% of its foreign tourism income since 2019, after permanent damage was inflicted, including a loss of confidence and goodwill, because of pandemic-era shutdowns and restrictions.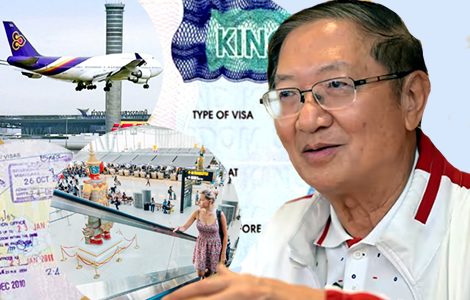 A top aide to Prime Minister Srettha Thavisin, this week, told Bloomberg News that the government is preparing to introduce a 90-day visa scheme for certain European countries in the coming days to boost the country's tourism High Season with projected tourism income said to only reach 66.4% of the figure achieved in 2019.
The Kingdom's foreign tourism industry has not yet recovered, even after nearly four years since the disastrous overnight shutdown order by the government of Thailand's air space by officials ordered under Sections 27 and 28 of the Air Navigation Act and Emergency Decree in response to an overnight disruption at Suvarnabhumi Airport on the night of April 3rd and the early morning of April 4th 2020.
Closure of Thai airspace on 4th April 2020 saw the complete closure of foreign tourism in Thailand which only reopened to free market access in 2023
The country's airspace was closed at that point when Thai passengers arriving at Suvarnabhumi Airport staged a disruption and refused to follow official orders linked to the pandemic outbreak.
It was the start of a prolonged shutdown and closure of the country's tourist industry with it only being fully liberated again at the beginning of 2023.
Mr Prommin Lertsuridej is one of Prime Minister Srettha's most senior advisors and at the outset of the new government, in September, the growth of foreign tourism was marked as a key economic objective. 
90 day visa scheme introduced for Russian tourists in October and will run until the end of April 2024
In October, the government announced a similar 90-day visa scheme for Russian arrivals in the kingdom from November 1st which is to run until the 30th of April 2024. 
The mooted proposal is a similar arrangement and is designed to attract more holidaymakers while also encouraging longer stays in the Kingdom, thus increasing expenditure per visit. 
Thailand's tourism fortunes have been tamped down this year with a disappointing take-up from the Chinese market despite a visa waiver being introduced with much fanfare in September.
Another key factor has been depressed expenditure caused by a movement in the Kingdom's tourism profile to predominantly Asian visitors on short-haul flights with the country's top source of origin this year so far being Malaysia, followed by China, India, South Korea and Taiwan.
Foreign tourism industry has been attracting less long haul and Western tourists who are being captured by other destinations for price and service
Thailand appears to be attracting fewer Western visitors, which has been attributed to higher airfares on long-distance hauls, as well as stiffer competition from countries in the Caribbean, the Maldives, Vietnam and even European tourist industries now targeting Thailand's former foreign tourism market in the Americas, Europe, Australia and New Zealand. 
It is also important to note that Thailand, unlike other tourism economies, has not yet managed to recover from the pandemic shutdown in 2020, which inflicted permanent damage on the country's credibility in the international industry. 
The damage inflicted by the pandemic-era restrictions by the previous government is similar to the loss of goodwill suffered by China's economy because of its overreaction to the emergency from which other countries have long recovered.
The, at times, shambolic and chaotic nature of intrusive and unpredictable government interventions including convoluted and demanding access schemes and conditions from 2020 to 2022 are known to have undermined confidence in the Kingdom among international travel agents and most particularly the airline industry. 
New government is making the right moves in cutting prices, red tape and easing visa regulations to make foreign tourists more welcome and cut fares
The present government appears determined to address this and, this week moved to counter the trend by announcing discounts on airport fees to airlines aiming to increase connectivity between Thailand and all parts of the world, particularly aimed at encouraging more long-haul flights with consequently lower fares and more arrivals.
A significant outcome of the lack of flight connectivity to Thailand has been increased demand for the country's national carrier Thai Airways, which has returned to robust profitability flying a range of popular flights from European and Scandinavian points of origin which are set to benefit from the government's proposed new visa waiver.
Not clear which countries are included yet but extended nightlife and drinking hours are sure to be an addition to the country's festive attractions
Mr Prommin did not give further clarity on what European countries would be included in the new visa waiver scheme or its exact details, but it did specify that it would be in conjunction with a range of entertainment events and festivities linked to the Christmas and winter celebrations towards the end of the year, including the popular Thai festival of Loy Krathong and New Year's celebrations. 
Last week, while in San Francisco, Prime Minister Srettha Thavisin welcomed Bangkok being named as the fourth most searched-for destination in the world by foreign travellers after London, New York and Paris. 
As a matter of fact, Bangkok has long been seen as one of the world's top cities for travellers and is poised to benefit from extended opening hours due to come into force in December which will allow entertainment night spots in selected zones in Bangkok, Pattaya, Phuket and Chiang Mai to open until 4 am. 
At the same time, the country's Ministry of Public Health signalled that, with conditions, it had approved the serving of alcohol in most venues simultaneously with the extended opening hours. 
Strong and ongoing opposition to extending nightlife and drinking hours makes the move controversial and shows how foreign tourism has been politicised
Previously, the Thai government had set out to enhance the country's nightlife, which has proved itself since the pandemic to be a key factor in the country's attraction to Western visitors.
This move by the government is seen as a politically controversial one, with strong opposition from activist groups in addition to traditional and conservative forces within the establishment who abhor the country's nightlife sector and the reputation it generates abroad.
A recent National Institute of Development Administration (NIDA) survey on the issue showed 4.35% of Thais wanted to see the industry permanently shuttered with an even larger cohort committed to opposing alcohol consumption.
This shows how foreign tourism, especially since the challenge of the pandemic and the spectre of a public health threat politicised the country's foreign tourism industry. This remains the case with strong tensions and undercurrents.
'Longer stays.. and more fun on the nightlife scene' is the new plan to boost arrivals and spending
Nevertheless, Mr Prommin was gung-ho this week when he gave the heads-up on the new initiative for European travellers.
'We will design more attractions and promotions to incentivise tourists to stay longer,' he told the New York news agency Bloomberg. 
The Secretary-General to the Premier at Government House went further: 'Longer stays, more events to attract them and more fun on the nightlife scene. This is how we're planning for tourists to spend more.'
Figures released by the government show that the foreign tourism industry generated ฿981.7 billion up to November 12th on 23.2 million arrivals. This would see it on target to generate ฿1.269 trillion based on 30 million visitors by the end of this year or 66.4% of the ฿1.91 trillion it generated in 2019 when it saw 39.8 million visitors.
This represents a 33.5% fall from 2019, a 12.5% fall in spending per capita and a 25% fall in numbers from four years ago. Sobering numbers indeed.
Further reading:
Airports move to drive traffic with self-service for outbound travellers from December 15th
Thailand brings in elephant patrols to protect tourists in Ayutthaya as visitor numbers fall
Move to boost tourism sector with worrying signals near the start of the country's high season
Tourism fee fund to be fast-tracked after payouts to families in the Siam Paragon mass shooting
New Tourism minister gung ho that 2019 records can be smashed in 2024 despite falling spends
Tourism to recover two-thirds of its 2019 income in 2023 with good news for Srettha on exports