Figures released for foreign tourism to September 19th show Thailand on target to earn ฿1.255 trillion from the industry this year despite a continued downturn in visitor levels from China. A new hit movie released there this month 'No More Bets' paints a darker picture of travel outside the Communist country particularly to Southeast Asian destinations such as Thailand.
The move by the government to boost foreign tourism with a three-month free visa regime for tourists from China and Kazakhstan was cheered on by Prime Minister Srettha Thavisin this week at Suvarnabhumi Airport when he turned up to welcome visitors off an Air Asia flight from Shanghai. Thailand is on track in 2023 to achieve two-thirds of the foreign tourism income it saw in 2019 although with a deteriorating economic situation in China and negative fallout from media coverage of criminal activity linked to Thailand, that market is unlikely to return to what it once was. Thailand received a boost on Wednesday with exports showing signs of revival as the country strives to maintain its strong foreign exchange reserve position which underpins the stability of the Thai economy.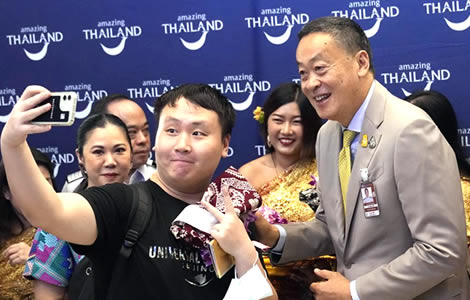 Thai Prime Minister Srettha Thavisin was on the ground at Suvarnabhumi Airport on Monday last to personally welcome an Air Asia flight from Shanghai with 341 visitors, the first to enter under the kingdom's new free visa regime.
It comes at a dangerous time in China with political and economic uncertainty exercising the minds of the country's population, causing them to be more conservative about spending money.
It is also coming at a time when Thailand's image in China is deteriorating although it is still the most popular choice for overseas holidaymakers.
'Tour reservations have surged by multiples of ten. We must encourage Chinese tourists to come to Thailand and visit not only major cities like Bangkok, Pattaya and Phuket but also secondary cities so that they stay longer in Thailand and spend more,' Mr Srettha declared.
Chinese tourist levels to reach 60% of those seen in 2019 by the first quarter of 2024 amid significant changes in China and a security challenge
Already this year, Chinese visitors have accounted for 11.70% of arrivals with 2.34 million Chinese entering the kingdom up to September 17th from a total of 19.988 million.
The numbers are only 37% of what was seen in 2019 but the Tourism Authority of Thailand (TAT) and the government are confident the kingdom will welcome a further 2.88 million between now and February 29th 2024 when the free visa scheme will come to an end
The goal is to bring the Chinese market in 2023/2024 back to 60% of what was seen in the record year of 2019.
Immigration Bureau Police in Bangkok have put in place new arrangements at Suvarnabhumi Airport and four other international airports to welcome both Chinese and Kazakhstan tourists under the new visa-free programme which began on 25th of September and will see visitors from these two countries welcomed to Thailand on a visa-free basis until the end of February 2024.
2013 hit movie Lost in Thailand launched the boom in Chinese tourism to Thailand which ended with the pandemic and has given way to a darker storyline
Last week, Police Lieutenant General Thatchai Pitanilabutr, an Assistant Police Commander, on a visit to Suvarnabhumi Airport revealed a new entry regime for the swift transit of Chinese visitors through 119 checkpoints at the airport.
The Immigration Bureau responded to a government order to facilitate the country's efforts to welcome more tourism arrivals while also working to ensure the security of tourists given the threat to the country's reputation in China which has emerged this year.
Thailand saw a record number of Chinese visitors in 2019 when over 11 million arrived in the kingdom. 
This marked the peak of a tourism craze in China which was sparked by a low-budget low budget Chinese comedy movie called Lost in Thailand which came out in 2013 and captured the imagination of many would-be travellers among China's emerging middle class just as the country reached the apex of its political economic miracle which began in the 1980s.
Tourism Authority of Thailand (TAT) has six offices in China but the country has seen a deterioration in the last decade under President Xi Jinping
2023 however sees the tourism industry and Chinese tourism to Thailand on a completely different footing.
This is a new challenge for officials working for the Tourism Authority of Thailand (TAT) which has six offices on the mainland.
China is declining as an economic force, a trend that is beginning to dawn on the kingdom's economic planners and industry leaders.
The advent of the Xi Jinping regime in 2012 has brought about a significant change in China's fortunes, with the Chinese leader having introduced, over the last decade, a centralised power structure and a mode of governance which has constrained and oppressed the economic development of the country.
China built its success on free market capitalism under the governance of the Chinese one-party communist system.
Chinese tourism already faced problems in 2018 with a boating disaster in Phuket and negative fallout from zero-dollar tour operators who have returned
Chinese tourism to Thailand was already suffering stress with a setback in 2018 in Phuket when 46 Chinese tourists lost their lives in the Phoenix tour boat tragedy.
However, even before the Covid pandemic, in the aftermath of the Phuket disaster, there were reports of a slowdown in Chinese tourism, which was also accompanied by reports of friction between Chinese visitors and Thai hosts across the kingdom.
In addition, there were abuses such as zero-dollar tourist holidays being promoted in China, which adversely affected the image of Thailand.
Tourists from China felt that they were being ripped off as they were on such holidays as the promoters attempted to earn back profits by charging the coerced visitors inflated prices.
These were cheap holidays in Thailand for Chinese tourists where tour routes and shopping stops were controlled.
In recent months, along with similar shadowy operators from Eastern Europe and South America, this problem has returned.
Severe economic problems impacting China with a banking and property crisis exacerbated by falling inward investment which has hit a historic low
The shutdown of tourism in Thailand in April 2020 and an even more severe shutdown experienced by the Chinese economy and its population, which was only lifted at the beginning of this year, has seen the Chinese economy fail to return to normal, with growing concern about the country's chronic problems in its property sector, local banking, and now in the governance of the country, with the mysterious disappearance of senior ministers and business people on a regular basis.
This has created a growing and alarming sense of unease among international investors. 
In the first eight months of 2023, foreign direct investment into China has fallen by 5.1% even from a year ago, which was a disastrous year, as foreign firms scramble to move out of China and invest elsewhere.
A recent study by the American Chamber of Commerce in Shanghai showed that 40% of foreign businesses surveyed were redirecting their investment outside of China. This figure had risen from 34% in 2022.
Another snapshot of foreign direct investment from April to June this year showed it was 80% down from a year earlier at $4.9 billion.
This was the lowest figure recorded since records began in 1998. 
Things so bad that Communist Party authorities in Beijing have suspended the publication of key economic data in relation to unemployment levels
Many analysts are suggesting, including those who spoke to US Commerce Secretary Gina Raimondo on a recent visit to China, that doing business in the Communist country is becoming increasingly impossible. 
What investment activity there remains is linked with the ongoing activities of large firms that have already established bases in the country, with many of these already planning their exit. 
The downturn in China is of such a magnitude that communist authorities have suspended the publication of regular economic data on youth unemployment which in June was reported at 21.3%. 
The economic decline of China has been accompanied by an increase in police oppression and a ramping up of military expenditure and investment. 
There are now real fears that the Communist Party is preparing for eventual war.
It is in this context that Chinese workers and everyday people are beginning to experience anxiety and why Thai planners must assess carefully the potential for Chinese tourism.
New movie in Chinese cinema theatres 'No More Bets' does not paint a positive picture of Thailand and travel outside China for those seeking adventure
On September 8th, a new movie was released to Chinese audiences titled 'No More Bets'.
This was no romantic comedy but a crime thriller which is very similar to the Western movie The Wolf of Wall Street but with darker undertones capturing the state of fear in China at this moment to do with online criminality and cyber crime which many Chinese audiences now associate with both Cambodia and Thailand. 
The new movie also strikes a patriotic tone encouraging Chinese audiences to avoid foreign adventures and to support efforts by the police and security agencies at home to crack down on fraud and online abuses associated with other Southeast Asian countries.
At the beginning of the year, it was thought that Thailand could achieve up to 7 million Chinese visitors in 2023.
Now that figure has been scaled back to 3 to 5 million. Thailand's foreign tourism recovery continues but it is not exceeding expectations in recent months.
Thailand can achieve an income level from foreign tourism in 2023 of ฿1.25 trillion at two-thirds of that the kingdom saw in 2019 as a realistic goal
From January 1st to September 18th, the Kingdom has welcomed 19.988 million visitors with figures quoted by the Ministry of Tourism and Sports, this week, giving the figure for the amount earned by the industry at ฿795 billion.
This figure equates to ฿41,839 per visitor and compares to an equivalent figure of ฿47,738 baht achieved in 2019 because at that time Thailand received more Western and American tourists than it currently receives.
The figure released last week was an improvement on an earlier figure of ฿40,100 and if the kingdom can achieve its target of 30 million visitors this year at that rate it would see it earn ฿1,255 trillion.
This would be roughly two-thirds of what was earned in 2019. 
The problem for Thailand is that until August, the tourism recovery was accompanied by a fall in exports with fears that the cost of oil would increase and the country's current account situation would deteriorate, which impacts the value of the Thai baht.
Good news at last on Exports, up in August
There was positive news, however, on Wednesday with news from the Ministry of Commerce that exports rebounded somewhat in August and were 2.6% higher than in August 2022 coming in at $24.3 billion. These were also higher than July's output which came in at $22.14 billion.
Excluding oil, gold and weaponry exports were 3.9% ahead of last year although it should be noted that the baseline from this point on last year coincides with a falloff of export output.
Imports were down by 12.8% at $23.9 billion giving a trade surplus of $360 million.
Tourism is the key to Thailand keeping its healthy foreign exchange reserve which in September stood at $214.7 billion, a fall of 16.29% since 2021
Up to August, the situation was a reversal of the strength seen in the Thai economy.
Throughout the last 20 years, foreign tourism and exports combined have been able to generate one of the world's most impressive levels of foreign exchange reserves which is an extremely valuable cushion for the economy at this time.
This reserve which on the 22nd September stood at $214.7 billion has fallen from a height of $256.8 billion in February 2021, a fall of 16.39%.
In February this year, the figure was $224.6 billion which was a rise from a low point of $200.7 billion in October 2022.
On Monday, Police Lieutenant General Thatchai emphasised that the Immigration Bureau was aware of the threat from criminal elements entering the kingdom, not only from China but also from Kazakhstan, which has links with Thailand's human trafficking industry. 
However, the Royal Thai Police has assured the government that by the use of tracking systems and data-based technologies in conjunction with police cooperation with external police forces, it is in a position not only to protect the incoming tourists but the Thai public and indeed the country's economy.
Further reading:
Sobering news for new Pheu Thai ministers as economic growth rate continues to weaken
Economy weakens with a July current account deficit as new cabinet plans lower electricity costs
Economy tanks as demand for loans surges with an acute credit crisis and falling export output reducing growth
Concerns over household debt rising as banks report marginally lower non-performing loans
Thailand preparing for a soft landing as 'cracks' open up in the Chinese economy says bank chief
Economic danger signals emerging as politicians wrangle over who will form the next government
Bank of Thailand to tackle household debt in new plan from 2024 which will see higher standards
Politicians skating on thin ice as the economy may not be able to withstand a political stalemate
Debt crisis may be one of the top items on the new cabinet's agenda as central bank stands ready
Potential hazard lights flashing as kingdom's auto loans spiral into default with sky-high borrowing
Bank of Thailand governor gives veiled warning to voters on the danger posed by populist policies
Financial markets debt sell-off sending a signal to Thailand before the May 14th General Election
PM warns giveaway policies of some parties may be 'bad karma' for the country in the longer run
Economic recovery shaky despite strong foreign tourism as global economic outlook deteriorates
Recession fears rise as growth projections are cut and export output continues to decline in 2023
Good news on foreign investment at the start of 2023 fails to mask stunted competitiveness issue for economy
Economy faces export clogs with rules in China and 'green imperialism' from European Union
Vital European Union free trade deal with Thailand with stiff demands from Brussels to take time
Thailand's financials are sound but the economy is exposed if another world banking crisis emerges
Thai economic woes grow with a 10-year high trade deficit as January exports slumped by 4.5%
Credit crunch as firms seek more bank loans with tightened lending criteria and recession fears
Even as the baht surges, Thailand faces economic recession in mid-2023 with lower earnings
Thailand's trade agenda may be complicated and thwarted by raised tensions in the Indo Pacific region