Thailand's recovering airline industry, including the restructured operations of Thai Airways and Thai Air Asia X, is riding to the rescue of the country's vital foreign tourism industry, still struggling to reach the levels seen in 2019 with a modest 63% target for 2023 in terms of income earned.
A drop in Chinese tourists in the aftermath of the Siam Paragon shooting and rising geopolitical uncertainty has Thailand's economic heads moving to boost the country's foreign tourism engine with a ฿600 million marketing budget, late-night openings in tourist hotspots until 4 am and increased flight connectivity as Thailand's airlines, after surviving the pandemic with two bankruptcy restructurings, are put to work expanding the country's flight connectivity rate.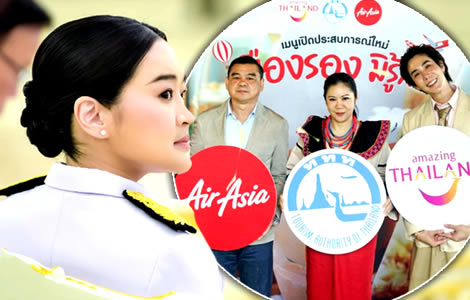 Thailand's top economic planners at the Ministry of Finance, the Office of the Prime Minister and the Bank of Thailand could be facing a more challenging situation as the economy is counting on the vital foreign tourism industry, with figures released up to October 8th showing a 9.8% drop in numbers with 497,966 arrivals, led by a fall-off in demand from China despite the end of September introduction of a visa waiver for that country and Kazakhstan.
Analysts believe this may be linked to the deterioration of the Chinese economy and negative coverage of Thailand in China, particularly news of the Siam Paragon mass shooting on October 3rd, which claimed a third victim on Friday. 
Third victim of Siam Paragon mass shooting terror on October 3rd died on Friday morning following a 10-day fight for life after being resuscitated
30-year-old Nung Ning or Ms Penpiwan Mitthampitak had been in a coma at Chulalongkorn Hospital since the day of the shooting, having suffered massive internal injuries and a cessation of breathing at the shopping centre.
She was revived later in hospital and placed on life support.
The young coffee shop employee at the shopping centre was gunned down by the as yet unidentified 14-year-old shooter, reportedly suffering from mental health issues as she headed for her rest break in the afternoon on the day of the attack.
She died at 2 am on Friday, October 13th.
The government is also dealing with the rising cost of money with a sharp uptick in the yields on government bonds, making funding the public debt more expensive and placing upward pressure on bank interest rates because of the surprising resilience of the US economy.
These developments make its plans for powering the economy with stimulus spending more expensive while also weakening companies and players in the economy who are in debt.
Government trying to drive momentum in the economy, including a mass ฿560 billion digital giveaway in February and the tourism High Season
The sharp rise in the cost of money also puts pressure on the government as it tries to boost the economy, targeting 5% growth in 2024.
This includes a Digital Wallet giveaway, which will disburse ฿10,000 in credits to all adults over 16 years of age on February 1st 2024.
The United States inflation data on Thursday showed a rate of 3.7%.
It was ahead of market expectations and heralded the continuation of the policy of elevated interest rates by the Federal Reserve. 
It pressures the value of the baht and the Bank of Thailand to raise interest rates. 
One of the consolations for Thai planners and the Kingdom's all-important airline industry has been a falling oil price in line with reduced economic activity worldwide.
Oil has fallen in recent weeks from $90.90 on the 10th of September to a closing price on Friday the 13th of $85.81 despite the Hames invasion of Israel on October 7th.
This situation is highly volatile and may change if the conflict widens into a regional conflagration.
Hopes for a robust foreign tourism High Season that boosts GDP in the last quarter of 2023 with flagging exports his year and, lately, weaker consumption
The government is pinning its hopes on a solid boost in the last three months of 2023, led by its vital foreign tourism industry, particularly in light of disturbing reports from August, which showed fewer visitors entered the country than the month before.
The Thai economy only grew 1.8% in the first six months of 2023 and may have gone backwards in the third quarter. Disappointing export sales and weaker domestic consumption have caused this.
Even the lacklustre projection of 2.8% growth, which the Bank of Thailand has predicted this week, is still dependent on a robust foreign tourism performance from October 1st until the end of the year.
The Kingdom is expected to welcome 28 million visitors in 2023, with 20 million having been confirmed up to the end of September.
The country's High Season for foreign tourism begins on November 1st until March 2024.
฿600 million budget to promote tourism to Thailand
The government on Thursday, through the Ministry of Tourism and Sports, announced a short-term budget of ฿600 million to project the tourism industry until the 2024 budget is released in April 2024.
The new Minister of Tourism and Sports, 41-year-old Sudawan Wang-Suphakitkosol, is the daughter of a former Minister of Commerce in 1982, Weerasak Wang-Suphakitkosol.
The MP from Nakhon Ratchasima is an engineer by training and runs a family-owned tapioca business, Eiamheng Tapioca Starch Industry Company, which made a profit last year of ฿67.78 million on a turnover of ฿6.25 billion with retained assets of ฿4.04 billion.
There is right now an expedited initiative by the minister to allow entertainment venues open until 4 am in tourist hotspots, something constantly thwarted by conservatives in the last cabinet in a move aimed at attracting more nightlife tourism from all over the world.
However, one of the most critical factors in achieving a return to the level of foreign tourism seen in 2019 is to increase flight connectivity between Thailand and the rest of the world, with major international airlines in the scramble since 2022 to recover from the pandemic crisis.
Thailand is only targeting ฿1.25 trillion for 2023 compared to nearly ฿2 trillion in 2019 with 28 million visitors compared to 39.8 million four years ago 
Thailand received 39.8 million visitors in 2019 and earned nearly ฿ 2 trillion in revenue. The 2023 target is 28 million and ฿1.25 trillion or 62.5% of that seen in the record year.
Many external international airlines have yet to reinstate many axed services to Bangkok, and those scaled back during the pandemic crisis.
Thailand's airline industry is recovering and riding to rescue the ailing economy by increasing flight connectivity and foreign tourist arrivals.
This includes Thai Airways, which went into bankruptcy in May 2020, and Thai Air Asia, which filed for bankruptcy two years later in May 2022. 
Thailand's airlines, emerging from the restructuring of the pandemic era, play a vital role in the slow recovery of foreign tourism industry, boosting flights
On the 1st of September 2023, the bankruptcy court approved the rehabilitation plan for Thai Air Asia X, which was at the forefront of increasing Thailand's connectivity before the COVID-19 crisis.
By the end of the year, flight connectivity will only be 70% of that seen before the country's airspace was shut in April 2020.
Since the country's reopening fully in 2022, Thailand, unlike many other countries with large tourism industries, has struggled to regain the same level of income because of both damaged confidence in the industry and damage to the country's tourism infrastructure. 
Just as importantly, flight connectivity is a crucial factor in driving arrivals growth and allowing for competitively priced plane tickets given the global nature of the country's foreign tourism industry, with the kingdom seen as an exotic destination for young travellers looking for sun, relaxation and a vibrant nightlife industry.  
Currently, the kingdom has four airlines leading the charge to restore the foreign tourism industry, including Thai Airways, Thai Air Asia X, Thai Vietjet, a relative newcomer, and Bangkok Airways, a boutique airline but one with a long-established commercial track record going back to 1968.
4 airlines battling to increase routes from Thailand
Currently, the four airlines have ambitious plans as they ramp up services with the level of connectivity to Bangkok and vital international airports in Thailand, such as Suvarnabhumi Airport in Bangkok, Phuket, Ko Samui and Chiang Mai.
Flight schedules are set for a boost at the beginning of December this year. 
At the end of September, Thai Airways announced that it would begin a daily flight to Istanbul in Turkey, following an August agreement with Turkish Airlines and signing a Memorandum of Understanding. 
The new route was confirmed by Chief Executive Officer Chai Eamsiri, who also outlined plans to launch new flight services to Oslo in Norway and Milan in Italy, as well as a new Australian service serving Sydney and Perth.
The national airline has returned to impressive operational profitability in the last year, allowing it to speed up its rehabilitation plan.
It is currently reported to be achieving 80% load levels on its worldwide flights as it ramps up services to cater for increased demand from China, with solid bookings reported despite the lower arrival numbers in recent weeks.
Thai Air Asia X boss says flight bookings from China are still only lukewarm, with flights showing a 70% load, while Thai Airways appears more optimistic
By contrast, last week, Mr Tassapon Bijleveld suggested that Thai Air Asia X was only recording a lukewarm response to expanded flights to and from China with a load factor of 70%, which has been helped by the unexpected dip in jet fuel prices.
Just recently, Bloomberg reported that Thai Airways flights from China were 90% booked, just after the government moved to offer free visas to Chinese visitors from September 25th until February 29th.
This data was provided by Korakot Chatasingha, the Chief Commercial Officer for Thai Airlines, as he appeared on Bloomberg Television. 
Beginning on December 1st, Thai Airways will increase the number of flights to 56 key cities in China from 49, which it is now serving.
Figures up to September 17th, however, showed that Thailand's tourism traffic from China was only 37% of the level seen in 2019, and the current push by the government and the Tourist Authority of Thailand is to bring that level back to 60% by the end of February 2024. 
Siam Paragon Centre shooting damages confidence in China after niece of the victim takes to Chinese microblogging site Weibo with a horrifying story
Thailand suffered a setback to its plans on Tuesday, 3rd October 2023, when a 14-year-old gunned down seven people at the upmarket Siam Paragon shopping centre in Bangkok, killing two and leaving on on life support.
One of the fatalities was a 34-year-old Chinese tourist identified as Ms Zhao Jinnan. 
The murder of the Chinese tourist was a blow to security assurances given by the government and the Royal Thai Police in September as it introduced the visa-free concession in the face of security concerns highlighted by the media.
The threat to Chinese tourists in Thailand has become the subject of a viral campaign on the Chinese mainland.
In the hours after the atrocity in Bangkok, the Chinese blogging site Weibo featured contributions from the family of Ms Zhao, including Ms Chloe Wan, a 16-year-old niece who was in Bangkok with her.
Graphic account of shopping mall murder in Bangkok
She explained how the 14-year-old mentally ill shooter murdered her aunt after she collapsed outside the cubicles in the women's toilets area as they had tried to escape him.
'I don't know how she got hurt. When I saw her, she was already unconscious. I could only see her bleeding from her mouth,' Ms Chloe told her Chinese audience.
In his interview with Bloomberg on the day before the atrocity in Bangkok, Mr Korakot of Thai Airways identified the importance of Thailand recovering its Chinese tourism business, which had come to be the largest market for the kingdom and suggested that the airline was still, at that time, considering deploying more flights to cater for the demand.
'We are trying to anticipate if the number is growing strongly. We believe we can go back to the 2019 levels, of course.' 
Thai Airways is reaching for the skies with a projected 75 aircraft on routes by 2024, down from a fleet of 103 in 2020 before the virus crisis hit
The top executive said Thai Airways is currently operating a fleet of 69 aircraft, down substantially from the 103 it worked before the pandemic shutdown, which saw the airline at one point carrying zero passengers but surviving by providing a freight and mail service to the Kingdom.
Thai Airways plans to increase its fleet to 75 aircraft in 2024 and somewhere near 100 in 2025, in line with the projected recovery of Thailand's tourism industry.
The airline recently amalgamated its service with the local subsidiary Thai Smile, which incorporated 20 aircraft into the fleet.
Currently operating flights and bringing foreign tourists from Europe and India as it seeks expansion with flights from Asia, Australia, Turkey and China
Thai Airways has been critical to the resurgence of Thailand's foreign tourism industry since 2022.
It has had some success operating flights from Europe and the United Kingdom amid a reduced service offered by the aviation industry to Bangkok, with some well-known international airlines snubbing the Thai capital in favour of Singapore as a route to Australia.
Thai Airways has also had considerable success operating flights to and from India, one of Thailand's more resilient tourist markets.
The national airline operates 65 flights a week to and from the subcontinent.
While cautious about opening up new routes and taking on further commitments, Thai Airways has also been tempted by a resurgence of flights between Japan and Thailand and improved relations between Thailand and Saudi Arabia, causing it to rethink its strategy concerning the Middle East.
In particular, it is resuming direct flights to Jeddah in Saudi Arabia.
Thai Air Asia is back with 54 aircraft on routes across Asia, especially Japan, but is planning to expand flights to South Korea, Australia and China
Before the pandemic disaster, Thai Air Asia X was an up-and-coming airline that was particularly important in widening and increasing connectivity between Bangkok and international destinations, particularly across Asia.
The airline operated 63 aircraft before it entered into bankruptcy protection in May 2022, two years after Thai Airways.
It is now in rehabilitation under the auspices of the Central Bankruptcy Court and operating 54 aircraft.
The Chief Executive Officer of Thai Air Asia X, Tassapon Bijlefeld, highlights the strength of Bangkok, as the world's most visited city, as the low-cost carrier plots out new routes and an extension of connectivity from Thailand.
Thai Air Asia plans to operate 72 aircraft over the next three years while returning to 60 in 2024.
The airline is currently successful on routes to Japan, particularly Okinawa and Hiroshima, while also running direct flights to Tashkent in Uzbekistan.
It is also developing its freight cargo business and providing flights to South Korea with plans to accelerate its services to Australia and China.
Relatively new player in Thai Vietjet Air
Vietjet is an ambitious newcomer operating internal flights and flights from Chiang Mai to Osaka, Japan and Suvarnabhumi Airport to Taiwan for as low as $60.
This relative newcomer in the battle to secure part of the airline market to and from Thailand is converting its fleet of Airbus aircraft to Boeing 737 MAX jetliners.
Thai Vietjet Airline currently operates flights to Taipei, as well as direct flights between Chiang Mai and Osaka running three to four times per week and internal flights in Thailand from Chiang Mai to Phuket and Chiang Rai to Phuket.
Bangkok Airways, flying since 1968, is a growing player in the skies above Thailand as it seeks to expand with caution as foreign tourism recovers
The priority for the Thai Vietjet is increasing its flights to Osaka from three to four currently to seven per week. 
Woranate Laprabang, the Chief Executive Officer (CEO), suggests that the airline currently operates eighteen aircraft and will increase this to fifty by 2028, with six more jets being introduced in 2024, followed by an additional fifteen in 2025 and 2026.
The airline, as well as increasing the frequency of existing flights, is looking carefully to include flights from Bangkok to Guangzhou, Taiwan and Jakarta in Indonesia. 
Bangkok Airways operates four flights a week from Bangkok to the Maldives, a service which commenced in September.
In addition to its regular services to Samui, the President of Bangkok Airways, Mr Puttipong Prasarttong-Osoth, has also suggested that the airline has plans to run flights from Ko Samui to Changsha and Chengdu in China.
'Over the past year, Bangkok Airways had to downsize its business, reducing flight size from the pre-COVID era when we had 40 aircraft. Currently, we have 26 aircraft consisting of 3 Airbus A319s and 10 ATR 72-600s. We are operating around 20-21 aircraft while the remaining 5 to 6 are parked awaiting maintenance,' the airline president explained. 'Initially, Bangkok Airways plans to acquire two aircraft in early 2024. According to our plans, for the next 3 to 5 years, we intend to expand the fleet to more than 30 aircraft. However, we need to consider the expansion plan carefully and to ensure it aligns with demand and doesn't lead to overcapacity.'
Further reading:
Tourism to recover two-thirds of its 2019 income in 2023 with good news for Srettha on exports
Sobering news for new Pheu Thai ministers as economic growth rate continues to weaken
Economy weakens with a July current account deficit as new cabinet plans lower electricity costs
Economy tanks as demand for loans surges with an acute credit crisis and falling export output reducing growth
Concerns over household debt rising as banks report marginally lower non-performing loans
Thailand preparing for a soft landing as 'cracks' open up in the Chinese economy says bank chief
Economic danger signals emerging as politicians wrangle over who will form the next government
Bank of Thailand to tackle household debt in new plan from 2024 which will see higher standards
Politicians skating on thin ice as the economy may not be able to withstand a political stalemate
Debt crisis may be one of the top items on the new cabinet's agenda as central bank stands ready
Potential hazard lights flashing as kingdom's auto loans spiral into default with sky-high borrowing
Bank of Thailand governor gives veiled warning to voters on the danger posed by populist policies
Financial markets debt sell-off sending a signal to Thailand before the May 14th General Election
PM warns giveaway policies of some parties may be 'bad karma' for the country in the longer run