Bullish Chief Executive Officer Chai Eamsiri explains that the airline is on course to emerge from rehabilitation by the end of 2024. Volume continues to rise and it expects to maintain a load factor of 80% throughout 2023 with new flight routes being inaugurated to China, Asia and Europe.
Thai Airways is running ahead of schedule to achieve a full rehabilitation of its business by the end of 2024 and a return of its shares for trading on the Stock Exchange of Thailand (SET) by 2025, said its Chief Executive Officer Chai Eamsiri on Thursday. He revealed that the airline predicts a strong positive cash flow of ฿30 billion this year and may only now need half the ฿25 billion extra working capital requirement anticipated as it continues to expand its activities with a further boost to its income and profitability.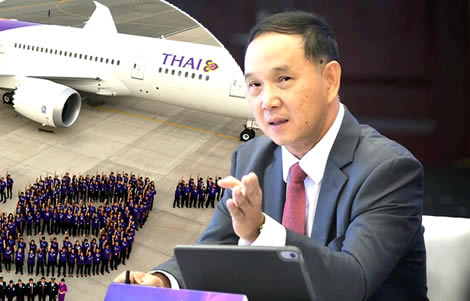 Newly appointed Chief Executive Officer of Thai Airways, a veteran of the airline industry with 37 years experience and who had previously served as the Chief Financial Officer (CFO) of the firm, gave an upbeat assessment of its performance to a well-attended press conference on Thursday in Bangkok.
Chai Eamsiri, who took up the role on February 1st, talked of a new era of recovery for the airline which is running well ahead of its business plan targets with an expected EBITDA of ฿20 billion this year or profits before taxes and depreciation.
Airline generating positive cash flow of ฿30 billion per annum with volume still picking up says boss
Mr Chai said the airline was generating an annual cash flow of ฿30 billion per annum up from ฿6 billion in 2021 when its recovery first took off.
Initially, in May 2020, when the airline filed for bankruptcy in Bangkok, it was reported that it had a net liability of ฿244 billion with 70% of this being foreign debt with total debts of ฿410 billion.
The airline eventually posted a record-breaking loss of ฿141 billion for 2020.
The new CEO told analysts that last year, the national flag carrier returned to operating on 65% of its 2019 routes achieving a load factor of 85%. This metric is currently projected at no less than 80% for the rest of 2023.
'THAI is in the position of continuously increasing its operating revenue because the volume of air passengers is picking up,' he told reporters.
Requirement for new working capital may be cut to ฿12.5 billion with boost in operating performance since May 2021, business goals realisable in 2024
The company currently operates 49 aircraft and will take delivery of six new aircraft in April 2023, rented Airbus 350s, while it is selling 22 aircraft currently on its books to facilitate its long-term business plan.
The airline boss said that the rehabilitation plan which envisaged raising ฿25 billion in working capital or funding this year, has been so successful that the requirement may now be as low as ฿12.5 billion.
He predicted that the company's business plan targets may be fully achieved by the end of 2024 and that Thai Airways could return to the Stock Exchange of Thailand (SET) in 2025, fully recovered as a thriving business concern.
The airline boss said that an expansion of its operations in 2023 would see the company's flight network return to 80% of what it was in 2019 with new flights being added to and from China, Asia and Europe where the airline would target popular European city destinations and airports.
 'We quickly fulfilled the majority of the requirements in the debt plan, and now we're starting our long-term growth plan, which includes buying new planes and updating our fleet,' he said.
In talks with US firm Boeing over long-term plans for a fleet focused on wide-bodied Boeing 787 planes
Mr Chai revealed that as part of its long-term plan, the company is in discussions with US plane manufacturer Boeing about purchasing aircraft on a longer-term basis. These are thought to be wide-bodied 787-9 models or Dreamliners.
The company is currently trying to dispose of 6 Boeing 777 300 ERs, 6 Boeing 777 200 ERs, 4 Airbus 340s and 6 Airbus 380s.
An ebullient Mr Chai linked the recovery of Thai Airways to Thailand's emergence from a nightmare economic downturn in 2020 when the government completely shut down the kingdom's airspace and closed its vital foreign tourism industry overnight in April that year under the Air Navigation Act, a decision which the country is still recovering from with the rebound of Thailand's foreign tourism industry lagging behind other countries.
'THAI has followed its recovery plan by reducing expenses and costs and selling idle assets,' Mr Chai explained. 'The crisis in Thailand is over, and the country is entering a period of consistent revenue growth for long-term stability.'
Rapid improvement in THAI's performance began in May 2022 with foreign tourists returning to Thailand in larger numbers after the country reopened
He explained that the rapid improvement in Thai Airways' fortunes commenced in May 2022 with cash flow continuing to grow stronger.
This coincided with the full reopening of Thailand to foreign tourism which gathered pace for THAI as other airlines prioritised more profitable routes.
This, according to Mr Chai, has facilitated the rapid achievement of the company's rehabilitation plan leaving it on course to relist its shares from trading on the Stock Exchange of Thailand (SET) in 2025.
'From continuous positive performance since May 2022, coupled with the existing demand recovery trend, we are confident that this year's operating results before finance costs, taxes and depreciation (EBITDA) will be more than ฿20 billion positive, which meets the criteria for filing out of the rehabilitation plan which states that the company must have EBITDA, deducting rent and cash for the past 12 months, it must have a balance of more than ฿20 billion so that Thai Airways will be able to exit the rehabilitation plan before the end of 2024 and return to (stock exchange) trading in 2025.'
'We quickly fulfilled the majority of the requirements in the debt plan, and now we're starting our long-term growth plan, which includes buying new planes and updating our fleet,' he expanded.
Plans for Eastern Economic Corridor (EEC) repair and servicing centre must wait for an expert report and probably a strong potential venture partner
When asked about plans for Thai Airways to again look at developing an aircraft repair and servicing centre within the government'S flagship Eastern Economic Corridor (EEC) project, a plan sidelined when the airline went into crisis in the run-up to its May 2020 bankruptcy filing, he said that a study on the project would be completed in the third quarter of this year.
This would lead to discussions with the management of the Eastern Economic Corridor (EEC) Office.
While he said that he would wait for the conclusions and recommendations of the study, he thought it would clearly be better for Thai Airways to enter into such a project with a partner in a joint venture because such a partner may also be able to bring the support of an existing customer base.
Further reading:
Passengers to finally get refunds from high-flying Thai Airways still facing financial turbulence
Thai Airways flies high as numbers skyrocket as it flies tourists into the kingdom from Europe
British Airways snubs Bangkok in favour of elite travellers to Singapore as Thai Airways load levels rise
Thai Airways ฿25 billion funding request from state coffers rebuffed by a senior Finance Ministry official
Thai Airways still requires borrowed time and money as firm submits survival plan to the bankruptcy court
Thai Airways seeking business rehabilitation plan that has the unanimous support of it's creditors
Thai Airways seeks a second and last extension to file its survival plan with the Bankruptcy Court on March 3rd
Ex Chairman of Thai Airways jailed in Bangkok for abuse of authority on fateful flight from Tokyo in 2009
Shares slump as Bangkok court sets two hearing dates to consider Thai Airways restructuring plan in full
Thai Airways probe into its low fare income for 2019 in move overseen by former met police commissioner
Thai Airways files for bankruptcy and gets court protection here as heavyweights are brought on board
Thai Airways and its workers face an uncertain future as it prepares to fly into bankruptcy protection in June
Thai Airways to file for bankruptcy in survival and restructuring plan which could still see jobs lost as it unfolds
Thai Airways suspends flights to six Chinese destinations as coronavirus outbreak grows with 304 deaths
Thai Airways in peril – boss tells executives there is 'not much time' to save the airline from closure
Deputy Transport Minister calls talks with Thai Airways, seeks new business plan in 3 months