A shocking household debt survey shows that 87.3% are having problems meeting their monthly financial commitments. The issue of household debt is particularly acute in rural Thailand. In cases when harvests fail, households can end up paying 25% interest per month to informal lenders.
A new survey on household debt in Thailand raises questions about the impact of the situation on an economy that already faces external headwinds.
Recent research by the University of the Thai Chamber of Commerce has revealed that household debt in Thailand has increased alarmingly in the last year with each household having a debt of 248,004 baht representing an increase of 13% on the figure for 2014 when it stood at 219,158 baht.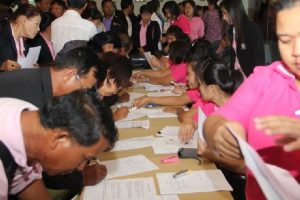 Thailand like many other Asian countries has been experiencing a significant economic downturn with a  fall-off in exports, economic activity and growth contributing to a challenging economic environment.
Tough economic environment sees higher levels of Thai household debt as poor seek short term funds
The Thai baht has recently hit a six-year low against the US dollar and while this, it is hoped, will trigger an increase in exports this has yet to materialise.
The survey into household debt was prepared from a poll or opinion survey of 1,200 households in Thailand between August 20th and 28th.
Mr Thanawat Pholvichai Director of the Economic and Business Forecast Centre revealed that out of the average household debt of  248,004 baht, approximately 48.7% of this was organised or structured debt while the rest was informal or unorganised.
In his statement, Mr Thanawat pointed out that the increased household debt reflected economic challenges which have been seen in Thailand for the last three years and which has resulted in the stagnation or decline of household revenue.
Loan repayments for less well off households a big worry for Thailand particularly those in rural areas
In recent years successive Thai governments have taken action to deal with a rampant illegal money lending trade in the country which can see some households being charged rates as high as 25% per month for access to short-term loans or funding.
Other factors causing the increase in household debt range from low incomes or even the inability to find employment, to an increase in the cost of living and in rural areas there have been a number of poor harvests.
It is also reported that Thailand has seen an increase in spending through credit cards as families attempt to provide for education fees for children.
Another key factor which has contributed to the problem is the prevalence of gambling in Thailand particularly among less educated households and increased spending on consumer goods obtained through short-term financing.
Massive rise in 2015 level household debt repayments
The results of the household debt survey are particularly shocking in that they show that 87.8% of those who had borrowed money were experiencing difficulties in servicing their debts and that the average household in Thailand must meet repayments of 14,033 baht per month representing a massive increase on the figure 2014 which was only 10,752 baht per month.
Further reading:
Thailand should move more towards a circular economy as the country faces intractable hurdles
Thailand's economy awaits the fallout from the Omicron surge as projections for 2022 take a dive
Inflationary fears for Thailand more muted than in the United States but planners should prepare
A cautious recovery in 2022 says Bank of Thailand boss but PM strikes a mildy more optimistic note
With Omicron hovering, firms already suffering a cash flow crunch with the economy again in peril
Shaky economic recovery as planners target only a 1% gain in 2021 with rising headwinds in Quarter 4
Economy climbing out 'of a hole', foreign firm's confidence levels rose sharply during October
Another GDP contraction looms as Thailand tries to boost its economic fortunes by spending more
Government borrows more to bring the economy through an extended Covid 19 crisis with GDP flat
Officials switch to prioritising economic recovery as CCSA expected to agree a new Covid approach
Richest man in Thailand says COVID-19 is like a World War, the kingdom could end up a big loser in the end
Foreigners in Thailand have nearly ฿600 billion in the bank as inequality and poverty rise alarmingly
Rising prospect of GDP contraction for 2021 may see government breach the legal public debt limit
A dead mother beside her children and a taxi driver who slept, show us a nation riven by an extended crisis
Economic fears rising as Thailand faces a bigger crisis than 1997 with rising job losses and debt
Baht falling with confidence in Thailand waning as foreign tourism closure and virus drive funds out
Central bank to lower GDP growth forecast as its attention turns to private sector debt management
Loan bill passes but Thai economic prospects are not bright with a 1.8% 2021 GDP gain predicted
Thailand to reopen to 'big fish' tourists as a cryptocurrency friendly haven says promotion agency boss
IMF urges government to loosen nation's purse strings as finances tighten with the tax take down
Failure to pass the ฿500 billion borrowing decree could lead to the dissolution of parliament
Baht to strengthen later in the year even after July as foreign tourists will return says top bank economist
Industry leaders and central bank all warn that foreign tourism must return to avoid a collapse
Refloat of foreign tourism in the 2nd half of 2021 with vaccines pushed by minister and industry for the sector
Fact – only 6,556 visitors arrived in Thailand last month compared to 3.95 million in December 2019
Desperate foreign tourism business concerns are clinging to straws as they try to survive the crisis
Strict entry criteria to remain as officials await clarity on the medical status of vaccinated people
Challenge of the virus and closure to tourism leads to major long term changes in the Thai economy
Finance Minister says economy must pivot away from tourism with a switch to S-Curve industries
Steady as she goes economy driven by exports and public investment with a 3.3% growth rate forecast for 2021
Thailand's tourism boss targets thousands instead of millions as public health is prioritised above all
Thailand unlikely to reopen doors to mass-market tourism before the end of 2021 until after a full vaccination
Strengthening baht predicted as investors bet on a reopening of Thailand to mass tourism in 2021
Economic picture continues to darken as cabinet approves new ฿700 billion loan to plug the gap of higher deficits
Thailand facing a credit crunch as 3rd virus wave craters the kingdom's economic recovery plans
3rd virus wave now spells not just economic loss but financial danger as kingdom's debt level rises
Still time to avoid lockdown says Health Minister as 3rd virus wave dwarfs all infections to date
Thai economy is still in reverse despite rising confidence and a virus threatening a 3rd wave
Reopening of Phuket still not officially approved although it is the ideal test for a broader move
Minister urged not to be afraid to borrow in 2021 as fears grow for a quick foreign tourism revival
Economy to rebound as the year progresses driven by exports and a return of mass foreign tourism
Door closing on quick foreign tourism return as economic recovery is delayed to the end of 2022
Phuket's plan to self vaccinate on hold as Interior Ministry orders private sector out of vaccine deals
Refloat of foreign tourism in the 2nd half of 2021 with vaccines pushed by minister and industry for the sector
Fact – only 6,556 visitors arrived in Thailand last month compared to 3.95 million in December 2019
Desperate foreign tourism business concerns are clinging to straws as they try to survive the crisis
Finance Minister says economy must pivot away from tourism with a switch to S-Curve industries