Some foreigners particularly westerner express scepticism about the continued spiral in Thai tourist numbers – we looked and found and it is even a greater success and testimony to excellence in marketing and management by Thai authorities
An incident with a young Chinese tourist at Don Muang Airport last weekend and the response from Thailand's PM and other top officials indicated how valuable Thailand's tourist industry has become. Though Thailand's tourism continues to show unprecedented growth, changes will be needed to deal with matters of sustainability and new trends. There has already been some debate about the impact of the heavy volume of tourists from China but the latest indicators showing a healthy growth in tourism from other areas such as the number of tourists arriving by sea and from other Asean countries. 2018 has been a good year for tourist numbers from the United States of America.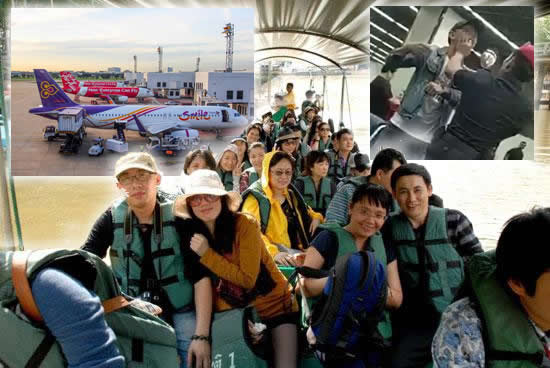 A video of a Thai security officer tackling a young Chinese tourist at Don Mueang International airport last weekend was the last thing Thailand's PM and tourist chiefs wanted to see. The Thai PM ordered action after he was reported to be alarmed at what he saw. A young, denim clad, Chinese arrival was found to be not in compliance with requirements for a tourist visa by immigration officials and was ordered to be flown home. However, an altercation then developed in the departures area of the airport. It was reported that when the young Chinese man, who had flown to Thailand from Jakarta, disobeyed instructions for a Thai guard in an attempt to, he was physically tackled. The footage was quite clear.
Phuket boat tragedy was a wake up call in a record breaking tourist year
A tragic boating accident in the summer off Phuket saw many Chinese tourists lose their lives. Chinese officials and tour operators were less than impressed by comments in the aftermath of the tragedy by some Thai officials that appear to question the role of some Chinese operators in Thailand. Since that incident Thailand has been doing its utmost to welcome visitors from China rolling out VIP lanes and assuring Chinese that they would be welcome and protected in Thailand. The incident at Don Mueang was therefore very unfortunate and badly timed.
Officials suspended pending an investigation
Media reports in Thailand suggest some officials were suspended pending an investigation into the incident with the Thai Prime Minister reported to be very concerned at how it was perceived in China. It is reported that he felt that tact and a less emotional response should have been more in evidence by the Thai personnel involved. It is very easy to understand the PM's thinking. China has emerged as the biggest driver in tourism to Thailand. In August alone over 25% of visitors to Thailand were from China. A recent report by press agency AFP may explain the concern at the top in Thailand, it is reported that figures for August showed a 12% drop on last year. This is not the sort of performance that Thailand has become accustomed to and Thai authorities obviously see it as a self inflicted loss. The success of the Thai tourism industry in the last decade has been astounding and performance in recent years even more so.
2018 and another record breaking year for Thai tourism with increased numbers and spend

2018 looks to be another exceptionally good year for Thailand's tourism. The country's renowned industry has grown spectacularly in terms of arrivals and revenue. Preliminary statistics from Thailand's Ministry of Tourism and Sports register that in the first half of 2018, more than 22.5 million international visitors traveled to Thailand and spent approximately 1.18 trillion, showing that arrivals and revenue increased 11 % and 14.44 % respectively in comparison the same period last year. Another positive trend is that tourists have concentrated less on Thai popular destinations, according to Mr. Yuthasak Supasorn, Tourism Authority of Thailand Governor.
Hotel occupancy rates across Thailand are rising in all regions as the internet allow choice

2018 has witnessed higher hotel occupancies provinces that were previously well known to international travelers, such as Rayong, Suphan Buri, Chainat, Nakhon Pathom, Ang Thong and Phatthalung. This is a huge success story for the Thai government and is linked to the use of the internet which allows travelers to make and pay for bookings across Thailand and to find information on facilities and reviews. Travel websites such as Tripadvisor.com are now playing a vital role in the huge success of Thai tourism.
Thailand exploits new links and connections with Asia for tourism gains and better spread

The tourism boom that Thailand is experiencing can be attributed to better connectivity, says TAT deputy governor Tanes Petsuwan. He explained that projects linking Thailand's traffic systems with neighboring countries, notably friendship bridges and the Asian Highway, have given travelers easier access to the country. In addition, Thailand's vast network of international airports with frequent flights between the country's important Asian markets and its popular tourism hotspots like Bangkok and Phuket adds to the appeal of Thailand for international tourists. The number of cruises and yachts operating in Thailand is also on the rise.
Chinese visitors now driving the powerful Thai tourism economic engine
ASEAN is Thailand's traditional key tourism market but China has now emerged as the most important driver of growth for Thailand's tourism industry. The number of Chinese visitors to Thailand has exploded over the past few years with double-digit growth rates. For 2018 alone, Chinese travelers account for more than one-fourth of total international arrivals. But there are some who argue that this is not all good news for Thai business. This includes some regalular western foreign visitors to Thailand particularly on internet forums. It turns out, however, that such claims may be wrong.
Income for beer bars may be down but hotel occupancy rates are rising for a broad base of hotels and resorts across Thailand
Back in January 2016 when the influx of Chinese tourists into Thailand started to gain traction, Sompoch Sukkaew, chief legal counsel of the Patong Entertainment Business Association (PEBA) in Phuket, warned of the consequences it caused for local entertainment businesses. Many bars and hotels that were members of PEBA had recorded enormous revenue decline, even during the peak season from November to April. He explained that most Chinese tourists came on complete tour packages, meaning that they spent very little on extra services and activities.  The result of that trend has been disastrous for Thai businesses. 'Most bars were averaging about B90,000 revenue per day at this time of year…now they're making just B40,000', Sukkaew said, 'PEBA members generated about B1.5 million per day during the peak season. Now it's down to about B540,000 per day'.
A change in the structure of Thai tourism as more quality tourists are the target
This may indicate a shift in the type of tourists arriving in Thailand. The surge in the 'cheap beer, sunshine and sex market' that appeared to be the perception twenty years ago when the internet began to be factor may have been halted. That market is still part of the mix but there has been a deflection to new, more contemporary markets. Thailand's tourism minister and other political chiefs are on record as saying that Thailand now longer wants sex tourism.
2018 saw a drop in Australian tourist numbers
The figures for 2018 show a drop in tourist numbers from Australia but there are steady increases being recorded from other western countries and a noticeable pick up in hotel occupancy rates in a broader variety of regions across Thailand. This may be due to the use of the internet to promote and process bookings for  smaller hotels and resorts. This is the 'quality' tourish that TAT (Thai Tourism Authority) has been targeting. The numbers for visitors from Europe and the United States are up in 2018 but European visitor increases are led by tourists from Russia, which was the source of an astonishing rise of 16.84 % arrivals in the period. This figure is very surprising given a weaker economy in Russia and a depreciating rouble.
Success of tourism to Thailand is no accident or simply good luck but winning strategies

The success of the Thai tourism industry is not just good luck, exotic sights or simply the great weather that Thailand enjoys although these are certainly part of the appeal. The marketing campaign and thinking employed by the Tourism Authority of Thailand is often not appreciated by foreigners, particularly western foreigners. Many  western commentators on internet forums still link Thailand's tourist industry to the sex for sale image of Thailand portrayed on western tabloid newspapers. The myth that Thailand's tourist industry was a product of American GIs who holidayed in Bangkok and other urban centres in 1960s while on R&R from active duty. The story has its place and significance but today in 2018, Thailand's tourist industry is an international behemoth fostered and developed with skill by Thailand's authorities.
For a start, the bulk of tourism to Thailand now originates in east Asia which accounts for 68% of visitors. The industry is on the target in years to come to become a 100 billion a success story. In 1967 the figures for tourists to Thailand where 360,000 visitors with up to 60,000 American GIs – today the numbers are over 100 times this figure. This has been achieved in a country that has grown economically into a higher income, more industrialised and expensive economy over that period.
More airline connections between Thailand and the world is key to a future $100bn industry

The campaign by Thailand's tourism bosses has seen them open up more arline links with international airports dotted around the country and is also having a huge impact. Chiang Mai International Airport alone now has over 18,000 international scheduled flights while the growth in numbers of visitors from emerging Asean countries, where middle class income corresponds with a growth in low costs airlines and internet penetration which empowers tourism. This strategy has put Thailand's tourism industry not only into overdrive but it is now becoming an economic engine producing income that is now reaching less developed areas.
Overall Thailand is not connected to the word by no less than 135 airlines both on scheduled and chartered basis many of which like into to Asean countries. The expenditure figures for tourists in Thailand in 2017 was nearly 80 billion and with a 14.44% increase in spending projected in 2018, it is not hard to see how the country's industry may become a $100 billion one very soon.
Chinese tourists spend more in Thailand than average foreigners contrary to internet myth

As to Chinese tourist, they actually spend more than the average tourist that visits Thailand. Figures for 2017 show that the average Chinese tourist spent between 30,000 and 40,000 baht per week or an average or 6,400 baht a day or $180 while the average tourist spend was $160 or 5,600 baht.
World Bank sees Thailand as a model for economic development but there are challenges

The World Bank has always praised Thailand for its canny social and economic policies which over the last 50 years despite political instability has transformed incomes and lifestyles in Thailand.  The success of the tourism industry and its continued development is a momentous achievement. However even the Thai government and its advisors are concerned about the country becoming too dependent on tourism. They are looking for the rise of Thailand's position as a knowledge based economy to coincide with a more sustainable tourism model in the future. Thailand face challenges in the future with a declining workforce caused by a demographic changes and the environmental impact that tourism is having on the country and the industry itself.
Environmental impact of Thai tourism now an issue
An example of these problems is a small online report by a German tourist on Koh Samui, the beautiful island in the South of Thailand popular with foreigners. It was a review of a boutique hotel which offers international tourists a wonderful value for money package with a great restaurant, happy hour cocktails and a quaint idyllic beachfront with free towels and umbrellas. The resort is a favourite of American,  Australian and European visitors. However, not far from the beautiful beachfront the German fan of the hotel found a pollution issue. It was pollution caused by discharges from too many pleasure craft sailing in the area.
Focus on secondary tourist locations in Thailand is a new valuable strategy with benefits
The Thai government  and tourist chiefs have shown outstanding vision and foresight in managing Thailand's brand and industry. It is already reported that tourism chiefs have identified a need to tackle the question of sustainability and the environmental impact of the numbers visiting Thailand that keep spiraling upwards. The move to spread the tourism industry to secondary provinces and the  success of this strategy shows that the plan is working. The use of the internet to power the Thai tourist industry also augurs well for the tangible moves that Thailand has already made towards a knowledge based economy in its revolutionary Thailand 4.0 strategy, which is already being implemented.
Internet and new technology already a big player in Thailand's tourism story and set to grow

However the internet also poses challenges to the tourism industry in Thailand. The World Bank this week outlined how the internet and technology is changing the face of the industry. This would bring the specter of disruption and confusion to a strategy that is working very well in Thailand. Thailand has learned in the last decade that not all western innovation and disruptive technology is purely a positive thing and brings with it dangers and unpredictability.
Thailand acts decisively to avoid disruption and confusion from western internet applications
In Thailand recently, Thai courts have given a decisive ruling in relation to the activities of Airbnb in Thailand which severely restricts such internet firms from competing with established hotels and resorts in the traditional Thai tourism industry. The activity of such internet applications could be potential catastrophic in a country where day to day living and standards is decidedly less regulated than western countries. Indeed this is part of the charm of Thailand that tourists relish. The irony is that The authorities are using existing, old fashioned regulations for the hotel industry and recently the taxi industry to enforce accountability.
Technology has been a huge plus for Thai tourism industry as we have seen and the Thai authorities want to stay that way. They have shown by the results that they are pretty capable of getting what they want.