The prime minister, Prayut Chan ocha, on Saturday, issued a statement emphasising that his mental and physical health was still robust and that he was ready to continue his duties as leader of the country. A visibly dispirited PM was pictured at the Phramongkutklao Hospital in the Ratchathewi area of Bangkok where his luggage was delivered on Saturday by his state car and where he was later visited by his wife, Naraporn Chan-ocha.
Prime Minister Prayut Chan ocha was hospitalised on Saturday with a chronic disease which over the last few days has left him with a swollen right hand and considerable pain. The condition, known as protogout or Calcium Pyrophosphate Deposition (CPPD) impacts an estimated 3% of people aged over 60 years of age and also nearly all of those over 90 years old. The PM is expected to return to work on Sunday but has been advised against extensive travel outside the capital by doctors who treated him with medication to reduce the swelling symptoms and antibiotics.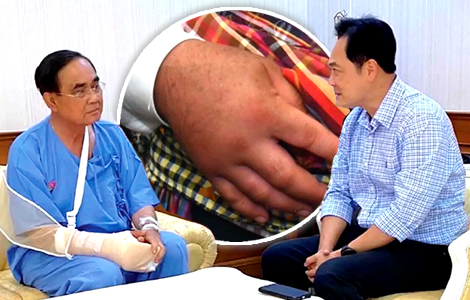 Prime Minister Prayut Chan ocha was admitted to a military hospital in Bangkok on Saturday suffering from acute and painful swelling in his right hand which began during a visit to the northeastern province of Udon Thani on Thursday and continued on Friday while he toured Ayutthaya.
General Prayut who is the presumed candidate for the newly formed Ruam Thai Sang Chart Party (RTSC) has had a busy schedule campaigning in recent weeks throughout the country with support for the party rising although the momentum in the election remains with the opposition Pheu Thai and Move Forward parties while General Prayut has emerged as the most popular politician within the current government which came to power in July 2019 while he has been in office since the coup d'état he led in May 2014.
Conditioned worsened on Saturday after he spent two days touring the provinces and electioneering for the as yet undeclared May 7th General Election
The medical condition afflicting the PM was noticed by reporters in the previous 48 hours. They began to query his aides after his hand appeared swollen and he appeared to be in pain.
It is understood that after his condition worsened on Saturday that he decided to admit himself to Phramongkutklao Hospital in the Ratchathewi area of Bangkok.
Reports suggest that the government leader's black Mercedes later delivered luggage to the hospital where General Prayut was staying overnight to allow doctors to observe his condition.
His wife, Naraporn Chan-ocha, driving an Alphard car, was also seen visiting him at his suite in the Somdet Ya Building of the hospital which is also the training hospital of the Phramongkutklao College of Medicine which trains doctors and medics for the armed forces.
Doctors treating the PM placed his hand and arm in a soft cast and General Prayut was pictured after being tended to at the hospital wearing special garb while looking somewhat tired and dispirited.
PM advised against travelling outside Bangkok for 5 to 7 days and was expected to return to work on Sunday with a lower house dissolution in the offing
His doctors advised against him travelling outside the capital to provinces as part of the ongoing, although still unofficial, General Election campaign for 5 to 7 days which will necessitate proposed trips to Ratchaburi and Songkhla provinces being cancelled and rescheduled.
It is understood that General Prayut will return to work on Sunday at Government House and will also be available for trips to parliament with speculation mounting that the Thai House of Representatives will be dissolved shortly.
Reporters were told on Saturday that the prime minister had been given medication to relieve the swelling in his hand and antibiotics.
He is understood to be suffering from a condition known as Calcium Pyrophosphate Deposition (CPPD) also known in colloquial terms as pseudogout which is, in fact, a painful form of arthritis which impacts 3% of people over 60 years of age and is present in nearly all adults over 90 years old.
Condition linked with old age can be very debilitating and painful. It is caused by a build-up of crystals in the body's joints causing inflammation
The condition is caused by the presence of crystals or calcium pyrophosphate in joints which cause tenderness, redness and swelling.
It is quite common in the wrists and knees but can also appear in other places of the body including the shoulders, ankles and other joint areas.
This can be quite painful as the condition triggers white blood cells to react towards the presence of the crystals.
It can also cause the joints concerned to seize up with attacks lasting anywhere between a few days to weeks.
The condition is a chronic one with a variety of treatments which can be performed by doctors to ease the symptoms including special surgery.
PM insists he is fit to carry on his work
On Saturday evening, the PM's spokesman and deputy Secretary-general for political affairs at the Prime Minister's Office, Anucha Burapachaisri, issued a statement emphasising that the prime minister will be returning to work on Sunday and will continue with his duties.
'The Prime Minister would like to thank everyone who cares and sends encouragement to you on all channels. He confirms that he still has good mental health and good physical health. Only his hand was still swollen. He also can work and is able to perform duties but may have to cancel some missions when travelling to other provinces in order to follow the doctor's advice,' explained Mr Anucha.
Further reading:
Whip hand with Pheu Thai to secure power in this year's General Election despite Senate's waning power
Pheu Thai knocks Palang Pracharat Party coalition talk on the head with more bad news for Prawit
Corruption and the role of the unelected Senate in electing the next PM to be General Election issues
Prayut to make his move for a third term but is the battle for power already lost to Pheu Thai?
PM and Ung Ing to do battle in 2023 for the top job with public debt and the economy as key issues
Pheu Thai, Palang Pracharat coalition now a distinct possibility after the next General Election in 2023
PM upholds status quo as he seeks a path back to power with the help of the Bhumjaithai Party
3 out 4 believe that Pheu Thai will take power in 2023 with a third Shinawatra taking the reins
Court decision on electoral law is a big boost for Pheu Thai Party as Prayut remains tight-lipped
Constitutional Court voting decision a watershed moment for Thai politics says top Pheu Thai MP and whip
Uncertain politics ahead as PM reported to be planning to dissolve the House of Representatives
Prayut hails economic progress by his government but his path to reelection next summer is still unclear
Pheu Thai looking at property developer tycoon Srettha for PM role after next General Election
Possible Pheu Thai PM Paetongtarn Shinawatra promises a new society where everyone is secure
Drugs to be an election issue as Anutin digs in insisting that attitudes must change on cannabis
Kingdom engulfed in crisis with over 93% of the public saying Prayut must relinquish power now over term limit
Senator warns that Paetongtarn Shinawatra or Ung Ing, Thaksin's daughter, is wrong for the job
Legal pot does not appear to be working for Anutin's Bhumjaithai Party in latest opinion poll
New Shinawatra may lead the next quest for power as Pheu Thai Party aims for 14 million members
Cannabis remains illegal as ministers push through a law controlling its use by the public after decriminilisation
Bad news for PM and Palang Pracharat in Bangkok on Sunday as resurgent Pheu Thai Party wins big
Democrat Party victories in the South seen as a vote for stability despite vote-buying claims by Ratchaburi MP