There are signs that a seismic change is about to begin unfolding next Monday 9th January in Thai politics when Prime Minister Prayut Chan ocha, for the first time, enters the political field and joins the newly formed Ruam Thai Sang Chart Party (RTSC) in his bid to retain power at the top for a third but necessarily shorter term. All signs now, based on authoritative opinion polling, is that he cannot succeed. On the other hand, we are likely at least four months out from the General Election and a lot can always happen in politics, most particularly in Thai politics.
Prime Minister Prayut Chan ocha is to apply to join the newly formed Ruam Thai Sang Chart Party (RTSC) on Monday next the 9th of January at an event in Bangkok which will reportedly see dozens of MPs follow his leadership as he seeks a third term in office as the nominee of the new political movement. It comes with opinion polls showing the likelihood of a Pheu Thai landslide in the next General Election with its 'think big' expansionary economic policy contrasting sharply with that of the current coalition government whose parties, including the newly formed party supporting General Prayut which leads the field on the government side, only polling just over one in five voters. Supporters of the opposition parties now number nearly two out of three voters. On Monday, a key aide to General Prayut, Prime Minister's Office Minister Thanakorn Wangboonkongchana, suggested that the House of Representatives will be dissolved at the end of March with a General Election due to take place sometime in May or June at the latest, this year.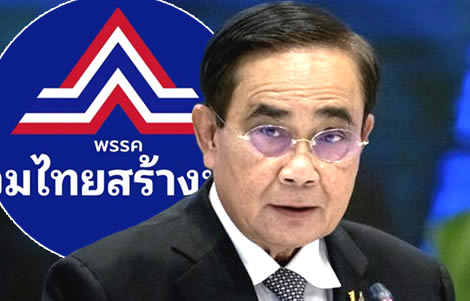 It is understood that Prime Minister Prayut Chan ocha will apply to join the newly formed Ruam Thai Sang Chart Party (RTSC) on Monday, January 9th in a choreographed meeting which is set to take place at the prestigious Queen Sirikit National Convention Center at 5 pm.
It will be the first time that General Prayut has joined a political party or directly involved himself in politics despite spending nearly four years at the helm of a broad coalition government as an elected 'outside' nominee for the position of prime minister following his election by a combined sitting of parliament in June 2019.
The event, also billed as a launch ceremony for the new party and its policies, will also see the defection of high-profile MPs who are set to follow General Prayut on his latest political adventure as he seeks to convince the Thai public to give him a third opportunity to run the country although this one will be constitutionally limited to April 6th 2025 after the ruling of the Constitutional Court in late September which examined Section 158 of the charter imposing an 8-year term limit on any serving prime minister.
Parliament already beginning to wind down by prioritising legislation to be enacted such as marriage equality laws while sidelining the marijuana bill
It comes as the process of winding down parliament has already begun with a steering committee, on Tuesday, reviewing which legislation or bills may be able to be finalised before the curtain comes down, deciding provisionally to prioritise marriage equality legislation ahead of the controversial marijuana bill although the whip from the Bhumjaithai Party which has promoted the contested bill was not present.
There are no firm figures yet but it is thought that as many as 40 MPs may be joining the launch of the new Ruam Thai Sang Chart Party (RTSC) on the national stage with Minister of Labour Suchart Chomklin of the Palang Pracharat Party thought to be one along with other MPs from the party currently headed by Deputy Prime Minister Prawit Wongsuwan.
Up to 40 MPs, many from the ruling Palang Pracharat Party may be joining General Prayut in his new political home next Monday as he signs up to run
General Prayut, on Tuesday, again spoke of the enduring bond between himself and his former commander in chief in the military, General Prawit although he specified that politics was another matter with it looking likely that both men are now vying for leadership of a coalition of parties seeking to deny a rampant Pheu Thai Party a likely landslide victory in the next General Election.
The Pheu Thai Party leader, Dr Cholnan Srikaewm in the last 24 hours, has been forced to come out to deny what he termed unjustified media speculation of a possible united front between the Palang Pracharat Party, Bhumjaithai Party and Pheu Thai after the next election.
Dr Cholnan said clearly that whoever planted or promoted such a story was not acting in his party's interests.
It comes as the Palang Pracharat Party and Bhumjaithai Party appear to be losing ground in recent polls due to their association with the current government which is deeply unpopular.
Pheu Thai rejects coalition rumours as planted stories to damage its chances of winning the next General Election in a landslide of popular support
Paetongtarn Shinawatra, at a recent launch of the Pheu Thai Party's policy platform, promised to lead what she termed a fully democratic government with a prime minister directly elected by the people and to also wipe out illegal drugs of all kinds in Thailand while offering treatment to drug addicts.
On Tuesday, Dr Cholnan drew attention to the party's surging popularity in respected opinion polls such as the latest National Institute of Development Administration (NIDA) poll which showed Pheu Thai with 42.9% support in response to its 'think big' policy platform which includes a ฿600 minimum wage by 2027 as well as a minimum annual wage of ฿200,000 for every worker in Thailand, lower electricity and power costs, free health care and a commitment to achieving 5% annual GDP growth by an expansionary government economic policy which will see a significant increase in public sector debt levels.
The Pheu Thai policy programme stands in stark contrast to current government policy which seeks to rein in public debt and pursue prudent management of the country's finances at this perilous time for the world economy.
'Think Big' 8-point policy platform has captured the kingdom's imagination from the North to the South offering change and hope after the virus crisis
By comparison, Ms Paetongtarn Shinawatra, the daughter of former Thai Rak Thai Party Prime Minister Thaksin Shinawatra, ousted in the 2006 coup, and a niece of Thailand's first female Prime Minister Yingluck Shinawatra the remnants of whose government were removed in the 2014 coup led by General Prayut, has described the current situation as a time for Thailand's leaders to 'think big' to overcome a plethora of economic ailments besetting the kingdom ranging from high household debt to a rapidly ageing population and a lack of competitiveness in attracting new investment which is flowing to other Southeast Asian and indeed ASEAN countries with a lower cost base and younger population such as Indonesia and Vietnam.
On Tuesday, Prasert Chanthararuangthong, the Pheu Thai Party Secretary-general and MP for Nakhon Ratchasima told reporters that the party had already selected 300 candidates for 300 of the 400 constituencies in the next General Election.
The party was waiting to finalise its choice of 100 more from among multiple possibilities in the other 100 constituencies with the party committing itself to compete for votes and seats across the kingdom, especially in southern provinces, traditionally a weak spot but which is now in play due to the popularity of its policy platform, confidence that it can deliver and the economic deprivation suffered in the region caused by the rife distribution of illegal drugs causing addiction and violence as well as an ongoing Muslim insurgency in three deep south provinces.
According to observers, Pheu Thai is tapping into a desire for change after 8 years with General Prayut at the helm but also coming after the shock and trauma of the pandemic crisis and the economic devastation it brought about.
Top Pheu Thai leaders confident of a landslide
Both Mr Prasert and Dr Cholnan were confident that Pheu Thai would deliver a landslide result putting it in a position to nominate and elect the next prime minister and form a government sometime in the Summer.
Opinion polls are suggesting that the second opposition and more progressive Move Forward Party will also poll well in the General Election and come in as the second largest party with nearly 16% of the vote while a coalition of the Pheu Thai Party, Move Forward Party and the Thai Sang Thai Party of Khunying Sudarat Keyuraphan polling no less than 62.8% of the electorate or nearly two-thirds compared to only 21.55% for the existing coalition government parties of Palang Pracharat Party, the Democrat Party, the Bhumjaithai Party and the upstart Ruam Thai Sang Chart Party (RTSC) which already leads that grouping on 6.96% support due to the personal appeal of Prime Minister Prayut Chan ocha to a segment of the electorate who do not forget the stability he ushered in after the political convulsions of 2013 and 2014.
The success of the prime minister's latest odyssey appears highly unlikely however but it is still some four months before the 2023 General Election and things can often move swiftly in this field of endeavour.
Prime Minister's Office minister reveals that the House of Representatives will be dissolved at the end of March with a General Election in the summer
One of the MPs who will be joining Prime Minister Prayut Chan ocha on Monday next at the Queen Sirikit Convention Centre will be Prime Minister's Office Minister Thanakorn Wangboonkongchana who, on Monday, revealed that it is likely that the prime minister will dissolve the House of Representatives at the end of March when the 4-year term of the house and its MPs is due to expire.
'Once the House is dissolved, I can move over to a new party along with General Prayut,' he told reporters as he partially opened up about General Prayut's plans which were made known fully on Tuesday.
The Prime Minister, while speaking about his now-confirmed move away from the Palang Pracharat Party, spoke about his bond with General Prawit.
The two former army chiefs together with a third, General Anupong Paochinda, who has been the Minister of the Interior since 2014 are said to have wielded considerable administrative power in the government since the coup eight years ago.
Three 'Brothers in Arms' Generals and ex-army chiefs be split up ending eight years of administrative power at the highest level since the coup of 2014
It is understood that General Anupong is to retire after this government's term ends because of old age.
This will leave two of the three 'brothers in arms' still operating in the political field but now as candidates for prime minister from two different parties which, bar some unforeseen disaster befalling the Pheu Thai Party, are unlikely, in any event, to be able to form a government after the next General Election despite media speculation and what if narratives currently in circulation in Bangkok.
'We're not enemies,' Prime Minister Prayut told reporters on Tuesday, referring to his relationship with General Prawit. 'We're still bound together by hearts. Politics is a separate issue.'
A General Election date has already been tentatively set by the Election Commission for May 7th 2023 which also has a significant duty to perform in delineating the constituency boundaries for the election in the coming weeks taking into account the latest population movements.
Further reading:
PM and Ung Ing to do battle in 2023 for the top job with public debt and the economy as key issues
Pheu Thai, Palang Pracharat coalition now a distinct possibility after the next General Election in 2023
PM upholds status quo as he seeks a path back to power with the help of the Bhumjaithai Party
3 out 4 believe that Pheu Thai will take power in 2023 with a third Shinawatra taking the reins
Court decision on electoral law is a big boost for Pheu Thai Party as Prayut remains tight-lipped
Constitutional Court voting decision a watershed moment for Thai politics says top Pheu Thai MP and whip
Election laws to be decided by court on November 30th after Prayut plays his best political hand to win power
Uncertain politics ahead as PM reported to be planning to dissolve the House of Representatives
Prayut hails economic progress by his government but his path to reelection next summer is still unclear
Pheu Thai looking at property developer tycoon Srettha for PM role after next General Election
Possible Pheu Thai PM Paetongtarn Shinawatra promises a new society where everyone is secure
Drugs to be an election issue as Anutin digs in insisting that attitudes must change on cannabis
Prime Minister Prayut Chan ocha reinstated by the Thai Constitutional Court in a majority verdict
Prime Minister suspended from duty by the Constitutional Court as it takes up term limit case for hearing
Kingdom engulfed in crisis with over 93% of the public saying Prayut must relinquish power now over term limit
Senator warns that Paetongtarn Shinawatra or Ung Ing, Thaksin's daughter, is wrong for the job
Poll supports retention of the one ballot election process which would torpedo Pheu Thai landslide hopes
Legal pot does not appear to be working for Anutin's Bhumjaithai Party in latest opinion poll
New Shinawatra may lead the next quest for power as Pheu Thai Party aims for 14 million members
Cannabis remains illegal as ministers push through a law controlling its use by the public after decriminilisation
Bad news for PM and Palang Pracharat in Bangkok on Sunday as resurgent Pheu Thai Party wins big
Democrat Party victories in the South seen as a vote for stability despite vote-buying claims by Ratchaburi MP