Key Pheu Thai leader insists that those behind the subterfuge to illegally harvest votes from locals in Region 6 in Maha Sarakham should not only be exposed but prosecuted. The party list candidate in the May 14th General Election has called on the Election Commission to respond quickly and decisively to his complaints which he claims are backed by eyewitness testimony.
Ex-Pheu Thai Party MP and current party list candidate Sutin Klangsaeng has called on the Election Commission to investigate what he claims to be evidence of a conspiracy to commit fraud in the forthcoming General Election in northeastern Maha Sarakham province. The key parliamentary leader in the last House of Representatives has offered to send lawyers to liaise with locals in the province who he says have been approached by organised groups seeking to obtain their personal identity cards and control of their votes in the May 14th General Election. The news comes with conflicting reports about the possible outcome of the electoral contest with an extensive Super Poll study released on Friday suggesting that the Pheu Thai Party will only win 160 seats in the General Election and predicting that the Move Forward Party will only return 22 MPs.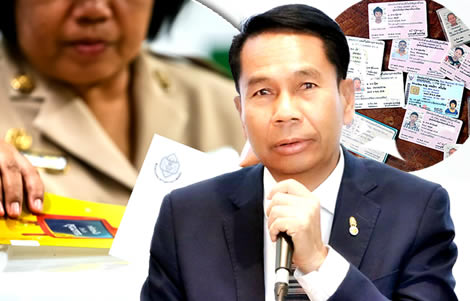 With just over four weeks to go until polling day in the General Election scheduled for May 14th, a former Pheu Thai Party MP and a key figure in the party is warning of dirty tricks regarding the impersonation of voters and attempts to buy the identities of locals for cash handouts in the northeastern province in Maha Sarakham.
Mr Sutin Klangsaeng who is currently running as a party list candidate for Pheu Thai and who played a key role in the last parliament, said this week that voters in Region 6 of Maha Sarakham province had been asked by groups of people to lend them their identity cards to check if they were registered and eligible to vote in the May 14th election.
Sutin wants the Election Commission to urgently investigate and has offered legal aides to help officials speak with local eyewitnesses who will testify
Mr Sutin has called on the Election Commission to launch an urgent investigation into the reports and promised to send lawyers to help the government body liaise with those who have alerted him to the scam so that the people behind it may be exposed.
He explained that when local people refused to hand over their identity cards, some were offered between ฿500 to ฿1,000 each to allow the gangs to exercise control over their identity for the period of the election.
In short, vote buying so that the operatives could use their identity to vote for particular candidates or parties in the election or also possibly, not vote at all.
Mr Sutin said he had already filed complaints but wants to see an active investigation of those linked to the reports so that those involved can be tracked down, interrogated and face prosecution.
He called for a swift and decisive response from the Election Commission responsible for conducting the May 14th General Election and ensuring fairness.
Reports coincide with an extensive Super Poll study which appears to dismiss any prospects of a landslide win for the Pheu Thai Party or the opposition
The news from Maha Sarakham coincides with an extensive study by the Super Poll organisation in Thailand which, on Friday, warned that the assumption that the Pheu Thai Party was on course to win a landslide may be well off the mark.
The polling organisation said it had conducted a large case study throughout the kingdom across all professions and demographics.
It found the projections of the Pheu Thai Party of upwards of 310 seats in the General Election or a minimum of 250 seats to be far too optimistic.
The first key finding by the body suggested a lower voter turnout in this year's General Election at 61.4%. This would be considerably lower than the turnouts for the 2019 General Election and the 2011 poll which were over 75% approximately.
Report predicts a low 61% turnout
The turnout was a staggering 85% in the 2007 election with voting in Thailand being mandatory according to the law
The Super Poll study projected that the Pheu Thai Party would win 33.3% of constituency-level seats but only 27% of seats available through the party list system.
It projected that the party was in line to only return 160 MPs or a maximum number of 185 with a minimum of 135 MPs.
Super Poll study has nothing but good news for the Bhumjaithai Party which is tipped be returned in a far stronger position after the General Election
The Super Poll survey had very positive news from the Bhumjaithai Party which in many local polls does not even rise above 5% with a recent National Institute of Development Administration (NIDA) poll in the sub-urban province of Samut Prakan, just outside Bangkok, showing the party's support at a level of just 1.55%.
It predicted that it was now poised to take a stunning 25.3% of constituency MP seats and 20% of party list seats returning the party with 121 seats, over twice what the party achieved in what was seen as its breakthrough success in the 2019 General Election.
This appears to be despite the public backlash against the party over its controversial marijuana legalisation policy which Bhumjaithai Party party leader, this week, insisted to Reuters was a vote winner for his party.
The survey predicted anywhere between 39 and 89 seats for the Palang Pracharat Party which in the recent Samut Prakan poll came in with only 2.9% of potential voters, a result which, if proved to be correct, would hand the party's leadership under General Prawit Wongsuwan a key role in forming the next government when he would find himself as a party-list MP.
Super Poll analysis also has good news for Palang Pracharat Party and abysmal news for the Move Forward Party predicting will only return 22 MPs
The poll, survey or study conducted by Super Poll predicted that the Democrat Party with its loyal strongholds in the South will return 52 seats while the Prime Minister's United Thai Nation (Ruam Thai Sang Chart) Party would see it return 35 MPs to the next parliament.
The survey only predicted 22 MPs for the Move Forward Party which has consistently ranked in second place in polls throughout the country with its leader Pita Limjaroenrat also regularly polled as the second favourite to become prime minister.
The analysis by Super Poll would suggest a very similar outcome to this election to what we saw in the last election, except without smaller parties, with the leaders of both the Palang Pracharat Party and Bhumjaithai Party finding themselves in the driving seat with the prospect of either Deputy Prime Minister and Minister of Public Health Anutin Charnvirakul or Deputy Prime Minister Prawit Wongsuwan assuming the top job in some sort of pact.
Further reading:
Pheu Thai's ฿10k digital economic stimulus for all under fire as Election Commission opens probe into it
Srettha eyes top job and defends ฿10k spending wallet for over 16s just unveiled as a Pheu Thai policy
Polls show advantage still with the opposition and that Pheu Thai is on course for government reins
Bad week on the campaign trail for General Prayut as a lack of public enthusiasm makes itself known
Social welfare scheme sees millions signed up for monthly handouts and easy access to small loans
Ung Ing says Prawit is better liked than PM Prayut with reports of the return of key ex-ministers
Whip hand with Pheu Thai to secure power in this year's General Election despite Senate's waning power
Prayut to make his move for a third term but is the battle for power already lost to Pheu Thai?
PM upholds status quo as he seeks a path back to power with the help of the Bhumjaithai Party
3 out 4 believe that Pheu Thai will take power in 2023 with a third Shinawatra taking the reins
Court decision on electoral law is a big boost for Pheu Thai Party as Prayut remains tight-lipped
Pheu Thai looking at property developer tycoon Srettha for PM role after next General Election
Possible Pheu Thai PM Paetongtarn Shinawatra promises a new society where everyone is secure