Pheu Thai was scrambling on Monday to shore up its vote-getting plan to advance ฿10,000 to each Thai citizen over 16 years of age, from the 1st of January 2024 in what the party has promised will not be just a once-off economic stimulus but an approach that may be used repeatedly to boost domestic consumption and inject financial life into local communities and markets by using advanced new blockchain technology in conjunction with the country's relatively advanced banking system.
The Pheu Thai Party, on Monday, defended its controversial ฿10,000 digital wallet proposal for all adults over 16 imvolving a blockchain-backed cash disbursement by any new government it leads from the 1st January 2024. This led, over the weekend, to a demand from the Election Commission under Section 57 of the Political Parties Act 2017 for further substantiation of the election policy proposal as required by law and a warning that it was preparing to take action if not satisfied that there is a properly evaluated basis for it. This is understood to have already been submitted to the body on Monday amid a barrage of criticism led by constitutional activist Srisuwan Janya and deputy leader of the Palang Pracharat Party Paiboon Nititawan who held that the proposal, in any event, is doomed to fail in parliament and even if not, would be torpedoed by the Constitutional Court.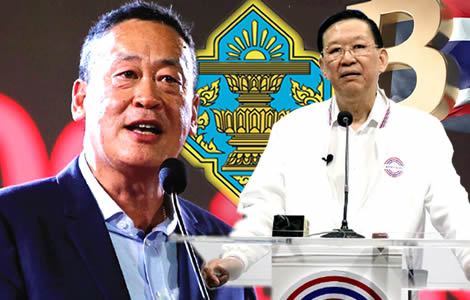 Over the weekend, the kingdom's powerful Election Commission demanded that the Pheu Thai Party supply it with further information pursuant to Section 57 of the 2017 organic law on political parties requiring that all public policies promulgated by political groups must be assessed as to the source of funding required to implement them, the risks associated with the policy and potential impacts as well as the benefits to be realised.
A source within the body suggested that information already supplied by Pheu Thai which is surging in public opinion polls was not sufficient to meet its requirements.
Bangkok Campaign Chairman says full costings and justification including expert academic opinion being submitted to the Election Commission as requested
The party, on Monday, according to Mr Danuphon Punnakanta, the Chairman of the Pheu Thai Bangkok Campaign Committee, was understood to be ready to submit the information required under the law including costings, clarification and expert academic opinion as to the merits of the economic stimulus proposal.
Since it was announced last week by Pheu Thai prime ministerial nominee, Srettha Thavisin, the ฿10,000 digital wallet plan has dominated the election agenda and drawn fire from government parties as well as constitutional activist and hawk, Mr Srisuwan Janya of the Association for the Protection of the Constitution who, on Monday morning, tabled a demand to the Election Commission to investigate the matter citing the campaign proposal as a flagrant vote buying exercise by arguing that the policy is little more than a contract to pay money to win votes.
Constitutional activist Srisuwan Janya raises tax to be paid by recipients and the danger of small traders facing tax bills and even criminal penalties
The activist also raised a host of potential problems associated with the initiative including the payment of at least 15% back in taxes so that the amount to be received was, in fact, ฿8,500 while also drawing attention to the prospect of small grocery stores or retail outlets who will become subject to tax on the income generated which could lead to tax bills and potential fines running the risk of legal problems with the Revenue Department or even the possibility of criminal proceedings.
On Monday, as well as rejecting any talk of a pact between his party and the Pheu Thai or the Move Forward Party, the deputy leader of the ruling Palang Pracharat Party, Mr Paiboon Nititawan, attacked the ฿10,000 digital wallet proposal.
He did not think that such an initiative was feasible as it would fail to be passed by parliament and would likely be struck down by a challenge to the Constitutional Court.
Palang Pracharat Party deputy leader criticises free for all plan with monies being disbursed to billionaires and wealthy people from the public purse
He also criticised the fact the money distributed by the proposal would be handed out to billionaires and wealthy people in Thailand as well as those in need in addition to the lack of clarification regarding the proposal which he said was misleading the public.
He emphasised that the Palang Pracharat Party pursued practical welfare policies including welfare cards which targeted public funds towards those who are vulnerable in Thai society or those most in need.
'When there is no supporting law, the law must be presented to the House of Assembly. The proposal distributes money in a way that is scattered around the billionaires, rich people, and employed people with hundreds of thousands in income. All get the same money. It is a guideline that should not occur in the policy of political parties. I believe it will be vehemently opposed in Parliament both in the House of Representatives and the Senate. I am certain the Senate disagrees with this approach and if the Senate does not agree, this law will be withheld. Or if it does pass, the matter will go to the Constitutional Court. Personally, I think the court will rule that it cannot proceed,' disclosed Mr Paiboon.
Pheu Thai former deputy prime minister and minister of commerce endorsed the plan as a way to boost people trapped in poverty because of current policies
The policy was, however, strongly endorsed by the Vice Chairman of the Pheu Thai Party's economic committee and former deputy prime minister and minister of commerce Mr Kittirat Na Ranong who categorised it as a proposal designed to stimulate the Thai economy.
He said such a policy was now badly needed because of the economic mismanagement of the previous government which has trapped millions of people in poverty.
He warned that any new government simply cannot afford to let any more people or business enterprises fail due to the economic stagnation which now pervades Thailand.
The policy was again praised by Thai prime ministerial nominee Srettha Thavisin while campaigning in Phrae province in northern Thailand in the course of which he also claimed that corruption undoubtedly was on the rise in the country and must be faced up to with honesty.
Last week, he also made it clear that this initiative would not be a once-off proposal but a new approach to be used to accurately and more effectively inject economic stimulus into the Thai economy which has, for years now, been underperforming its peers in Southeast Asia.
Prime Ministerial nominee Srettha Thavisin again affirmed the party's latest initiative and said EC information had already been submitted
He said it was his understanding that further clarification had already been sent to the Election Commission and that any Pheu Thai-led government would fully comply with the 2018 State Fiscal and Financial Disciplines Act, particularly concerning the debt-to-GDP ratio limit it imposes.
He emphasised also that there was no tax exemption on the widespread payments proposed and that, at the same time, Pheu Thai would not increase tax rates but would instead aim to broaden the tax base and improve efficiency in the tax collection process.
He said the measure will bring in boosted tax receipts commensurate with what is spent on the stimulus which is expected to cost up to ฿550 billion.
In Lampang province, he stressed that the digital wallet would be implemented effectively through blockchain technology meaning that spending would be targeted within local markets and communities within a radius of 4 km.
He noted that trying to address Thailand's problem with stimulus measures amounting to ฿500 at a time was simply not enough.
Depressed local economies in northern Thailand have fallen prey to the scourge of illegal narcotics as Srettha raises the marijuana controversy
He pointed to the depressed nature of local economies which has led to the proliferation of drugs among those most vulnerable and referred to some coalition partners in government who have brought about the effective legalisation of marijuana for recreational purposes which has added to people's woes while carefully differentiating this policy from the growth and cultivation of marijuana for medical purposes.
He also criticised the leader of the United Thai Nation (Ruam Thai Sang Chart) Party, Mr Pirapan Salirathavibhaga, the secretary-general to the prime minister, for referring to protesting young people as 'nation haters' in a controversial speech to that party's faithful in Bangkok last Friday.
The leader of the Pheu Thai Party, Dr Cholnan Srikaew, at the same time, emphasised that the 2024 budget under a Pheu Thai-led government would see a total amount disbursed of ฿3.5 trillion which would be funded by a broader, more efficient and stimulated tax base.
Pheu Thai economic committee spokesman clarifies the nature of the blockchain-backed digital wallet in response to rampant speculation about the plan
At the same time, on Monday, Phaophum Rodjanasakul, the Deputy Secretary-general of Pheu Thai and a spokesman for the economic committee rushed to clarify key aspects that have been raised in recent days concerning the proposed new ฿10,000 digital wallet and the technology surrounding the plan.
He was responding to rampant speculation and disinformation that has been spread concerning the policy proposal unveiled by the party last week.
He stressed that this was not a payment denominated in cryptocurrency but a wallet that would use blockchain to give users control over the money to be disposed of in Thai baht.
He said therefore there was no risk of speculation or loss of value of the monies given to those Thai adults over 16 years of age who subscribed.
He said that the wallet had nothing whatsoever to do with national currency reserves, another speculative issue raised, as it was not denominated by another currency but monies provided from the government's own budget.
Because of the efficiency of blockchain technology, any monies disbursed through the scheme would all be applied directly to the real economy.
No involvement by third-party companies or external currencies, blockchain will be used to apply funds transparency and accurately to each citizen
He also rejected reports and rumours that the initiative would involve a third-party company by assuring the public that any future Pheu Thai-led government would be applying the funds directly through the banking system in Thai currency using secure blockchain technology.
The monies injected through the blockchain system in local and community markets throughout Thailand would be distributed to all retailers and not dominated by large stores or department store chains.
Mr Phaophum said the scheme would be completely transparent with every single transaction and record available for inspection by oversight authorities if required.
He explained that this scheme would not be inflationary due to the nature of blockchain technology and also the current depressed state of Thailand's domestic market.
Finally, he pointed out that Pheu Thai strongly endorsed existing plans outlined by the Bank of Thailand to launch a Thai baht digital currency as part of an effort to upgrade the country's financial system and support the country's transformation to a digital economy.
Further reading:
Srettha eyes top job and defends ฿10k spending wallet for over 16s just unveiled as a Pheu Thai policy
Polls show advantage still with the opposition and that Pheu Thai is on course for government reins
Bad week on the campaign trail for General Prayut as a lack of public enthusiasm makes itself known
Social welfare scheme sees millions signed up for monthly handouts and easy access to small loans
Ung Ing says Prawit is better liked than PM Prayut with reports of the return of key ex-ministers
Whip hand with Pheu Thai to secure power in this year's General Election despite Senate's waning power
Prayut to make his move for a third term but is the battle for power already lost to Pheu Thai?
PM upholds status quo as he seeks a path back to power with the help of the Bhumjaithai Party
3 out 4 believe that Pheu Thai will take power in 2023 with a third Shinawatra taking the reins
Court decision on electoral law is a big boost for Pheu Thai Party as Prayut remains tight-lipped
Pheu Thai looking at property developer tycoon Srettha for PM role after next General Election
Possible Pheu Thai PM Paetongtarn Shinawatra promises a new society where everyone is secure
Drugs to be an election issue as Anutin digs in insisting that attitudes must change on cannabis
Senator warns that Paetongtarn Shinawatra or Ung Ing, Thaksin's daughter, is wrong for the job
Legal pot does not appear to be working for Anutin's Bhumjaithai Party in latest opinion poll
New Shinawatra may lead the next quest for power as Pheu Thai Party aims for 14 million members