The programme approved by the cabinet in 2022 may prove to be a vote winner for the prime minister and his United Thai Nation (Ruam Thai Sang Chart) party. It comes as the Election Commission has warned political parties to be aware of the stringent electoral law which prohibits the unveiling of overtly populist policies aimed at directly swaying voters.
Prime Minister Prayut Chan ocha over the weekend urged officials to speed up a new social welfare programme which may well translate into extra votes for his United Thai Nation (Ruam Thai Sang Chart) Party in the May General Election. The scheme, which begins on 1st April 2023, is aimed at those in Thailand with an annual income of less than ฿100,000 with over 14.5 million eligible to apply for a welfare card which hands out between ฿200 to ฿300 per month, can be used as collateral for small loans and facilitates those who have paid into a Section 33 social security pension scheme to borrow up to a third of their funds. Amid intensive efforts from government agencies, on Saturday, it was reported that over 6.4 million people had successfully registered for the scheme.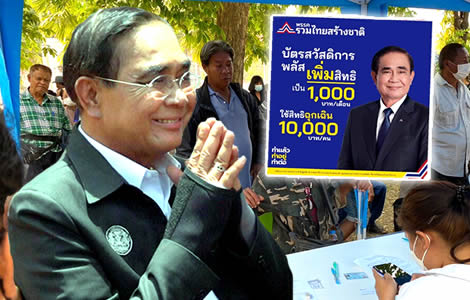 A source within Thailand's powerful Election Commission on Saturday made it clear that it was taking steps to enforce sections of the law governing the election of MPs which prohibit political parties from engaging in vote buying through the promotion of overtly populist policies which do not conform to their official election platform or have not been costed with a submission made to the commission as required under the law.
Officials at the commission are drawing attention to Sections 57 and 74 of the law, the latter which provides for up to 10 years in prison, a fine of up to ฿200,000 and suspension of voting rights while the former allows for a fine of ฿500,000 and a ฿10,000 a day fine for failure to comply with the commission's instruction where such policies are found to be in breach of the law.
Political parties must show new policies are in the public interest as well as being costed and funded
Part of the requirement underlying this provision is that political parties show that there are valid public policy grounds for such proposals.
It is being reported that the commission, a powerful body under Thailand's 2017 Constitution, is to send out undercover agents to monitor the election campaigns of all political parties as the General Election is within weeks of being officially kicked off with a polling date set for May 7th next.
On Sunday, government spokesman Anucha Burapachaisri told reporters that Prime Minister Prayut Chan ocha was emphasising the urgency of pursuing and implementing a cabinet-approved state welfare programme announced in 2022.
Nearly 6.5 million had already successfully registered by Saturday with 8 million more still eligible
At the same time, it was reported that 6,472,975 people with incomes under ฿100,000 per annum had applied for the new social security cards which pay out ฿300 a month in supplementary income with an annual income of under ฿30,000 while those with an income of between ฿30,000 to ฿100,000, an even larger segment of the population, can receive a payment of ฿200 a month.
The scheme also allows workers who contributed to a pension under Section 33 of the Social Security Act to obtain a loan to the value of up to 30% of their pension pot while continuing to work as Thailand faces an extremely challenging ageing crisis.
In addition, anyone with a social welfare card can use it after April 1st as collateral for a loan of up to ฿10,000 from the state banks working with the scheme.
Benefits of the new social welfare scheme outlined by United Thai Nation (UTN) leader and Secretary-general to the PM, Mr Pirapan Salirathavibhaga
The benefits of the social welfare programme were outlined over the weekend by United Thai Nation (Ruam Thai Sang Chart) leader Pirapan Salirathavibhaga who is also the Secretary-general to the prime minister.
He also confirmed the loan facility with the cards.
'The card has credibility because the government finances it. The GSB already offers a loan programme to lend up to ฿10,000 to small borrowers,' Mr Pirpan explained.
The scheme also allows, in some situations, for debtors who fall into arrears or default to repay loans with work experience.
'Debtors of the Student Loan Fund are a case in point. Some may have no intention to default, but they really don't have money to repay the debt. Suing them in court will be futile,' the party leader told reporters on Sunday. 'We should make use of their knowledge for social development. They don't have to repay the debt with money but with their work.' 
Prime Minister Prayut over the weekend called on officials to speed up registration efforts for the scheme which comes into effect on 1st April 2023
On Saturday, it was revealed that 14,596,820 people are eligible to benefit from the social welfare card with the Prime Minister's Office urging officials to speed up the registration process to bring the policy into action.
Banks supporting the initiative include the state-owned Krung Thai Bank, Government Savings Bank and the Bank for Agriculture and Agricultural Cooperatives (BAAC).
The scheme is due to come into effect on the 1st of April 2023 and is drawing strong interest from the less well-off in the kingdom.
'The Prime Minister is overseeing the facilitation of qualified state welfare card applicants with concern and has commanded all relevant departments to speed up care and facilitate the public. He is confident that we will be able to facilitate people who pass qualifications to verify their identity in time, or within March 2023. After this, they can start spending according to the framework of the project that has been laid down from April 1, 2023, onwards. The PM also thanks the people for their confidence in the work of the government. It is believed that this project will contribute to helping, taking care of, and alleviating the livelihoods of all vulnerable people who are qualified during this period,' declared Mr Anucha.
Scheme has already gone political
The scheme, while not being a new policy being promoted by a political party and also in line with consistent advice from the World Bank and International Monetary Fund (IMF), is sure to be popular as demonstrated by the millions signing up and just may encourage many of the voters who sign up for it to vote to retain General Prayut as prime minister by casting their vote for the United Thai Nation (Ruam Thai Sang Chart) Party.
The scheme is already coming under fire from opposition parties while the United Thai Nation (Ruam Thai Sang Chart) has hit back with fighting talk, saying the policy is funded by government emergency funds, is in line with sound public policy principles while criticising the opposition, for their part, of 'selling dreams' to the electorate.
Further reading:
Former ministers rejoin the Palang Pracharat Party but there is no new economics czar Somkid
Ung Ing says Prawit is better liked than PM Prayut with reports of the return of key ex-ministers
Whip hand with Pheu Thai to secure power in this year's General Election despite Senate's waning power
Pheu Thai knocks Palang Pracharat Party coalition talk on the head with more bad news for Prawit
Corruption and the role of the unelected Senate in electing the next PM to be General Election issues
Prayut to make his move for a third term but is the battle for power already lost to Pheu Thai?
PM and Ung Ing to do battle in 2023 for the top job with public debt and the economy as key issues
Pheu Thai, Palang Pracharat coalition now a distinct possibility after the next General Election in 2023
PM upholds status quo as he seeks a path back to power with the help of the Bhumjaithai Party
3 out 4 believe that Pheu Thai will take power in 2023 with a third Shinawatra taking the reins
Court decision on electoral law is a big boost for Pheu Thai Party as Prayut remains tight-lipped
Constitutional Court voting decision a watershed moment for Thai politics says top Pheu Thai MP and whip
Uncertain politics ahead as PM reported to be planning to dissolve the House of Representatives
Prayut hails economic progress by his government but his path to reelection next summer is still unclear
Pheu Thai looking at property developer tycoon Srettha for PM role after next General Election
Possible Pheu Thai PM Paetongtarn Shinawatra promises a new society where everyone is secure
Drugs to be an election issue as Anutin digs in insisting that attitudes must change on cannabis
Kingdom engulfed in crisis with over 93% of the public saying Prayut must relinquish power now over term limit
Senator warns that Paetongtarn Shinawatra or Ung Ing, Thaksin's daughter, is wrong for the job
Legal pot does not appear to be working for Anutin's Bhumjaithai Party in latest opinion poll
New Shinawatra may lead the next quest for power as Pheu Thai Party aims for 14 million members
Cannabis remains illegal as ministers push through a law controlling its use by the public after decriminilisation
Bad news for PM and Palang Pracharat in Bangkok on Sunday as resurgent Pheu Thai Party wins big
Democrat Party victories in the South seen as a vote for stability despite vote-buying claims by Ratchaburi MP