77% of those who die on Thailand's roads are still men with 79% of the fatalities occurring in motorbike accidents. Action being undertaken in Phuket comes as vehicle deaths have surged this year on the island. Nearly 25% of the dead have been foreigners.
Authorities in Phuket this week ordered a clampdown on lax regulations to do with the hire of motorcycles on the holiday island amid a 64% increase in deaths mainly from motorbike accidents. The meeting on Monday night came hours before a Russian tourist lost control of his bike near Kathu Beach in the west of the province becoming the 15th foreigner to die on Phuket's deadly roads this year.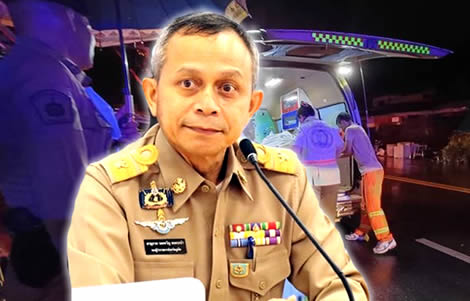 Early on Tuesday morning, rescue services in Phuket announced another fatal motorbike accident in the Karon subdistrict near Kathu on the west coast of the island.
A Russian motorcyclist was reported to have lost control of his vehicle in what were reported to have been wet slippery road conditions after a rain shower combined with the hot weather in Thailand this year.
Russian tourist died after losing control of his motorbike near Kathu in wet and slippery conditions
The report said the driver, 'a tourist from Russia, lost control and went off the road crashing into an obstacle in the Kata area. The driver died at the scene of the accident. We ask road users to be careful when driving in the rain.'
The death comes amid a 64% rise in deaths from vehicle accidents in Phuket so far this year at 59 with an 8% increase in Thailand on a nationwide basis up to the end of April with a total of 5,679 deaths.
Among those deaths in Phuket, 25% were foreigners to the country.
15 foreign nationals have died on Phuket's roads since the beginning of 2023 with 10 of these being Russian nationals alone, 3 originating from Myanmar and one each from the United States and France.
In Thailand this year, 77% of those who died on the roads are male while 79% of the deaths involved motorbikes.
The dead motorcyclist was not named by Karon Police only to confirm that it was a Russian tourist.
Meeting on Monday ordered a database of rental outlets to be compiled and regulations to be enforced
The accident occurred just hours after a meeting in Phuket on Monday evening attended by senior officials and police which agreed on a new order to examine and regulate motorbike hires to foreign tourists on the island
The meeting, which was chaired by Phuket Vice Governor Anupap Rodkwan Yodrabam, heard a submission from Adcha Buachan of the Phuket Land Transport Office (PLTO) and senior police officers.
A task force was established to set up a database of all motorbike rental shops in Phuket as well as a list of measures to be enforced.
A key requirement is that all motorcyclists be required to wear helmets while, in the past, Phuket police have also had difficulties with ensuring compliance with foreign id and driving licence requirements from foreigners.
Rental outlets to be briefed, routine spot checks
The task force will brief all the motorbike rental operators identified with the new list of enforcement measures to be observed and follow this up with routine spot checks for compliance.
A report submitted to the meeting called for 'the public to participate in obeying traffic rules and wear 100% helmets' while the meeting heard from the Phuket office of the government Public Relations Bureau that nearly seven thousand deaths could be prevented in Thailand each year if this approach was adapted and complied with by the public.
'If this can be done, controlling and organising motorcycles for rent in the Phuket area more efficiently will produce tangible results,' a report to the meeting concluded as the action plan was adopted by officials.
Further reading:
Fears for Russian tourist, a top business executive, gone missing from Naithon Beach in Phuket
German TV star asked police not to publicise her ordeal as she took flight hours after her beach attack ordeal
Police chief orders mental health evaluation of the main suspect in the brutal slaying of a UK tourist
Murder of Swiss tourist on Phuket raises the disturbing question of tourist safety in Thailand
Accused tells press he murdered the Swiss tourist last week in Phuket and stole ฿300 for drugs
Man arrested by police in Phuket. Officials recruit locals to make the island safe for foreign tourists
Thai man sentenced to death for the Ko Si Chang murder of German woman Miriam Beelte in April
Evil struck a Thai island on Sunday when a local brutally raped and murdered a German woman
Shocking rape and murder of German woman does not mean Thailand is unsafe for western women holidaying
93% of Thai people want to see the death penalty put to use to curb shocking murders and drug gangs
New 'Green' future for tourism in Phuket as officials crack down on prostitution on the island
Prayut says Thailand will revert to normal for tourism from mid-October as Phuket set to reopen
Closure of Phuket bars and alcohol restrictions turn off prospective foreign tourist says survey
Blow for travellers: strict rules, no bars and entertainment venues allowed to open in Phuket