Extraordinarily patient police were attacked by the traveller with his skateboard and responded by drawing batons but the irate Chinese man was not arrested. The tourist, wearing dark shorts and a baseball cap, became apoplectic when the Captain of his original flight to China refused his boarding following an earlier altercation with boarding gate staff. He was later accommodated on another flight last Thursday and returned home.
A Chinese tourist launched a prolonged late-night tirade this week at the international departures hall of Don Mueang Airport. He even physically threatened tourist police at the scene but reinforcements called to deal with the disturbance declined to intervene and the man was instead encouraged to calm down. The incident was reportedly linked to a refusal by an airline captain to take the passenger aboard his flight back to China as he had already confronted officials at the boarding gate over a last-minute change to boarding arrangements which he was unaware of.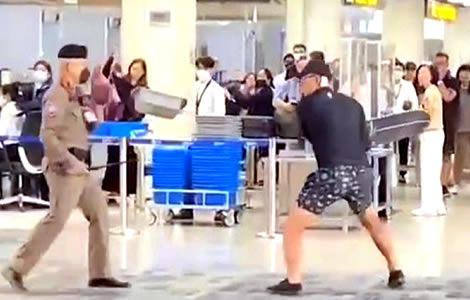 There was pandemonium at the International Departures Hall at Don Mueang Airport late on Wednesday night going into Thursday morning when a 45-year-old Chinese man lost his temper and flew into a prolonged rage with officials including police at the scene.
The airline passenger who was trying to fly back to China apparently discovered that the airport had changed the boarding gate for his flight at the last moment. 
Chinese airline passenger lost his temper as he tried to make his flight home leading to a scene at the International Departures Hall at the airport
The Chinese man reportedly became incensed and lost his temper in the process of boarding his flight, causing the captain of the plane to refuse to allow him to board and the flight took off without him. 
This resulted in the passenger lashing out at police with the skateboard he was carrying after he sought an explanation from the airline.
The commotion in the airport departures hall drew the attention of several TikTok users who videoed the incident, which saw the man attack tourist police with a skateboard he was carrying.
This resulted in some tourist police officers drawing batons to keep him at bay.
The Chinese man was reported to have become apoplectic by the sequence of events and continued to yell and shout while lashing out at police.
Officers called from Don Mueang Police Station to assist tourist police after he became aggressive, declined to arrest the passenger who calmed down 
In response to the situation, officers called in support from Don Mueang Police Station but when further police arrived, they declined to intervene leaving it to the tourist police to eventually calm down the irate traveller who, amazingly, was not arrested.
It is reported that another flight was subsequently booked for him on the same airline later on Thursday, allowing him to return safely home.
The incident comes as the number of arrivals from China this year has failed to match the high expectations expressed earlier in 2023 when China reopened its borders and allowed its nationals to holiday in Thailand as a preferred destination.
This comes with news this weekend that China is widening the options for outbound travellers which will further reduce the potential flow of Chinese tourists to the kingdom.
Chinese arrivals are below the expectations set at the beginning of the year when the country reopened to the rest of the world, 5 million expected
The number of Chinese arrivals to Thailand between January and May 18th amounted to 1 million.
In June, the kingdom received 311,888 Chinese visitors but these have been outnumbered by visitors from Malaysia with the June figure for cross-border travellers from Thailand's southern neighbour amounting to 408,356.
It is thought that Thailand could receive up to 5 million Chinese visitors this year or less than half the number seen in 2019 but still making it the country's leading tourist market.
Earlier in the year, it is believed that confidence among Chinese travellers to Thailand was severely damaged by reports of kidnappings and controversies associated with the treatment of Chinese tourists including a media exposé on the provision of elaborate VIP services provided by off-duty officers of the Royal Thai Police.
Bad publicity in China on Thailand
It is understood that these episodes played into a negative image of Thailand among the Chinese public with a very damaging social media campaign going live on the key Chinese social media networks actively dissuading the public from visiting the country, a disconcerting development for Thai tourism officials and the kingdom's embassy in Beijing.
This sort of coverage has made Thai officials coy and apprehensive about any further controversy linked to Chinese travellers on Thai soil.
The negative coverage of Thailand seen in Chinese media both online and on mainstream channels is, however, nothing new.
Since Chinese tourists began arriving in Thailand in large numbers, decades ago, there have been ongoing reports of police shakedowns and corruption associated with the trade as well as a strong ability by the Chinese to spread their stories through word-of-mouth. 
China remains a key market for the foreign tourism industry but Police Chief this year ordered tighter visa screenings due to the criminal threat posed
Chinese media has also reported that there is a negative attitude towards Chinese visitors in Thailand due to a clash of cultures with Thai people often characterising their northern cousins as lacking in politeness and manners.
Nevertheless, Thailand remains one of China's most popular tourist vacation spots because of its relatively low cost, its cultural charm and all-year-round good weather. 
The kingdom is also very accessible to Chinese visitors with a growing list of flight connections, particularly from Guangdong province in Southern China although this year's return of Chinese tourists has been hampered by a lack of flight connectivity which is not yet anywhere near the levels seen in 2019, the year Thailand received over 11 million Chinese visitors from the mainland.
There are currently calls in the kingdom for easier visa entry rules for the Chinese market but this flies in the face of a tightening up of the visa regime ordered earlier this year by National Police Chief General Damrongsak Kittiprapas over the threat posed to Thailand by criminal elements from China entering disguised as tourists which have been linked to atrocities committed against Chinese tourists in the kingdom.
Further reading:
Smartphone betrays gang who robbed Chinese tourists in early May as police nab them in Sa Kaeo
Crackdown on crime wave against Chinese tourists in Bangkok as concerns also raised on cannabis
Incoming tourism growth slows amid visas, airfares and attacks on Chinese nationals which have caused jitters
Chinese kidnapping victim held by Immigration police and facing extradition over fraud case
Chinese trio held and facing a heightened prospect of execution for a horrific murder in Thailand
Chinese student here only 20 days kidnapped, tortured and murdered by evil gang from China
Fear-mongering, fake news and disinformation being stoked in China against visiting Thailand
Chinese tourists arrested on kidnapping and extortion charges insist they are innocent
Police defend Pattaya search warrant raid which saw two officers shot with Chinese man arrested and charged
Chinese man linked to organised crime arrested at luxury Pattaya mansion after shooting policemen
Illegal lending app run by Chinese staff charging up to 20% interest per week taken out by immigration police
Four Chinese men arrested after hideous murder of a Chinese tourist and his wife last Monday night
Iconic 70s Bangkok comes to life again as the dark story of The Serpent wows world Netflix audiences
Chinese woman seeks death penalty for husband who tried to murder her in Thailand by pushing her off a cliff
Chinese man who killed his wife in Thailand may face further charges including premeditated murder
Chinese credit card scammer arrested in Lumpini by Thai police after complaints from banks
Chinese pickpockets staying in hostels as backpacker visitors targeting tourists in Bangkok