Problem facing Thai authorities relates to the new online world where discreet services can be advertised cheaply and effectively while the activities of Chinese tourists in Thailand appear to go beyond simply seeking rest and relaxation. Many Chinese tourists arriving in the kingdom want to open bank accounts or seek medical services such as IVF as well as vicarious thrills that are provided by VIP experiences catered to by enterprising Thais seeking to provide a service at a profit.
Despite growing public anger this week prompting statements from Prime Minister Prayut Chan ocha and Deputy Prime Minister Anutin Charnvirakul, it appears that three police officers involved in providing a VIP service to an incoming Chinese tourist party including fast-track immigration clearance and a police escort service to Pattaya, will not face serious legal consequences although they will face disciplinary proceedings. The scandal has led to a tourism industry chief calling on the government to deal with online advertising in China revealing not only that such services are available at all Thai international airports but that they extend to a range of offerings provided by both public and private sector actors extending to opening bank accounts, IVF services and other personal services to Chinese visitors. The tourist boss warned that the situation has resulted in a 'tremendous downgrade' of security confidence in Thailand as a destination. The President of the Association of Thai Travel Agents, Mr Sisadiwat Cheewaratanaporn, said such services continued to be advertised on popular Chinese retail sites this week.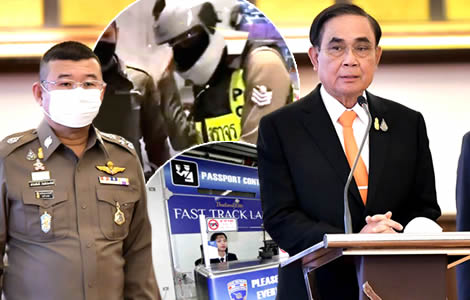 Responding to growing public anger over the affair on Wednesday relating to confirmed reports that police officers were providing special services at Suvarnabhumi Airport to incoming Chinese tourists, Thai Prime Minister Prayut Chan ocha, after chairing a police commission meeting and in the presence of National Police Commissioner General Damrongsak Kittiprapat said the practice was clearly wrong and called for those involved to be punished.
It comes as new reports, both in China and Thailand, have emerged to suggest a vast world of under-the-counter services are being marketed via social media channels to potential visitors or tourists from China.
Range of services on offer to Chinese tourists goes well beyond escort services on arrival and many are absolutely legal while others are 'grey' areas
The range of services being offered by a range of actors including private individuals, airport staff and off-duty police officers, extends well beyond providing motorcycle and patrol car escorts to Chinese tourist arrivals.
The difficulty for authorities is that some of the activities are legal, some are not and more are 'grey' areas with many visitors to Thailand, aside from a period of rest and relaxation, looking for something more.
Initial investigations of the video clip over the weekend suggested that the activities portrayed only breached minor laws in Thailand with much of what took place established as legal, according to a senior officer leading the probe
Even the clearing of the female Chinese tourists through the special immigration bureau fast track lanes at the airport, a procedure normally reserved for high-profile visitors and guests of the state, did not break any law.
Chinese online media used by operators in Thailand to generate income even before tourists arrive in the kingdom. PM insists VIP services are illegal
The services, made available to Chinese tourists are still being advertised extensively on Chinese online media and have been highlighted in the last 24 hours in response to claims to the contrary by some Thai officials.
General Prayut, as well as being the Prime Minister and Minister of Defence is also the Chairman of the National Police Commission which effectively governs the Royal Thai Police and has the power to make appointments including the National Police Commissioner.
His pronouncements on Wednesday came after chairing the body in Bangkok.
The Prime Minister was repeatedly asked about the online advertisements in China promoting the VIP services that were being offered, up to this week, some of which are being provided in Thailand by serving police officers. 
Instead, the PM repeatedly insisted to reporters that such activities were illegal.
Royal decree issued to control online scams and fraud referred to by PM as police investigation shows many facets of the service provided were legal
He referred reporters to a new royal decree, just issued this week, giving authorities in the kingdom more powers to clamp down on online scams and fraud in response to repeated questioning.
This new decree gives authorities in Thailand the power to close bank accounts, money transfer facilities or online accounts proactively to prevent abuses of the public online.
He insisted that the activities of the police officers involved in the case of the Chinese female visitor were illegal even with press reports and senior police officers explaining that serving officers had used their own vehicles on their own time and availed of facilities such as the Immigration Bureau fast lane at Suvarnabhumi Airport to execute the VIP arrivals procedure which saw a delighted Chinese woman, a foreign tourist to Thailand, rave online about being whisked through the airport in five minutes by a police captain, her bags collected, loaded in a car and then given what appeared to be an official motorcycle police escort to her hotel in Pattaya approximately 1 hour from the capital Bangkok.
The video which went viral in China while shocking and angering audiences in Thailand over the weekend was quickly responded to by the police in the kingdom.
Police investigations appear to be transparent even as the extent of the problem facing Thai authorities is revealed with many services being 'grey' areas
A transparent and no holds barred police investigation into the matter was ordered by National Police Commissioner General Damrongsak Kittiprapat and co-ordinated by Royal Thai Police spokesman Police Major General Achayon Kraithong who has met the concerns expressed by the video clip head-on with what appears to be an honest attempt to provide the public with answers.
Despite this, the scale of the problem has grown with further revelations.
It appears that the motorcade exploit was provided as part of what are ongoing services and a growing industry providing an extended range of service options to Chinese visitors by advertising them on Chinese social media.
On Monday, it was disclosed that as well as police support services, there were at least 7 different services being offered online to prospective Chinese arrivals in Thailand for a price.
Many of the services are provided by private contractors but there is also evidence online that as well as involving the Royal Thai Police, other government agencies are also involved.
Range of personal services from IVF treatment to yacht hire as well as opening bank accounts, security and police escorts for those with money
The initial case involved with the clip which has now been fully confirmed as authentic and involved at least three police officers with a Chinese woman who paid for a service which included her luggage collection at the airport, a 5-minute entry process through the Immigration Fast Lane as well as a chauffeured car and motorcycle escort to Pattaya complete with traffic avoiding exploits, all for ฿7,000.
The latest unconfirmed reports suggest a vast range of services are available in Thailand which is being marketed to potential Chinese visitors.
These include an IVF service as well as VIP pickups at different price points, similar VIP services for Thai Elite visa holders, a Thai bank account opening service, a Thai driver's licence service, a car rental service as well as a service providing yacht rentals with bodyguards and a police escort service. 
It should be noted that all these services are probably the result of disparate operations and actors using Chinese social media channels to generate income on the back of the foreign tourism industry.
This latest information comes from perusing advertisements published online in China although they cannot be substantiated by video clips or evidence that such services that are on offer have ever been provided.
Chinese online readers being told this week that because of the story in Thailand and a crackdown by authorities, fare prices charged were being raised
These announcements in China are now being accompanied by an acknowledgement of the media story in the kingdom as well as the police investigation and crackdown.
Chinese readers are being advised that because of this activity, prices for the services will now be higher.
It should be noted that these reports have not been verified or substantiated and even Chinese readers have expressed concern while urging that the claims should be investigated by authorities in Thailand as the information reflects very poorly on the kingdom.
Palpable anger among the public expressed on Thai TV this week as the story hit a raw nerve coming with other corruption scandals linked also with China
On Thai TV on Wednesday, one anchor called on Prime Minister Prayut Chan ocha to come out and clarify his position on the matter as the Chairman of the Police Commission.
Hosts Phuwanat Kunpalin and Khaek Lakkhana Panwichai, on the Khaosod Daily, made it clear that Thai public confidence has been greatly shaken by these revelations which are also coming at the same time as the country's biggest corruption scandal linked to the Chinese mafia and grey Chinese capital flowing into the country along with thousands of followers who have ended up staying in the kingdom through abuses of the immigration system and by using the power of their illicit capital to buy property and set up business concerns often linked with illegal activity.
The TV show hosts questioned how the police at the airport were allowed to carry out such an operation even with the immigration fast lane being entirely legal, without being questioned.
Such facilities are normally reserved for those who hold diplomatic passports, pregnant women or those with a disability, first class or business class passengers on flights as well as visiting politicians or guests of the state.
The show's hosts were shocked to hear that such a service could be purchased from China and provided at Suvarnabhumi Airport for just ฿7,000.
Thai Tourism boss reveals that an online website called Taobao with millions of followers is central to demand for VIP services from Chinese tourists
On the same day, the President of the Association of Thai Travel Agents, Mr Sisadiwat Cheewaratanaporn condemned the activities of the policemen involved in the arrival service for the Chinese tourists.
Mr Sisadiwat said his information was that the services provided were widespread and were also available at other Thai airports and provided in China by a company called Taobao, an online shopping platform in China located in Hangzhou and owned by Alibaba.
He said that it was easy to look up the services advertised on the website which he said had 1.4 million followers and contained glowing testimonials of the services provided in the kingdom.
The tourist chief said that the revelations have caused 'a tremendous downgrade in public security confidence,' as people entrusted with the duty of upholding the law and providing public service are found to be more interested in running a private business.
Deputy Prime Minister Anutin Charnvirakul calls for swift legal action against police officers involved in providing the motorcycle escort to Pattaya
The scandal was also addressed on Tuesday by Deputy Prime Minister Anutin Charnvirakul. He said he wanted to see legal proceedings against the officers involved.
'We don't agree with what they did. It was clearly wrong. In the past, this was provided for groups or invited foreign guests, according to the government's instructions, without such illegal activities,' the deputy prime minister declared. 'This service has never been advertised before. Both the nation's and the Thai police's reputations have been tarnished.'
The deputy prime minister urged that action against the officers be swift and decisive to allay the public's outrage concerning the matter.
He pointed out that it is illegal for state officials to use public resources for personal gain. He also said that the activities portrayed in the video last weekend risked damaging the reputation of both the Royal Thai Police and the country's foreign tourism industry.
State agencies, ministries and police, all involved seek to identify who is culpable as an airport official uses an ID card online to tout for business in China
Meanwhile, the Association of Thai Travel Agents chief, Mr Sisadiwat, has urged senior officers within the Royal Thai Police to stamp out such activities while he also urged related state agencies to explore ways of having the advertisements being promoted on Chinese media taken down.
A preliminary investigative report presented to Minister of Tourism and Sports Phiphat Ratchakitprakarn has also confirmed that members of the Tourist Police were involved in the operation to provide the service to Chinese tourists.
The ministry has announced that a fact-finding committee of investigation has been established.
Airports of Thailand (AOT), the management agency for Thailand's international airports has denied any involvement in the matter despite an advertisement on one of the Chinese online sites placed an individual with an airport (AOT) ID card offering express clearance services through the VIP fast lane at rates from 100 to 698 yuan or between $15 and $105, the equivalent of ฿500 to ฿3,500.
AOT denies responsibility for the man or fault
In response to this, the Airports of Thailand (AOT) has confirmed that the identification card was authentic but denied any responsibility for the individual as the employee concerned worked with a private company at the airport involved in the tourism trade.
The Airports of Thailand (AOT) suggested that the activity was being undertaken by the employee of the private sector firm on his own account and therefore, it could not be accountable for his actions.
In response to the scandal, the management at Suvarnabhumi Airport in Bangkok, the country's largest airport which accounts for over 75% of incoming passengers, has confirmed that it has now tightened its regulations and is requiring all staff and government employees to wear their official uniform, at all times while on duty at the airport.
The purpose of this is that personnel can be readily identified while undertaking tasks or duties.
Police officers have their airport passes revoked by Suvarnabhumi Airport after being linked to the video clip. Now denied access to secure areas
Kittipong Kittikachorn, the airport's general manager responded to the media coverage of the incident this week.
He said that several police officers had managed to gain expedited clearance for an incoming Chinese tourist at the airport and that she had been provided with a police escort to her hotel in Pattaya.
He also said the motorcade was conducted in such a manner that traffic was bypassed on the route.
He identified the officers involved as two traffic patrol officers and a member of the tourist police with a possibility of an involvement of a second officer with the tourist service.
He said that the airport passes for the four officers in question had been revoked which means they are now prohibited from accessing restricted areas of the airport.
'I'm glad this incident has been brought to light. And if those law enforcement agencies take this issue seriously, I firmly believe that it will be resolved and brought to a conclusion,' Mr Kittipong said.
Metropolitan Police Bureau chief says implicated officers face disciplinary proceedings and their senior officers will also be grilled over the affair
Police Major General Apichat Suriboonya of the Tourist Police Bureau later confirmed that the fourth official is a police sergeant major who had requested another officer in the service to handle the VIP operation on his behalf.
Police Major General Apichat said a decision will have to be made as to whether the Chinese tourists who posted the video that exposed the affair should be questioned.
He also noted that such a course of action may damage Thai Chinese relations and the wider tourist industry.
Police Lieutenant General Thiti Saengsawang of the Metropolitan Police Bureau, however, has confirmed that all officers involved in the video are facing disciplinary procedures and will be prosecuted despite revelations that they had used their own motorbikes and car, designed to look like official vesicles in the operation relating to the Chinese tourist where they used flashing lights and sirens.
In addition, the superior officers of those involved will also be investigated and may be held accountable for what must be considered misconduct on behalf of their subordinates.
They will then be required to make sure that such abuses by subordinates do not reoccur. He said it would then be up to more senior officials on the force to decide if actions would be taken against these officers.
One police officer used to be part of the escort detail of Minister of Foreign Affairs Don Pramudwinai up to March 2022. Charged with the use of a siren
Mr Mana Nimitmongkol, an anti-corruption campaigner said this week that the episode clearly shows that the kingdom has a chronic problem with corruption.
A police investigation into the scandal has revealed that one of the officers involved had, up to March 2022, been responsible for providing a vehicle escort to the Thai Minister of Foreign Affairs and Deputy Prime Minister Don Pramudwinai.
This was revealed by Police Major General Achayon Kraithong who is leading efforts to get to the bottom of the affair.
The Royal Thai Police spokesman said that investigators have discovered that the police officer and his associates had altered their own motorcycles and cars to look like official government vehicles.
He said that, on this basis, those involved had not broken any significant laws.
Later, it emerged that minor charges linked with using official emblems are reported to be under consideration. The three officers involved have been charged, however, with using an illegal siren on a car.
Further reading:
Viral Chinese video says VIP arrival with a police escort can be bought when holidaying in Thailand
Charges brought against Chinese mafia kingpin as Chuwit warns witnesses are put under pressure
Top Immigration Bureau officers investigated by high-level panel over Chinese corruption claims
Chinese businessman in the heart of Bangkok with a fake Chinese Embassy car and police escort arrested
Police unearth huge new threat from Chinese drug cartels with ฿300 million seized in Bangkok
Chinese links to nightlife underworld and police collusion being investigated in drugs crackdown
Drugs showdown in the works bound to prompt memories of decisive 2003 crackdown by Thaksin government
Shock police probe into drug dealing and money laundering linked with Myanmar to strain ties
Drugs to be an election issue as Anutin digs in insisting that attitudes must change on cannabis
Recreational cannabis use can be legalised under the current law being passed through parliament
Recreational use of pot to be recriminalised as Minister warns abuses are undermining his plan
Warnings as fears grow over recreational cannabis use as Thai man is left impotent by self-harm act
Marijuana revolution and overdoses raise concern with calls for action to outlaw recreational use
One of the biggest drug dealers in the South flees home as Thai police and army move against him
Evil drugs trade in Songkhla sees Thai woman burned alive by her family for 300 grams of ice missing in village
Thai man burns down his family home: Thailand's drugs problem is still a very real threat to society
UK man arrested on drugs charges by CSD police in Pattaya claims ex Thai wife set him up
UK drug dealers living it up in Thailand to be deported back to the UK after arrests in Pattaya
Italian living with Thai wife on Koh Phangan arrested for dealing after drugs found in the post
UK drug dealers living it up in Thailand to be deported back to the UK after arrests in Pattaya