Successful business man in Thailand's southern Chumphon province is determined to see his daughter find love with the right man. This week, he took bold action. He has put out a challenge on social media to find a self starting young man worthy of his daughter's hand in marriage. Not only will the lucky man get to marry a beautiful and highly educated 26 year old Thai woman, but will also have the keys to a thriving durian fruit trading concern together with ฿10 million in cash
A wealthy man in Southern Thailand is looking for the right marriage partner for his beautiful and well educated 26 year old daughter. The lucky man who successfully woos his daughter will receive not only the Thai woman's hand in marriage but the keys to a highly successful fruit trading concern with ฿10 million in cash. It is not a stunt or a promotion. Anont Rotthong simply wants to see his daughter marry. He also wants to have an opportunity get to know the man she marries. He announced his proposal this week on Facebook.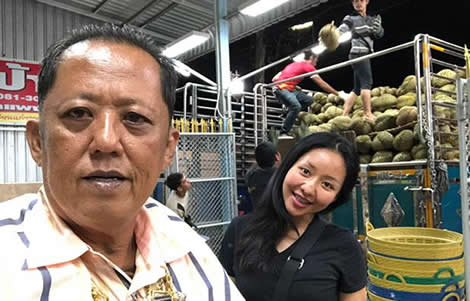 A successful Thai businessman has an opportunity for some hard working man out there looking to make his fortune and find love with a beautiful Thai woman into the bargain. He is offering his highly successful durian fruit trading company including two markets, 10 vehicles and ฿10 million in cash to the man that comes forward and wins his daughter's heart. Kansita Rotthong is not only the sole daughter of Anont Rotthong but also his youngest child. Kansita has older brothers who are already married and settled in the world. The right man inherit the business but also the the hand in marriage of a beautiful Thai woman.
Husband must be a self starter
Anont is from the southern province of Chumphon on Thailand's balmy gulf coast. His daughter is 26 years of age and has given her backing to the proposal and the bargain. The would be suitor and husband must, however, be a self starter and willing to run as well work at the family durian business which will become his own when he marries the young lady. The man will also receive a house which is also part of the prize.
Thai businessman promises business and ฿10 million to the man who loves his daughter
The decisive businessman revealed his intention this week on his Facebook page which also carried a picture of himself and his beautiful daughter. 'Anyone who knows how to buy and select durian and source the fruit from orchards can take my daughter's hand. I won't ask for a single baht in dowry from him but will instead give him 10 million baht in cash, 10 vehicles, a house, two durian markets and the daughter who graduated with honours from Assumption University and had a master's degree from Sun Yat-sen University in China,' the loving father revealed.
Proposal is not a prank or a promotion
It is important to note that this is not a prank or a promotion. Anont Rotthong is quite serious about his business and love proposition. He has explained that he fears that his daughter is getting too old to be married. He also wishes to hand over his durian trading empire to the right man which would allow him more time for retirement and to tend to another business concern dealing in sacred and revered Thai amulets. He has a couple of stipulations in relation to those we may be interested in applying. 'The man who will join my family must be good and must not be a gambler. Importantly, he must be hard working and truly love my daughter,' he stresses.
Future son in law need not be educated
The successful business man has two flourishing durian fruit trading markets in Chumphon province. He has said that the man who wins his daughter's heart and hand need not be as highly educated as his daughter is but must have the will to work. He proposes to train his future son in law in and get to know his character as they toil together against the ups and down of the commercial world.
Father waives sin sod or dowry to be paid for his beautiful daughter as is the Thai  custom
The businessman has also stressed that he doesn't require a rich man to woo his daughter. He has confirmed that he is waiving any need to a dowry payment or what is known in Thailand as sin sod. This is a normal requirement for all men wishing to marry a Thai woman. The man who seeks marriage must show he has the capacity and resources to tend and take care of the Thai woman he proposes to marry. Many would be grooms pay in Thailand pay over enormous sums to the parents of the woman they marry under the rules of Thai culture. Often, the sin sod payment is given back to the couple but this is not obligatory. In Mr Rotthong's case, he is doing the complete opposite, sweeping aside culture and tradition. All this in the interests of finding the right match for his daughter.
Beautiful 26 year old daughter has degrees from top universities in Thailand and China
His daughter, amazingly for a well educated young Thai women with a master degree, has confirmed that she is fully supportive of her father's decision and proposal. The young Thai woman studied and received a degree from the prestigious Assumption University in Bangkok before completing a masters degree at a respected Chinese campus. 'At first, I thought my dad was joking but it turns out he's seriously looking for a son in law. My siblings and I respect his decision,' she says. She also accepts her father's wisdom and explains that a decent, hard working man would be very acceptable to her. She is also looking forward to the prospect of her father getting to know his future son in law and perhaps grand children in this life.