UK expat and murder victim was on his way home after picking up groceries at a local shop when he was gunned down by an assassin some 2 km from where he lived. Police are keeping an open mind as they focus for now on assembling evidence in the case including a careful examination of CCTV footage showing the activities of Mr Roger on Thursday after he left his home, right up to the moment he was ambushed and killed. 
Police in Pattaya on Friday were interviewing witnesses in the resort city who had interacted with 71-year-old UK national Neil Lewis Roger who was gunned down by an assassin at approximately 9.18 pm in the city on Thursday night while on his way home by motorbike to a nearby village where he lived with his 38-year-old wife. The UK man had just returned from Britain the day before his violent death on a quiet roadside after being shot five times by his killer.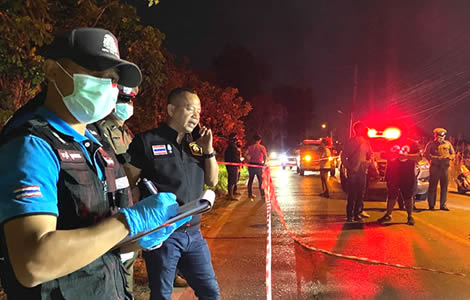 An intensive murder investigation has been launched in Pattaya after the assassination of an elderly British retiree on Thursday night in the Bang Lamung area of the city just minutes after stopping off to purchase groceries at a shop on the way home on Pratumnak Hill in the popular holiday resort city.
The man has been identified as 71-year-old Neil Lewis Rogers.
It is understood that the British man purchased two cans of beans, a half chicken and a package of bread at the shop before carrying on with his journey by motorbike along Sukhumvit Road in Pattaya before entering Soi Chaiyapruek.
Police believe they may be looking for a hitman as they question the UK man's friends and those who interacted with him on Thursday from 4 until 9 pm 
Police in Pattaya believe that they may be looking for an assassin who targeted the retired foreigner as they began retracing his tracks from 4 pm on Thursday until 9.18 pm that evening which is when they now believe he was attacked by his killer and shot no less than 5 times, twice in the back, one below the waist and one into the right shoulder and also once into the right armpit area.
The scene of the brutal murder was a secluded alley area with the victim's red Honda Scooby motorbike lying on the roadside beside him.
At the scene of the body within an approximate range of 50 metres, police found three 9mm calibre bullet casings and the top of a bullet which has been retained as evidence.
At the same time, police officers on Friday stressed that they are pursuing all possibilities and have an open mind as to the motive and circumstances of the attack on the UK man until they review evidence that is currently being assembled with key witness statements and the study of CCTV footage.
Car driver thought it was a traffic accident when he saw a motorcyclist sprawled face down on the road
The body of the inert UK man was discovered by a passing car on the quiet road by 29-year-old Mr Kittikhun Impeng who at first thought he had come upon a traffic accident when he saw the body of the English man lying face down on the road while wearing a fully covered helmet.
Only after a Pattaya rescue and emergency service arrived at the scene and made to check the physical condition of Mr Roger did they discover that he was bleeding profusely and was the victim of a shooting.
Reports from the scene suggest he was breathing lightly when they examined him with a very weak pulse.
He passed away shortly afterwards as they began removing him to a local hospital.
Sources suggest that the UK man may have drowned in his own blood caused by his injuries after multiple gunshot wounds.
Wife and companion of 4 years became emotional at the murder scene when she saw the body of Mr Roger
The murder investigation is being overseen by Colonel Chakraphan Kittisiriphonkul, the Deputy Police Chief of Chonburi and is being investigated by Police Lieutenant Colonel Prakanit Paladet, of Huai Yai Police Station who was first notified of the incident.
Not long after the body was discovered and after police arrived at the scene to commence their investigation, the Thai wife or partner of the UK man, 38-year-old Ms Thitiphan Kamlas, reportedly originally from Mukdahan province in upper northeastern Thailand, was at the scene.
She became distressed when she saw the body of her companion and her hands began to tremble.
She explained to investigating officers that Mr Roger was formerly an engineer in the United Kingdom who had retired to Thailand some years ago.
The couple had been together 4 years and lived just 2 km from the murder scene in a local village.
She told officers that her husband had, just the day before, arrived back from a trip home to Britain to visit an elderly sister having left Thailand on the 24th of December or Christmas Eve.
Headed out on Thursday at 4 pm to drink socially with his British friend Mr Peter in the centre of Pattaya
She said that on Thursday afternoon he left for Soi Buakhao in the centre of Pattaya to drink with a friend and fellow UK national who she named as Mr Peter. This was at about 4 pm.
'Before the incident, at around 4 pm, he said he was going to have a drink with Mr Peter, a friend of his of the same nationality. That was in the area of Soi Buakhao in the centre of Pattaya. At first, he invited me to go out for a drink, but I refused, and then he never contacted me again. Until someone informed me that he had been shot and killed and also confirmed it. Before, he had never had any problems with anyone. He never told me any distressing stories before. Also, he has many friends. So I don't know why he was shot until he died,' an upset Ms Thitiphan explained.
Police at the scene also interviewed a 23-year-old security guard at a hotel who was asleep at the time but woke up as he heard the shooting.
Mr A Namassum told officers that he heard three shots discharged within approximately 10 seconds and his recollection of events has helped police tighten the estimated timeline of the murder as their enquiries progress.
Further reading:
Mother of murdered woman at the hands of a suspected serial killer calls for the death penalty to be meted out
Killer sentenced to death for the 2nd time for the murder of a woman 7 months after being paroled
Thai Justice Minister promises to push legal measure for the castration of rapists with public support
Sadistic rapist, drug dealer and serial murderer is sentenced to life in prison by Thon Buri court
Scotswoman to appeal dropping of death sentence on brother in law and two hired hitmen by court in Phrae
Death sentence for murderous trio who executed a loving Thai wife and her UK husband in Phrae
Death sentence imposed on school boss who murdered a 2-year-old boy in a gold shop robbery in January
School director pleads guilty in court to murder and other charges after Lopburi shopping centre massacre
Master of lies and death, the gold shop killer's life, actions and motives probed by police as wife flees
Lopburi child killer is a primary school director who murdered 3 people this month just for kicks
All quiet in Lopburi as fears grow that the gold shop killer may have slipped the police arrest net – media blamed
Mum's heartbreak after 2 year old's murder as police now know the identity of the cruel and evil killer
2-year-old shot dead by gold robber Thursday night as 3 die, 4 injured in mass shooting with silencer gun
Police near closing the ฿9 million gold robbery case in Khon Kaen as the last suspect returns
Convictions of Burmese Koh Tao murderers and death sentences upheld by Thai Supreme Court
Koh Tao victim's family endorse the conviction of Myanmar migrants
Koh Tao claims by UK teenager questioned by Thai police – arrest warrants indicated for some media
Australian man pleads for help for his son and Thai wife sentenced to death for failed drug trafficking plot at sea
Police to re-arrest Australian death row inmate after he is released under court order at Bangkwang prison